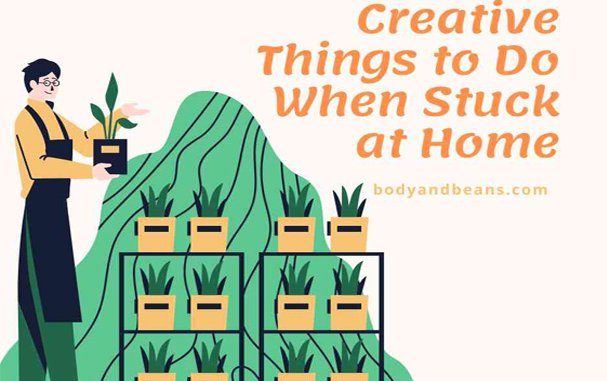 The world is currently going through a crisis due to corona virus. All of us are advised to stay inside homes, unless there is a serious emergency to avoid further spread of the extremely dangerous corona virus that has already taken many lives globally. And in this situation, staying at home is probably the only solution to break the chain of spread. However, staying at homes for days can get really boring and it may cause stress and anxiety in some cases. And if your office has not resumed operation, or you don't have work from home then passing time becomes even more difficult. But to make it easier for you, I am sharing a few of the best things to do that'll help you pass your time creatively and come out of this situation more up skilled.
Most of us are used to a certain daily routine and when that daily routine breaks, we get bored too quickly. Many of you might be facing a constant urge to get out of your home even during such restrictions, and not being able to do so may lead some of us to depression, boredom and frustration.
And if you are getting bored due to this pandemic situation and lockdown, then there are smarter things to do that can help you get out of boredom and may make you smarter and more up skilled.
But you do not have to necessarily pass your self-quarantine period doing nothing. Instead, you can use your time creatively to come out of this situation more up skilled and smart to become even more productive. Apart from doing the usual office work, you can do several other things that you always wanted to, but kept postponing them due to lack of time or for other reasons.
Best things to do when stuck at home due to lockdown
How about taking up those activities now to make this self-isolation time more interesting and get rid of stress and tension out of your life?
Well that's what this post is all about. Today I am sharing a list of things that one can do when stuck at home.
Listed below are a few of the creative ideas of things that you may like to do when stuck inside your home due to this pandemic situation.
Doing office work from home
Well, there are some who are lucky enough to get the opportunity to work from home in this crisis. So, if you are also among them, then half of your worries are already gone because you have office work to do which will help you pass the self-quarantine period effectively.
But, not all of you may have got a proper working atmosphere at your home. So, for them, I will suggest that try your best to avoid getting distracted and keeping doing your work. If possible, find a separate room for yourself, lock that from inside and then work peacefully.
However, do take breaks in between. That will help you stay mentally and physically sane.
Up skill yourself
Well, talking about using the time you got at hand productively, it will be good if you utilize this time to learn something new. Thanks to the internet, we have the option of exploring on new topics by sitting at home, so you may do it. In fact, you may think of taking virtual classes to learn new things as well. It could be anything e.g. singing, a new language, dancing, cooking, DIY art and craft etc.
Solve puzzles and play games
Another great way to put your brain to work is by solving puzzles and playing board games. Be it the traditional jigsaw to the Sudoku, playing puzzles can help you pass the time creatively.
You may also like to play board games, card games or mind games like chess with your family members or roommates. Playing such games help you put your mind in action and that helps in many ways.
Start writing
If you love writing, which is a must have skill these days by the way, then you may like to a blog or a journal. It could be related to anything that you are passionate about and know about. Sharing knowledge, experience and wisdom can help you spend your time creatively and if you are good at it and put in more efforts, you may make money doing this, and it could well be a source of passive income for you.
Nurture your hobbies
Usually we run out of time due to our busy work schedule, but now when you are stuck inside your home due to a pandemic, it will be good if you nurture your hobbies. Be it singing, dancing, painting etc. doing things that you love will never bore you. So, go practice and perfect your hobbies.
Read books
If you love reading books, then this is your golden opportunity to finish reading all of those books that you may have been waiting to read for long. It may be story books to books related to your field of work and profession, just read anything you always wanted to read.
Ultimately, the knowledge you will be gathering from those books will be useful to you sooner or later. So, you can utilize the time at hand reading as many books as you want to.
Do some cleaning
Most of us complain that we do not get much time to clean our homes except on weekends. But, now you will have ample time in hand, so why don't you use it to keep your home clean. As it is if you have to fight the coronavirus, you got to stay hygienic, so I think maintaining a proper cleaning schedule during the self-isolation period at home will be helpful in keeping you safe as well.
DIY Crafts
Well, besides doing your usual cleaning works, you can get involved in various other DIY home projects. That may be creating something to organize your space or working on something new which you can use to decorate your space etc. In short, if you are a creative person, then this is the time to get creative and use your talent doing various handiworks. Well, that is definitely a really good pastime.
Learn to cook
Cooking is a great way to pass your self-quarantine period at home. And, since it is not safe to order food from outside or go for home delivery during this time, it will be good if you invest more time in cooking. If you do not know how to cook, then take the help of YouTube to learn the basics of cooking. You will get loads of very simple and quick recipes online. And, if you are already a good cook, do experiment with harder recipes. Eating good will not just help you pass the time but will also help you stay happy amidst all the tension around.
Get fitter
Besides exercising your brain, you need to do physical exercises as well to become fit and healthy. You cannot go out and hit the gym but you can stay in shape by doing basic stretching, yoga and other lighter workout at home. This will help you stay calm and stress-free as well besides keeping you fit and healthy, both physically and mentally.
And as you have plenty of time, you may like to start with Yoga, you can quickly learn some basic yoga lessons and start practicing this while you are staying at home. This could probably be the best thing to do, because by the time this lockdown situation gets over, you will form this healthy habit.
Meditate
You need to stay calm and meditating will help you a lot. For that, you may try to lay down with your eyes closed, palms up and focus on your breaths. Alternatively, you may also sit cross-legged for 20 minutes and repeat a word that is soothing to you in your head. And if you have no idea about meditation, then you may like to check some video lessons on youtube.
Take care of yourself
Basic grooming is always very important and if you are getting time to stay at home, I think it will be good if you spend some quality time with yourself. Well, by this, I mean you can go for some daily hair care, skin care etc.
As far as skin care is concerned, make sure you get your CTM done daily that is cleansing, toning and moisturizing and for hair care, massaging your hair using hot oil is a must. Since, the commercial products contain chemicals and also it will not be possible for you to go out to buy them, try to utilize the natural ingredients at home for self-care.
Watch movies
Apart from doing all the productive and quality work, do enjoy your time watching movies. Since, you cannot just go to watch a new movie at the hall, you can watch old movies in Amazon prime, Netflix, Disney plus etc. Make a list of all the lengthy movies that you haven't watched till now for lack of time and see them now.
Check with friends
Even if you cannot meet your friends face to face, you can always chat with them by video calling. In fact, you may make new friends online as well. It will be interesting to have a conversation with people on various interesting topics and learn about their viewpoints.
Spend time with kids
Coronavirus or any other pandemic has got a lot of disadvantages but among the very few good sides of staying at home during a pandemic is if you're a parent, you can spend some quality time with your little ones. Even they are not able to go to schools or see their friends, so unless you spend time and do some fun activities with them, they will also get depressed.
Play with pets
Your pet misses you on other days when you are out at work but now that you are at home, you can play with your pet and take care of him/her. This will keep both you and your pet happy. Also, keep your pet clean and hygienic.
Volunteer
If you are financially stable, then you can even do some good social work by donating some money to the organizations that are directly helping the poor and the needy at this time of crisis. You can see that so many people are out of jobs or are extremely sick, so helping the NGO's, the food banks and other organizations will be of really big help. But it's not that you always have to make financial donations, you can donate your time and may like to volunteer with local NGOs.
Sleep well
Last but not the least, your mind, body and soul needs rest, so do sleep well. Maintain a proper sleep routine and sleep at least 7-8 hours daily. This will keep you charged up throughout the day.
Over to you
The recent corona virus pandemic has created havoc all over the world. It has forced us to stay at home and maintain social distancing. But, it is fact, that most of us are not used to staying at home for so many days and hence it is bound to get boring and frustrating.
Plus, the negative news circulating all over regarding the pandemic is also not helping in any way. But, we can deal with the crisis by staying home and doing some interesting things to pass the self-quarantine period.
I have already shared a few easy and creating things to do when you're stuck at home due to this pandemic situation.
We are all going through a trying situation and I really hope these activities can help you stay calm, and you'll use your time to boost your productivity and learn new skills. This time shall pass. We need to be positive and just hope for the best. Until then, stay happy, stay safe and let others be safe as well.