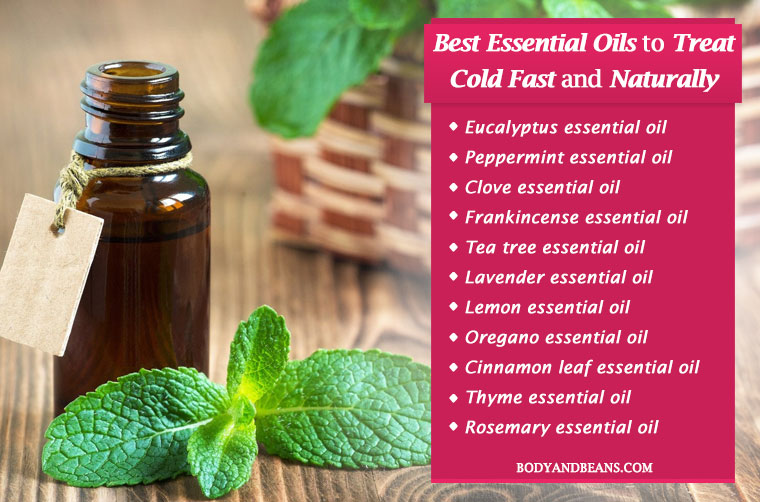 Cold and flu is a very common concern in almost every household especially during the winter months. Although it is not a very serious health concern, but people who have bronchial troubles or are easily prone to it due to their weak immunity may suffer from severe levels of cold, congestion and flu which may last for several days. Obviously, there are medicines available in the market for cold, but sadly most of their effects are temporary. Therefore, it is always important to depend on something that is more natural and will give you long term benefits in treating cold and congestion. And, by that, I mean to refer to the several essential oils that have already made a mark in the scientific world due to their efficiency in treating cold naturally and effectively.
So, if you are willing to give them a try but don't know more about these essential and how to use it, then here is the post worth reading. As today I will be sharing with you a list of essential oils to treat cold and congestion. I am sharing tips on how you can use these essential oils to get maximum benefits in treating common cold, congestion and flu.
Essential oils are extracted from the outer glands of the leaves in the plants and hence they are packed with various natural nutrients. They have quite a long history of treating people off cold and congestion. But it is only in recent times, that their efficiency in this field has come to our notice. The main reason behind them being so effective is their antimicrobial properties which help your system fight the microbes responsible for the cold and flu and ultimately lead to faster recovery.
There are several home remedies for cold and flu but out of all of them the essential oils have become the recent favorite among all and why not, they lead to great improvements if used correctly.
So, are you ready to know more about them? Well, I think you are, so let's begin with our main topic of discussion on the best essential oils to treat a cold effectively.
Best essential oils to treat cold and congestion naturally
Aromatherapy is already a very flourishing field in medical science and when it comes to it, we can never miss out the contribution of essential oils in treating several of our health concerns which definitely includes treating cold and flu as well. So, if you are looking for a natural and very effective long-term remedy for treating cold, then here is the list of best essential oils to treat cold, congestion and flu. You can definitely use them and enjoy the benefits it offers.
Eucalyptus essential oil
Eucalyptus oil is the first essential oil I would like to suggest in order to treat your cold effectively. This is because it is antimicrobial in nature and has the immune modifying abilities as per scientific research. Studies have also shown that eucalyptus oil is very effective against influenza viral infection thanks to the antimicrobial and anti-inflammatory nature.
1,8-cineole is the major component in eucalyptus oil and it is the one which imparts the antifungal and antiviral properties into eucalyptus oil and helps you get quick relief from the cold, flu and several other respiratory concerns.
Peppermint essential oil
The next in the list of essential oils to treat cold effectively is peppermint essential oil. The primary reason is the presence of menthol which is very potent in clearing your respiratory system. Menthol is a very powerful antimicrobial, anti-inflammatory and carminative. Even the peppermint essential oil has expectorant properties that aids in loosening of the mucous thereby making things easier for your body to expel it out.
In a 2013 study, it was found that using the peppermint essential oil helped to ease and relax the bronchial muscles which in fact, are good enough to proof its potential to ease your breathing issues and your bad cough. In addition to treating cold and flu, peppermint essential oil acts as an energy booster as well. So, you will no more suffer from the feeling of fatigue that often accompanies cold and flu.
Besides the inhalation of the oil, you can even drink peppermint tea for gaining the benefits.
Clove essential oil
If you are suffering from cold and cough which has led to a sore throat, then do not even think twice before using the clove essential oil. This is because besides treating the issues related to mouth and gums, clove essential oil is especially potent in treating sore throat, a very common symptom that accompanies a stubborn cold and cough.
Eugenol is the primary chemical component in this oil which has got antibacterial and analgesic properties that in turn makes clove essential oil good in fighting the virus leading to the cold and flu. Moreover, clove essential oil keeps your immune system strong and its anti-inflammatory properties help in maintaining a healthy respiratory system.
Frankincense essential oil
The incredible anti-inflammatory and antimicrobial properties of frankincense essential oil makes it one of the most potent essential oils in treating cold and flu. Frankincense essential oil mainly helps fight the inflammation by restricting the production of the immune cytokines.
It is great in reducing even the most stubborn coughs and several respiratory problems. Moreover, it has a natural calming scent that helps your system to relax and accelerate the healing process.
Tea tree essential oil
Tea tree oil definitely deserves a position in the list of best essential oils to treat a cold effectively. The main reason is its antiviral, antibacterial and antifungal properties that helps fight the microbes and prevent the degradation of the cold and cough and instead, lead to fast recovery. The best part is it is very effective against free virus which is nothing but that virus in the body before infecting the cells. This help in preventing the health concerns to a great extent.
Moreover, it gives boost to your immune system and so, you do not catch the flu often. Even the invigorating smell of this helps alleviate congestion caused by the cold fast.
Tea tree oil is also a natural disinfectant, both for the surfaces in your home as well as for the quality of the air. In other words, it has the ability to keep your living space free from the germs and if that happens, you are in all probability going to be less sick. So, you can easily make your natural disinfecting spray easily with it.
Lavender essential oil
Lavender essential oil is a very popular and widely used oil for treating various health concerns including treating your cold and flu as well. This is because it provides antioxidant protection, killing the free radicals that otherwise cause diseases and also weaken your immune system to a great extent. Lavender essential oil also has anti-inflammatory and analgesic properties which is very effective in treating sore muscles and joints that often accompany stubborn cold and flu.
In addition to all of these, lavender essential oil is also very helpful in relieving your stress and anxiety and therefore aids you in having a good sleep which automatically helps your system relax and fight the germs better.
Lemon essential oil
Lemon essential oil is antibacterial in nature and so it can easily deal with the problem of cold and flu. It also supports the lymphatic system and helps your body in getting rid of the toxins and the waste. Moreover, lemon essential oil is an excellent stress reliever which is also helpful in keeping you calm and relaxed which, in turn help your body fight the pathogens better.
Lemon essential oil also helps in strengthening your immune system, thereby not letting you catch a cold often. You may even diffuse it or use it as a disinfectant spray to keep your home germ free and reduce health risks of you and your family members.
Oregano essential oil
The next in list of essential oils to treat cold effectively is oregano essential oil thanks to its strong antioxidant properties that is very effective against several respiratory issues. Some studies have also shown that the essential oils that were extracted from the oregano gave protection to you from the pathogens like P. aeruginosa that is known to infect your airways.
In fact, oregano essential oil provides you complete care. It not just reduces your cold but also helps you get relief from the major symptoms of cold like cough and sore throat quickly.
Cinnamon leaf essential oil
Cinnamon trees are not just famous for the flavorings and spices but they are extremely well known for their medicinal properties as well especially when it comes to treating circulatory, digestive and immune-deficiency diseases. So, naturally an essential oil that is extracted from cinnamon trees will also bear a lot of therapeutic potential.
Now, there are 2 types of cinnamon essential oil; one is bark and the other is leaf. Both of them are equally potential but cinnamon leaf essential oil is more recommended in aromatherapy due to its milder results. However, I will personally request you to do a patch test before using it topically.
In this respect of treating cold, cinnamon leaf essential oil is quite effective due to its antiseptic, anesthetic, antioxidant and antimicrobial properties. The effectiveness of it against viral infections is also been proved by a 2010 study where a blend of essential oils including cinnamon essential oil was found to reduce viral molecules by a whopping 90% in patients.
Cinnamon is a warming and soothing plant, so if you drink it as a tea, you will also get huge relief from the uneasiness and discomfort that accompanies a stubborn cold and flu.
Thyme essential oil
You can definitely consider thyme essential oil as one of the options to treat cold and cough. This is because it possesses antimicrobial properties which fight the pathogens leading to your cold and flu, and helps you recover from the problem fast. It actually works as a tonic stimulant and have also shown to treat several other respiratory concerns like asthma, infections, bronchitis etc.
Thyme essential oil is a perfect decongestant that also helps fight the feeling of fatigue, reduce depression and stress that occurs after you catch a stubborn cold and flu.
Rosemary essential oil
Rosemary essential oil is quite popular oil and it can be used in treating your cold. The main reason behind its recommendation is because rosemary is analgesic and anti-inflammatory in nature which makes it very potent in relieving you off the respiratory congestion as well as providing you relief from the headaches that commonly come with a cold and congestion.
Moreover, you feel too stressed up and become quite anxious while suffering from too much of cold and congestion which can also be taken care of rosemary essential oil. So, rosemary essential oil is obviously a very good option to try.
How to use essential oils to treat cold naturally?
Now that you know about the list of essential oils to treat cold fast and naturally, it is important that you know a little about the ways you can use them to get maximum benefits.
However, just keep in mind that the type of method suitable to be used actually depends on exactly what purpose you want them to serve, and also on which oil you prefer to use. I mean treating your cold is of primary concern which all of them does effectively. But if you are also trying to get rid of any specific concerns or symptoms that has been bothering you ever since you have got infected like lack of sleep, or headaches, or too much of stress, irritated throat, sore muscles etc. then there are apt methods for that.
Here are the best ways to use essential oils to treat cold fast and naturally.
Steam inhalation
If you are suffering from too much of congestion and that is your main concern, then steam inhalation is the best method for you to try. You simply have to take a bowl of hot water and then add 2 drops of the essential oil in to it. After that, you need to place a towel on your head and then bring your head over the bowl. The heat will automatically create steam which will allow you to breathe in the fragrance of the essential oil better. This is a much more effective method in comparison to simply diffusing the oil.
Vapor rub
In order to give yourself relief from the cold and congestion, you may even go for a vapor rub. No, I am not saying you to use the ones from the market, but you just need to make your own one vapor rub. Melt beeswax along with a carrier oil and an essential oil of your choice. Put the mixture in a small jar and let it cool down a bit. Now, you may use it under your nose or on the chest when you are not feeling good.
Massage
Too much of stubborn cold leads to sore muscles or joints and so you can get rid of that by massaging your favorite essential oil along with a good carrier oil. This will give you relief from the aches and help you to relax and calm down.
Mix it in the bath
The next method you can use is to mix some drops of your favorite essential oil in your bath. This will help you gain both the topical as well as aromatic benefits of the essential oil you want to use. The heat and the warmth of the bath will allow you to inhale the steam while soaking in the essential oil will make you gain the benefits of nicely diluted topical application. In order to disperse the essential oils properly in a bath, it is necessary that you add to the bath salts like Epsom salt at first.
Gargle
You may also go for the gargle option. Just add a drop of the essential oil into a glass of warm salt water and then gargle for about 20 seconds. This is a very good remedy to treat an irritated or sore throat.
Also, remember that most of these oils are incredibly potent, so even if you take just one drop then that is enough. For becoming doubly sure, you may even consult a good doctor before ingesting the essential oils.
Caution and warning worth knowing
Essential oils are definitely a great option to try and relieve yourself off the cold and flu but for your safety, you need to keep in mind that some of the risks and warnings. Here is a list of things that you need to take note of when using essential oil.
If you are pregnant or is breast feeding, it is advisable that you avoid using the essential oils. In case you still want to use them, a good doctor's consultation is mandatory. Remember that they may be toxic if you take them in large doses.
Make sure that you buy the essential oils from a reputed store. Also, see to it that they are coming in glass bottles instead of the plastic ones as the latter increases the risk of contamination as well as reduces the shelf life of the oil.
The essential oils are extremely potent and so I do not always recommend taking them by mouth. Although some are safe, make sure you do not use more than one drop and also dilute them with career oils like coconut oil, castor oil etc.
Undiluted essential oils may lead to irritation in your lungs, skin and eyes. Please do a patch test on your arm and check for skin sensitivities at the very beginning.
Conclusion
Getting infected by a flu and catching cold is a very common thing and yes, the feeling of having a runny nose or congested nose, sore throat, cough, headaches and all other symptoms of cold sucks. So, the more you are able to protect yourself and prevent its occurrence the better it is for you. After all, cold and cough is quite contagious, so if you catch one, it is most likely to spread to your family members as well. But, once you have already got infected by the virus, you cannot help up but try out ways to get rid of it as soon as possible and inhibit it from getting worse. Now, there are several remedies to treat cold and congestion but the essential oils have become the recent favorite among many, so you may give them a try. I am quite confident that you will not be disappointed.
I have already talked about a list of 11 essential oils to treat cold and congestion naturally. They are all very potent and will help you alleviate the several symptoms of a cold and congestion. You can even see that most of them are proven by science. However, there are some risks and warnings regarding using them which I have mentioned to you for your safety. Other than those, these are just amazing ingredients.
To make things easier for you, I have also mentioned the methods you can use to reap maximum benefits out of these essential oils. All I can say is use them wisely and count the drops while using. In other words, please use them keeping the risks and warnings in mind and enjoy their amazing benefits.
So, that is all I had to share with you regarding the essential oils to treat a cold fast and naturally. Do share your feedbacks and suggestions about it in the comments section below. If you have a prior experience of using any essential oil to treat cold and congestion, then please share which oil and what method you have used and how have things worked out for you. Also, if you have queries regarding anything, please do let me know that as well.
Until then, stay healthy and do not let a cold ruin your day.