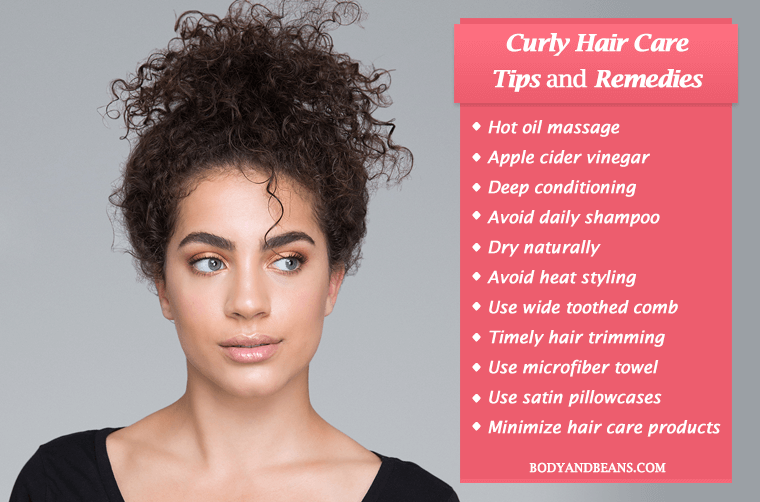 Many hair experts believe that managing curly locks is tough in comparison to managing straight hair. They believe that since curly hair is more delicate and gets affected more by humidity and is more prone to frizz than the straight hair, it requires proper hair care routine and attention. But I think the issue is not the curly hair; the real issue is how you are taking care of your curls. Even if you have normal straight hair, if you don't pay attention and look after your hair it's not going to look gorgeous. And if you are not sure about how to take care of the curly hair to make it look good, then worry not, as I share some of the best and easy to apply curly hair care tips and remedies that'll help you to maintain curly hair easily.
The real problem is in the hair care routine you follow to maintain your curly hair. If you get that right, trust me, your hair is going to look healthy, shiny and of course gorgeous. After all, even though straight hair is in the trend, I personally find curly hair extremely pretty, and I feel you should be proud of your natural curls as well.
However, if you hate your curly hair, then try some of the curly hair care tips I am sharing today. If you follow these curly hair care tips and remedies, I am sure you will fall in love with your curly hair all over again.
Hair is definitely one of the important aspects of an individual's beauty and having beautiful, gorgeous locks is an individual asset. However, the type of hair you have is also a point that needs to be noted. I have heard girls saying that curly hair is difficult to manage. In fact one of my friends who have curly hair often say that at times it looks like a bird's nest. But, girls, have you seen the Bollywood diva Kangana Ranaut flaunting her natural curls? Well, if she can, you can too.
As the curly hair is considered to be very delicate, you have to pay attention and take good care of your curls. I have talked to a few of the experts and based on that I am happy to share a few of the best and recommended curly hair care tips and remedies that will do wonders for you.
As you all know, I personally believe in being natural. Like, if you have a straight hair or a semi straight hair, you should be proud of that and try to maintain it. Similarly, if you have natural curls, trust me, it is beautiful. So, instead of just crying over it or thinking of ways to artificially straighten it, you should give a little effort and attention and try to maintain your curly hair properly. And, once you get that right, the quality of your hair will improve and it will become healthy, gorgeous and easily manageable.
Rough and dull hair (irrespective of it being straight or curly) looks bad and is unmanageable. so you should follow a routine that keeps your hair soft, smooth and shiny. However, curly hair does require delicate handling, so you should be a little careful while trying any remedy or hair care routine.
Best hair care tips and remedies for curly hair
Curly hair makes you look unique and beautiful, when you maintain the quality and texture of the hair well. It gives a very natural look yet very stylish. Many spend bucks to artificially curl the hair. But you have got them naturally; you should be proud of your curly hair and just love and care for it the right way.
Listed below are the 12 curly hair care tips and remedies that will make you fall in love with your curly hair locks in few weeks.
Hot oil massage
Irrespective of the hair type you may have, regular oil massage should be a part of your hair care routine. There are so many hair oil options, but I personally prefer coconut oil and almond oil because they nourish your hair from the roots. Regular hot oil massages improve the circulation of the blood and helps in hair growth. Also, the oils penetrate deep inside the roots, condition and repair the damaged hair. With regular oil massage, your curly hair will become smooth, shiny and easily manageable in no time.
Take adequate amount of coconut oil or almond oil or any other hair oil as per your preference in a bowl. Microwave it for a few seconds to heat it up, and then using your fingers, gently massage the oil on your hair and scalp. You may keep it overnight and shampoo the next day or else keep it for about 2-3 hours and then wash it off with a mild shampoo you use regularly. Within a few applications, you will see the difference in your curly hair.
Apple cider vinegar
If your curly hair is causing a lot of problem and gets tangled easily, then you may try out the apple cider vinegar rinse remedy for curly hair. Many may get confused hearing this but trust me, the acidity of ACV (apple cider vinegar) closes and flattens the hair cuticles which in turn, makes the hair very smooth and easy to detangle. Plus, it makes the hair shiny and you will yourself notice the shine of your curly hair after every application of apple cider vinegar rinse.
Take around 2 tablespoon of apple cider vinegar, and a few drops of lavender oil to it. Mix both the ingredients in a cup full of cool water and its ready to use. Pour it evenly over your hair after shampooing. Let it stay for a couple of minutes and then rinse your hair using normal water.
Deep conditioning of curly hair
Since, curly hair is more prone to frizz, you should never miss the deep conditioning, so add regular deep conditioning of curly hair in your hair care routine. After shampooing, you need to go for the deep conditioning. This will keep your dry hair issues at check, and supply your curly locks with all the nourishment it requires.
It is best to go for a good quality conditioner for deep conditioning of curly or straight hair. The conditioner that contains keratin is considered to be the most effective, so keep that in mind.
However, if you want to go natural, then you can also try out some of the homemade natural hair conditioners. Here's detailed post on how to make natural hair conditioners at home on your own that you may like to check.
Skip Shampooing
This may sound a bit new to you but it is called co washing. Co washing basically means skipping the shampooing part and washing the hair using a good conditioner. Also, called the no-poo method, it requires you to solely rely on conditioner and it works well for both weekly and daily washer. However, if you do not want to skip the shampooing part fully, then use a mild sulphate free shampoo one time in a week. Co washing is extremely beneficial to solve the dry hair issues and is seen to benefit a lot of individuals with curly hair. It also manages the problem of frizz very effectively.
However, please make sure to avoid the conditioner containing silicones as that will not benefit you in any way. Instead, it may hamper the quality of your curly hair.
Dry naturally
One of the important hair care tips for curly hair or even straight hair is to let it dry naturally. You already face difficulty managing your curly hair and using blow dryers will simply increase your problem. They simply rob the moisture out of your locks and make it dry and frizzy in no time. Therefore, it is best to let your curly hair dry naturally after you have applied the conditioner and used a microfiber towel to get rid of the excess water off your hair.
However, at times, blow dryers become a necessity so when you have no other alternative but to use a blow dryer, you should make sure that you are using one that comes with a diffuser attachment. This is very much necessary for people with curly hair because the diffuser is very helpful in maintaining the shape and the definition of the curls. Also, make sure to blow dry your hair at a very low heat in order to prevent your locks from too much of drying.
Minimize hair care products
When I say less is more in terms of curly hair care, I mean to say less usage of every hair product. Be it hair serum, to leaving conditioner to mousse etc., use them as minimal as possible. Well, this is because applying excess of any hair care product may weight down your natural curls and will add a lot of buildup on your locks. It will hamper the whole curly look of your hair and I am sure you don't want that to happen.
Avoid daily shampoo
I understand that you may have to go out every day and that makes your hair very dirty. But still, you should avoid shampooing your hair on daily basis. The main reason behind this is that it dehydrates your scalp and makes your hair dry and dull. There will be loss of the natural oils and hence your hair will lose the smoothness and the shine. Moreover, in case of curly hair, shampooing on a regular basis will make you stretch out the locks a lot, and at the end make them lose their natural curly shape.
It is best if you shampoo your hair 2-3 times a week. And, also, make sure the shampoo you use is a mild shampoo. By mild shampoo, I mean those shampoos that are free of the sulphates, parabens or silicone etc. Because shampoos containing all of these, in the promise of adding shine to your hair, actually coat your curly hair and block all of the natural oils from penetrating deep inside the hair shafts. Therefore, you should use natural shampoo and avoid daily shampooing.
Avoid heat styling
If you want your curly locks to remain healthy and gorgeous, please make it a point to avoid the usage of the heat styling tools as much as possible. Trust me, these are nothing but weapons of destruction and they completely ruin your hair. Applying so much of heat makes your hair dehydrated and very rough. And, when it comes to curly hair, it can damage even more. This is because too much of usage of the hair styling tools ruin the curly shape, and lead to a lot of split ends.
Hence, it is best to flaunt your natural curls or go for hairstyles that are natural.
Use wide toothed comb
Since curly hair is more prone to frizz and tangle, you should make it a point to use wide-toothed comb. Trust me, this will help you detangle your hair faster and will also lead to less hair breakage.
Also, remember when you are detangling your hair, start doing it from the bottom. That, is, comb from bottom to above. This will also put less pressure on your hair and will lessen the hair damage. And, yes, please be gentle while combing or detangling your curly hair, otherwise there'll be more wear and tear.
Timely hair trimming
Trimming your hair time to time is one of the easiest and best curly hair care tips that you should add to your hair care routine. Because if you are not trimming the curly hair for long, it will lead to split ends and it will hinder proper hair growth. In contrast to that, trimming it a bit from time to time will keep your hair in shape and there will be no split ends as well. Plus, you do not even need to compromise with the length of your hair because if you trim a little, it will not create a lot of difference in the length or in the looks.
You just need to trim off the damaged ends of your curly hair and not cut it too short.
Use microfiber towel
Well, I know that the terry cloth towels are good in drying your body but when it comes to drying your curly hair, they do nothing good. Instead they increase the frizz and leads to more hair breakage. So, it is better to use a good quality microfiber towel. It is much gentler on your curly hair and causes far less damage.
Use satin pillowcases
One of the important curly hair care tips that you should be aware of is to use satin pillow cases. This is because many of us use the cotton pillow covers, but no matter how good it is, cotton pillowcases causes a lot of friction and completely mess up the curly locks. The friction also causes a lot of hair damage and hair breakage. On the other hand, if you use the smooth satin ones, there will be less friction and hence not much messing up or breaking of hair.
Over to you: What's your hair care routine for curly hair?
Maintaining proper hair care routine is seriously important for all of us. No matter how natural and beautiful your hair is, if you do not care and maintain it properly, it will eventually lose its charm thanks to the pollution all around us.
In fact, besides the environmental causes we often ourselves are responsible for causing damage to our hair. Like for example, using too much styling products, using the wrong hair products, having poor nutrition etc. cause a lot of hair damage. We need to be aware of all of these and try our best to protect our hair as much as possible.
Now, hair care routine is required for all types of hair but at times you need to do tweak your hair care routine as per your hair type and quality. Like in case of curly hair, you need to handle it a little more delicately. This is because it is more prone to frizz and damage in comparison to the straight hair. Basically, you have to not just maintain the quality and the texture of the hair but also try and protect the shape and the definition of the locks.
Soft natural curls itself are very stylish and beautiful. So if you are not able to maintain the shape, sooner or later your curly hair will lose the charm. However, there is nothing to worry about, because a little bit of care and attention is all it takes to look after your curly hair.
I have already shared a list of 12 curly hair care tips and remedies that you can add to your care routine and maintain your curls easily and naturally. Some of the essential hair care tips include:
Regular oil massage (preferably using hot oil)
Use apple cider vinegar remedy
Do deep conditioning
Avoid daily shampooing
Dry your curly hair naturally
Avoid excess heat styling
Use wide toothed comb
Trim your curly hair timely
Use microfiber towel and satin pillowcase
Minimize use of hair care products
If you want to take good care of your curly hair, try adding these curly hair tips in your hair routine and you should be fine.
What else do you think one should do look after the curly hair? What's your favorite curly hair care routine? Feel free to share by commenting below.
Lastly, please help us spread the word by liking and sharing this post.
Until next post, stay healthy, stay happy and take good care of your curly hair.