The seasonal wind shift is usually accompanied by a dramatic change in precipitation. Each season has its wonders and woes, and monsoon is no exception. However, each individual generally responds to weather changes in their own unique way. Some find the rainy monsoon to be romantic while others find it very irritating due to the constant outpouring of raindrops leading to a lot of filth, mud and dirt. But whether you like the rainy days or not, I am sure you would agree that hair care in monsoon can get really tricky.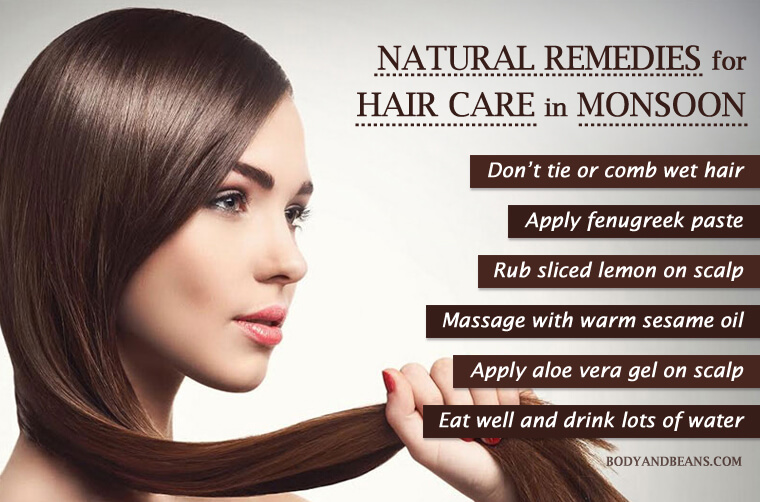 With monsoon come various health and beauty issues; be it your skin, hair or general health, you feel the need to take special care of yourself. One of the major problems that especially the women and girls face during monsoon is the rapid increase in hair loss. Since it's already monsoon, I guess you may have experienced the hair fall issue. Our hair requires additional care and love in rainy season and that's what we are going to discuss today in this post – hair care for monsoon. I am sharing the list of 27 natural home remedies that you can use to get strong and healthy hair.
In today's world people have become smarter and more advanced. Men and women especially teenagers are very concerned about their skin, hair and overall look. They love grooming themselves, and as far as looks and beauty is concerned, hair plays an important role in it. Moreover, beauty has been traditionally associated with women. I am sure all you women with gorgeous hairs do love your long or curvy locks a lot and do not want to compromise on that. Isn't it?
Hair care in monsoon season becomes a bit tricky. But irrespective of the kind of hair problem you are experiencing, you can actually get it all sorted using natural home remedies that I am going to discuss in this post.
Are you ready? Let's get started.
Most common hair problems in monsoon
Before we get in to the hair care remedies for monsoon, let me first share some of the most common hair problems that occur in monsoon.
The combination of humidity and heat leading to constant sweating as well as drying of sweat can cause a host of cosmetic and health problems for your skin, hair and scalp. Listed below are the most common hair issues that we experience in rainy season.
Hair fall
I hope you have got no doubts that why I kept this point right at the top. Yes, you got me right. All the other hair and scalp troubles, which we face during monsoon eventually leads to this major hair trouble that is the hair loss.
Basically, they all are interlinked. Many think that summer is the season that causes much hair damage. Nut no, rainy season has its own set of weather-induced disturbance that strip away the outermost layer of the hair strand cuticle making it more brittle. Hence, automatically there is increased hair loss. The high-on-humid weather is the main reason behind hair fall.
Hair's chemical structure makes it too sensitive to airborne hydrogen. In this weather, your hair absorbs the hydrogen, forming bonds, and swells until the smooth cuticle erupts to make them fall.
Frizzy hair
Frizzy hair is another common problem during monsoon. The sweat and its subsequent drying off can rid the hair of its moisture, leading to frizzy hair, and even split ends. Your hair becomes rough and dull all the time with an untrue access to beautiful hair.
Even if you have dressed well for a party, frizzy hair will probably spoil your day. Some gets these types of hair due to dryness where as others suffer as an impact of the season.
Research shows that dry hair has less weight as compared to wet and damp hair. Thus, hairs flying away from head during monsoon are quite natural. However, curly or wavy hair is more prone to frizz than straight hair.
Dandruff
Before I tell you, what causes dandruff during monsoon, let me first explain you what dandruff actually is. A fungus named "Malassezia" is mainly responsible for irritation in scalp that ultimately leads to dandruff. The fungus further breaks down sebum into smaller fatty acids, which causes irritation, which eventually causes flaking, and dryness. To add on to it, if you have sensitive skin, the chances getting dandruff multiply. The humid and moist air during monsoon proves to be just perfect for this fungus to thrive.
Itchy scalp
Non-specific itchiness of the scalp and irritation are also common thing during monsoon. These actually contribute to increased hair loss. The polluted water tends to develop rashes, which increases the itchiness of the scalp. Dandruff even contributes to the itchiness. Other evils like- dry scalp, stressful lifestyle and the sebaceous cyst can cause itchy scalp. In fact, monsoon gives birth to various infections and scalp diseases that damage our hair quality largely.
Infection
As I have already given you the hint, that monsoon favors the occurrence of various hair infections, so let us know few of them.
Seborrheic Dermatitis
This is a skin disease that is mostly common (though not always) among people of around 50 years of age. It affects the scalp of the individual. The symptoms start from scarlet patches that gradually take the form of golden and oily scales, which are later converted, to crusts. This disease not only leads to itchy scalp, but can also contaminate ear, armpit, mid-chest area and groin. 
Parasitic Conditions
This one is mostly common among school kids, and children of a hot and humid country like India are mostly prone to it. Parasitic conditions as the name suggests, means the breakout of lice, eggs of lice and nits on the scalp of children. The problem increases with sharing of hair care tools, proximity with an affected person and hair care negligence. These damages invariably come with itching scalp and hair loss. 
Tinea Capitis
This condition results from the formation of fungal creatures damaging the hair follicles. This can be twofold – one is inflammatory, and the other is non-inflammatory. While the symptoms of the inflammatory one are boils and skin eruptions, the non-inflammatory one comes with scarlet patches. As usual, the chances increase when a person shares his/her hair care tools and accessories with a victim unknowingly. Even proximity with germ-laden animals and soil patches can lead to this. 
Inflammatory Conditions
This condition is commonly known as psoriasis that takes place along the hairline of the victim. Patches and itching scalp follow it, especially when the weather is wet and humid.
27 Best practices and remedies for hair care in monsoon
There are tons of shampoo and conditioners available in the market and some of these costs dearly. But what if I say that you can use simple and natural ingredients like fenugreek seeds, amla, and lemon juice or tea tree oil to take care of your hair? Yes. You heard me right. Natural ingredients like these can be used as remedies for hair care in monsoon.
Listed below are 27 easy and simple remedies for hair care in monsoon. These remedies can help you to keep your hair bouncy and glossy even during the monsoon season.
Regular hair wash
First thing first; washing your hair on a regular basis is seriously important for its health. The rainwater is full of various chemicals and impurities and that is why it is very important to keep your hair clean on a daily basis.  Make sure to wash and your hair every day before applying any other hair care remedies.
Proper Conditioning
After daily wash, do not forget to condition your hair. Conditioning softens and smoothens your hair, giving it the perfect shiny and silky feel. After washing your hair, use a natural conditioner to condition your hair.
Keep Hair Dry
It is very important for you to know that dampness damages hair quality leading to itchy scalp and breakage of hair. This is the reason why hair fall increases during monsoon. Therefore, keep your hair dry using a bath towel. Please do not forget to carry an umbrella or raincoat (especially for little kids) while going out.
Dry hair naturally
Please avoid using the dryers and blowers as the heat coming from them causes damage to the hair. So, let your hair dry naturally.
Go natural with your hair care routine
Just try to avoid using the market products in the hope of having gorgeous hair. Such products contain harmful chemicals that damage your hair quality rather than improving it. There are many home remedies, which can help you pamper your hair. Just go on reading to know more.
Oiling
Proper oiling is mandatory in order to nourish the roots. Wash the hair after 2-3 hours. This help to moisturize the hair.
Shampooing
Contrary to popular belief, frequent washing does not lead to hair loss. In fact, you can wash your hair everyday with a mild shampoo if your hair is exposed to rain drops daily.
Medicated shampoos
Each individual will have unique hair problems. Therefore, you can easily take the help of a doctor in order to know which shampoo aptly suits your hair problems. Generally, Nizral or KZ is recommended for dandruff and fungal infections. Similarly Betadine AD and Perlice are prescribed for boils and lice problems respectively.
Do not tie/comb-wet hair
Combing or tying wet hair is a complete no-no. The root shafts weaken and then fall fast. So, even if you have a wet hair, just let it dry and then comb/tie it.
Fenugreek Paste
Application of fenugreek paste popularly known as "methi paste" is highly recommended during rainy season. It has disinfectant properties, which keeps dandruff and the scalp infections away.
Tea Tree Oil
Just mix around 20 drops of this oil with a baby shampoo or add it in proportion with any vegetable oil. Use it and get the miraculous benefits from this wonderful aromatic oil.
Lemon Juice
I am sure you all have started facing the problem of dandruff already. Just take a slice of lemon juice and rub it directly on your scalp. In case of more effective results, you can make a pack of lemon juice and yogurt. Citrus has antiseptic properties, which is the perfect remedy for dandruff.
Amla Pulp
Take a teaspoon of amla pulp and lemon juice each and gently massage this mixture on your scalp. Use a shower cap to cover your head. Keep it overnight and shampoo your hair the morning after. The Indian Gooseberry popularly known as amla pulp has very high anti-oxidant, inflammatory, exfoliating and anti-bacterial properties that stimulate hair growth.
Baking Soda
Just like your skin, your hair also needs scrubbing. The paste of baking soda and water work wonder for your hair. Just leave it for 15 minutes followed by a proper wash and you will see the results.
Bananas
Just take two ripe bananas and avocado, make a paste, and then apply it on your scalp. This particular paste has moisturizing properties that gives proper nourishment to your hair. Keep it for around 30 minutes and then wash. This will help you get rid of the dandruff as well as the itchiness.
Apple Cider Vinegar
Apply apple cider vinegar tonic along with water. You can apply it with cotton balls to make the process easier. Leave it for 10 minutes before washing it. This is effective to kill the yeast and the virus that breeds on your hair.
Coconut Oil
Just take out 15 minutes time from your busy schedule to massage your hair with virgin coconut oil. This will remove the frizziness from your hair.
Sesame Oil
Wash your hair with warm sesame oil and wash it off properly. It helps in nourishing, curing and moisturizing your hair.
Witch Hazel
Excessive blow drying or coloring your hair makes the quality of the hair drier. A paste of Witch Hazel herb and water is a perfect solution for this. Just keep it for a while and wash it properly.
Honey and almond oil
Take 1 cup of honey, 1 cup of almond oil and 1 cup of ground chamomile leaves. Give it a good mix and apply this paste on your scalp. Keep for about an hour or so and then wash it off. If done twice a week for a month, you will start seeing the results.
Hibiscus leaves, mint and lemon juice
Take around 20 crushed hibiscus leaves, 3 teaspoon of mint paste and juice of 2 lemons. Apply this mixture on your scalp and leave it for around 30 minutes. Wash your hair with a mild citrus – based shampoo. You will surely feel your hair getting alive.
Coconut oil, lemon and orange juice
I have already told you how beneficial coconut oil and lemon is for your hair. However, you can also mix 2 teaspoon of coconut oil, juice of 2 lemons and juice of one orange. Massage into the scalp and hair. Then shampoo after an hour.
Aloe Vera Gel
You can apply Aloe Vera Gel on your scalp. Massage the roots of your hair well and then wash it with a mild shampoo after 10 minutes. This procedure moisturizes your hair as well as soothes any inflammation.
Jojoba Oil
Another natural way to fight scalp problems is the usage of jojoba oil. You can even mix it with olive oil if you want. Apply on the scalp and to the ends to make it softer. Then after 2 hours just, wash it. This is a great solution for dry, itch and frizzy hair.
Turban Therapy
Hot turban therapy is a method of steaming your hair in which you need to wrap a hot wet towel around the head. It is perhaps one of the most effective and easy home remedies for attaining healthy hair. In order to go for a turban therapy, you need a concoction of oils to nourish your hair, hot water and a towel.
For the oil blend, it is best to rely on coconut oil, corn oil, castor oil and olive oil in equal proportions. Turban therapy is known to be very effective as it helps open the pores, thus allowing the oil blend to penetrate deeper into the hair roots. Thus, it nourishes the scalp, treats hair fall and improves scalp condition.
Hydration
Needless to say, we all know how much water is important for our daily lifestyle. It is truly the elixir of life. Drink minimum 8-9 glasses of water daily. Proper hydration of your body helps in making your hair strong and healthy.
Balanced Diet
Simply applying oils and pastes on your hair won't help. You need to eat healthy in order to have a healthy hair as well. Include protein, calcium and iron in your diet. Eat fresh fruits, raw salads, sprouts and yogurt daily. Avoid spicy and oily food as much as possible.
If you follow these hair care practices and remedies, then most likely the seasonal hair issues will get sorted. But hair fall is not always seasonal. Many times, it can be because of certain hormonal changes and also any disorders that are still unnoticed like diabetes, heart disorder, thyroid, frequent weight loss and weight gain as well as many other corresponding diseases. So, if you see that the simple remedies are not working in your case, do not hesitate to visit a doctor.
Conclusion
Hair is a precious gift that simply transforms the way we look. There are many who do not pay attention to the hair and till they enjoy the bouncy and glowing hair. But for most of us, hair care is seriously important.
Hair care is a complicated issue and you need definite plan for different seasons. You need different type of precaution and care during monsoon, winter and summer. Today in this post we have discussed about some of the best tips and tricks for hair care in monsoon season.
The remedies and tricks that we have discussed are pretty simple. If you are tired of cosmetic and hair products available in the market follow some of the remedies we have discussed above and you will be sorted. You will be able to enjoy the delightful season of rain without thinking about the hair care issues.
Anyways, stay aware and stay healthy. Do not forget to share your personal hair care tips for monsoon and your feedback.