A friend of mine always says, Indian snacks are not just food, its way of life. Whether you are roaming around the Juhu beach in Mumbai, or Chandani Chowk in Delhi, or in the Dalhousie area in Kolkata; one thing which is quite common in every city is the availability of local Indian snacks. In India, we celebrate different culture and we get to taste loads of Indian snacks. If we talk about the nutritious values and calories, not all Indian snacks will be considered as healthy. Some of the unhealthiest Indian snacks are very popular and taste good.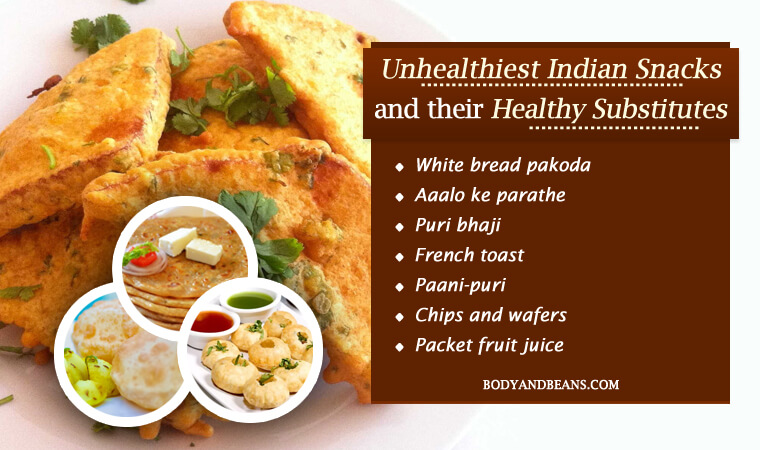 But wait, aren't we supposed to eat only the healthiest snacks and food? Well, not for everyone. There are many like my friend, who just eat anything and everything that taste good. And there are many who are seriously concerned about their health and what they eat. If you are cautious about your health and looking for the healthiest substitutes of the unhealthy indian snacks, then here's the post worth reading. Today we are going to talk about top 10 unhealthiest Indian snacks and their healthy substitutes.
Most of the popular Indian snacks contain lots of calories, which may not be good for your health. When you eat those deep fried pakoda, or unhealthy zalebi, you are actually putting lots of stress on your liver, heart and other organs.
Continuously eating fried and unhealthy snacks will take a toll on your health in due course of time. Unhealthy eating may cause several health issues like obesity, cholesterol, thyroid, heart problems, indigestion, acid reflux, heartburn, diabetes, kidney problems, high blood pressure etc.
Unhealthy snacks often contain several additives, food colours, sodium, food syrups, and preservatives etc, which are detrimental for your health.
10 Unhealthiest Indian Snacks and their Healthy Substitutes
There are some very common snacks which you grab very easily, even foods which are not of Indian origin have entered our daily life and are inseparable. Foods like pizza, burgers, French fries, momos do not belong to India, but we have adopted these snacks.
Listed below are some of the unhealthiest Indian snacks that we eat every day, with tips to make it comparatively healthier.
Snack #1: White bread pakoda
White breads have loads of starch and carbohydrates, and hence it is not considered to be the healthiest food option. But white bread pakoda is a very popular Indian snack and obviously it is an unhealthy snacking option.
White break pakoda are made with white bread, gram flour, potatoes, and spices. Deep frying is an integral part of preparing pakoda. Boiled and mashed potatoes with spice mixes are stuffed in the bread. Next step is to coat the stuffed bread with gram flour and the deep fried in vegetable or mustard oil.
These spicy and oily bread pakodas go well with tomato ketch up or green chatani. Every time you eat a pakoda, you absorb huge calories, oil, carbohydrates, trans-fatty acids and sodium etc.
Healthy substitute: Replace the white milky breads with brown breads. Brown breads are rich in fiber and low in fat unlike the white breads. Instead of using potatoes, use healthy vegetables. Instead of using oil for deep frying, shallow fry or use grill to make a simple sandwich with brown breads.
You can also use cottage cheese, onions, lettuce, cucumber, tomatoes, boiled chicken, bell papers and other vegetables of your choice, which is comparatively healthier. And trust me; you are going to love the taste too.
Snack #2: Aaalo ke Parathe
Parathas are made of white flour or "maida", and fried in vegetable oil. You generally relish the parathas with chunks of butter, cheese, or some curries. Often, parathas are stuffed with spicy potato fillers, which are known as "alu paratha". Alu parathas in the fresh mornings is an integral part of breakfast, especially in the Northern India. Unhealthiest stuff in parathas are the oil, potato and maida.
Healthy substitute for Paratha: Make some roti or chapatti with "whole wheat atta", and not maida. Make filler with all of your favourite vegetables, add pepper, salt to taste and add a pinch of olive oil for taste.
Heat the pan, and make a wrap with the roti and the filler. Place the wrap on the frying pan, toss both the sides and have it hot. You can relish this with coriander chutney or dahi. Nothing is better than plain simple curd.
Snack #3: Puri bhaji
In many parts of India, it is called "puri", and also in Bengali it is somewhat similar to "luchi". Maida is used to make these, and then deep fried in a pan full of hot oil. You often have potato fries with it, or some curries or some sort of spicy tarka with it. Along with there is chutney or pickles of chilies. This dish is not at all healthy because there is lot of oil. But, then again it is also tasty and you will have great difficulties in refusing this snack.
Healthy substitute: Replace the "puri" with chapatti and enjoy the dish. You can have the curries. You can also avoid the excessive usage of potatoes and add all your favorite vegetables, like onions, beans, carrots, coriander leaves, curry leaves, coconut shreds, cabbage, beetroot etc. Then you can have the healthy snack and also tasty at the same time.
Snack #4: French toast
French toast is made with bread and eggs. The bread is dipped in liquid egg and then deep fried in oil. Deep frying result in loads of calories and also the nutrition of egg get lost in preparation. And the oil you consume can be seriously bad for your health.
Healthy substitute: It is best to have boiled egg or scrambled egg. You can add vegetables like onions, tomatoes, bell peppers, with the egg and then prepare the stuffed egg. Instead of white breads, you can use brown breads. Crispy toast the breads, and have them with scrambled eggs. To make it even more nutritious, you may like to complete it with fresh homemade juice.
Snack #5: Paani-puri
Famous as golgappa, paani puri or phuchka. In my opinion, this is probably the most overrated Indian snacks. Paani puri is available almost everywhere in India. It's made of mashed potatoes, peace, lemon and a number of green chilies and spices. It goes with the Paani which has salt and sour taste. Many consider this as unhealthy and unhygienic snack.
Healthy substitute: You can make pani puri much healthier by adding some vegetables in to it. Pani puri or goal gappa, can be made at home too and instead of using potatoes, you may like to add some veggies into it. If that's not something, then you should try puffed rice or Jhal muri. Take a bowl of puffed rice, add tomatoes, green chilies, chat masala, coriander leaves and lemon juice and you are good to go.
Snacks #6: Noodles
Preparing maggi within two minutes is certainly the easiest food that you can prepare. Maggi contains maida or white flour. Maida is not considered to be the best for your stomach.
Healthy substitute: Instead of readymade maggi, use some plain oats. Boil the oats, add some veggies of your choice, some spices, bell peppers, turmeric, chili powder etc. You can make some delicious khichdi kind of fish with the plain oats.
Snacks #7: Chips and wafers
The packaged chips and wafers are omnipresent. Wherever you are, you can find the packet chips hanging in front of you. They are excessive oily and filled with additives and preservatives. These chips can increase the cholesterol in your body, and create several health issues.
Healthy substitute: Instead of eating packaged chips, you may like to make your own chips at home with refined oil or olive oil. When you are eating something outside, then the main concern is the excessive oil. Instead of using potatoes, you may like to use banana or sweet potatoes to make your own chips. Banana chips are comparatively healthier. Instead of deep frying, you may like to bake it.
Snack #8: Flavored yoghurt
In the market, you can have various kinds of flavored yoghurt. You can have water melon flavored, apple flavored etc. The yoghurt also comes in various colours. You must be thinking that you are having some healthy dishes and you will hog it uncontrollably. Here, is the problem. The packaged flavored yoghurt will have dried fruits, added sugar etc. With these things, the taste will be increased but your health will be compromised.
Healthy substitute: You can have the plain curd or dahi. Do not add sugar in dahi while you eat it. You can add fresh fruits like pineapple or grapes so that the dahi tastes sweet. You can make raita with curd and have it.
Snack #9:  Biscuits
Most of the biscuits are made with refined flour or Maida or white flour and loads of sugar. These biscuits may not be as healthy are you think and hence you may like to replace it.
Healthy substitute: Instead of biscuits, you may like to grabs some fresh nuts like almonds, walnuts, or dried fruits. The nuts can increase your metabolism and can also make you feel fuller for longer hours.
Snack #10: packaged fruit juice
When mom is making fruit juices of mausambi for you, you are making faces, but when you are getting hold of the packaged fruit juices from the market, or the fruit flavoured squashes, you just love them. Why so? The packaged or the readymade fruit juices contain extra food colours, syrups, preservatives, additives, artificial sweeteners, sugar etc.
All these artificial things are reducing the nutritional value of the fresh fruits, but increasing the fat content. While you are drinking these juices, you are thinking that you are consuming healthy drinks, but in reality you are not. You are actually taking in a lot of sugar and fats.
Healthy substitute: Make fruit juices at home in juicer or grinder. Cut fruits in slices, and then prepare juices, but do not add any sugar. You can add half a glass of water if you want, but no sugar.
The fruit juices made at home are devoid of any artificial colours, preservatives or colours. When you are drinking the homemade fruit juice, you are actually snacking on a healthy option. In summer, you can drop some ice cube in the drink and then enjoy it.
Over to you
You will feel the need to snack even though you are not hungry. Instead of eating the unhealthy Indian snacks, you may like to replace it with other healthier substitutes. Not only that helps you soothe your taste buds, but also takes care of your health.
Which are your favorite Indian snacks, is it really healthy?