Green tea has originated in China, but now it has spread widely in Asia and also around the globe. Green tea was originally used as a natural Chinese medicine and was prepared by soaking in alcohol and various other byproducts. We all are aware of the multiple health benefits of green tea; we know that it is good for us. In this article, we will know a bit more about green tea and how drinking just two to three cups of green tea can be beneficial for your health and wellbeing.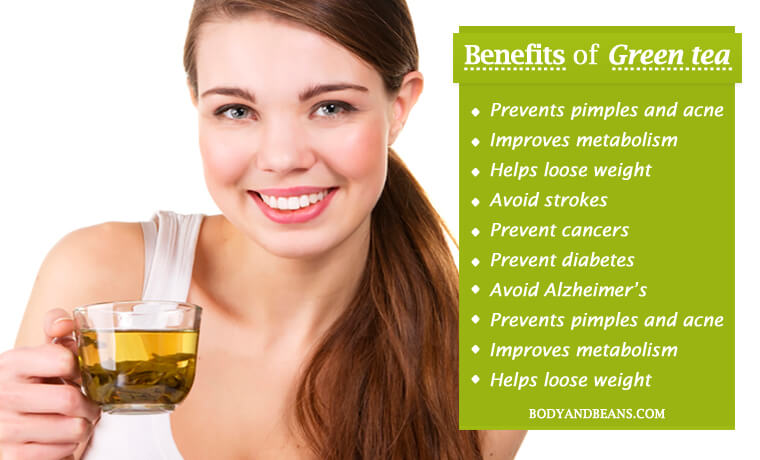 Green tea is different from the oolong tea or black tea. Green tea leaves do not undergo the withering or oxidative process, hence it is of a purer form. There are many health benefits of green tea, including weight loss, cholesterol, diabetes and strokes. Obesity is one of the major health issues of the world we are living in, and green tea can help in getting rid of the excess body weight and other health issues.
Nutritional content
According to USDA, 100 gram of green tea will have:
Water: 99.9 gm
Caffeine: 12 mg
Manganese: 0.18 mg
Potassium: 8 mg
Sodium: 1 mg
Fat and carbohydrates: 0
If you are diabetic, or having high cholesterol, thyroid or overweight, then drinking green tea twice a day can be really helpful. Green tea is not that sweet in taste, but you can add honey and lemon for taste and to get maximum benefits.
Top 7 health benefits of green tea
Green tea can help your kidney function properly due to its high water content, it can rehydrate your body, it can help you in weight loss, it is a great detoxifying agent, it can remove the skin problems. In a nutshell, the green tea will help you immensely to lead a healthy life. Without wasting any more time, let us take a look at the prominent benefits of green tea.
Good for brain
Caffeine is known as a brain stimulant which can activate and recharge the brain neurons and make you even more active. Green tea contains much less caffeine than coffee, so it is not that harmful as coffee. But, the caffeine content is enough to do the deed. It will keep you awake if you are studying for your upcoming exams. So, switch the coffee with green tea and be more healthy. Beside caffeine, green tea also contains L-theanine which is an amino acid. Green tea can make your brain function faster and thus make you smarter. It can also break the blood-brain barrier and helps proper functioning of the brain by charging the neurons.
Prevents and fight cancer
Green tea has powerful antioxidants, polyphenols and flavonoids, and catechins which can reduce the formation of free radicals and thus protect the cells and molecules from damage. Cancerous cells are formed due to the free radicals and the green tea can prevent the formation of these radicals. Green tea also has innumerable bioactive compounds and minerals which can prevent and fight cancers like ovarian cancer and prostate cancer. Women who drink green tea have 22% lower chance of having breast cancer, men who drink it have 48% lower risk of prostate cancer and it also helps in reducing the risk of colorectal cancer by 57%.
Helps in weight loss
Green tea increases the basal metabolic rate or BMR of the body which helps in weight loss. As the metabolic rate of the body increases, it helps in burning extra body fat and losing weight. Fat cells cannot get accumulated and stored in joints and muscles, in your belly, shoulders etc. Increased metabolism also gives you high levels of energy so that you can spend the whole tiring day confidently. Your body will digest the food fast and the glucose will be mixed in the blood stream. The glucose will be converted into energy and thus sued up by the body. It helps you feel fresh and energetic whole day.
Green tea can increase the fat oxidation by up to 17%, thus helping in burning fat. According to this study, green tea promotes fat oxidation when when you are in rest mode and hence, it may help in preventing obesity. If you want to lose weight then you should start drinking green tea, as it helps in losing weight.
Prevent age-related illness
Diseases like Alzheimer's and Parkinson's can be prevented by drinking green tea regularly. Both these disorders are neurodegenerative in nature. Green tea is known to boost the brain functioning and keep the neurons active. Green tea has anti-oxidizing properties and also anti-inflammatory properties, along with catechins which boost the brain functioning. If you want to prevent these age related illness, maybe it's the right time to switch to the green tea.
Fights against diabetes
According to this study Green tea can reduce the risk of having Type 2 diabetes by as much as up to 42%. A detailed study was conducted over a period of 5 years and the study concluded that consumption of green tea, coffee and caffeine is associated with reduced rate of type 2 diabetes. Green tea increases the production of insulin by the pancreas and thus lowers the level of sugar in the blood. In the recent times, more than 30 million people are suffering from diabetes. If you are diabetic, then drinking green tea may also lower the risk of suffering from diabetes in the long run.
Bonus Read: Remedies to prevent and control diabetes
Better heart conditions
People who drink green tea have 31% lower risk of cardiovascular diseases. Green tea plays a major role in preventing the oxidation of LDL cholesterol and thus the risk of cardiovascular diseases like heart attacks and strokes is reduced. The cholesterol level of the blood is maintained and you can prevent the diseases from occurring. The heart blockages can be averted so that normal blood circulation is promoted through the blood vessels.
Good for skin related issue
Green tea can be the cure of your skin problems. With the arrival of scorching summer, your skin may have many ill effects. Green tea is the answer of all your skin problems and blemishes.
If your skin is oily, then there are high chances of pimples and pores. Dip a cotton wool in green tea and dab it gently on your face to get rid of pimples.
Apply the green tea on pimples and acne every night and leave it overnight.
If you are having sun tan, then apply the cool green tea and wash the face with the same. The tan will go away after a few days.
Drinking green tea will remove all the unwanted toxins from the body and thus the skin problems will vanish automatically.
When to drink green tea for maximum benefits?
You can ditch the milk tea and coffee, and switch to the green tea for it is healthy and beneficial for health. There is no specific time, but still having green tea in the morning in empty stomach is considered to be better. Green tea can energize you and it also keeps your body hydrated. If you are doing some physical exercises like jogging or yoga or gym, then having a cup of green tea will certainly rejuvenate you.
You will feel energetic and can continue the daily activities with full vigor. Green tea is a strong natural detoxifying agent and hence it can flush out the unwanted toxins from your body.
Some people also drink green tea in the evening or at night. If you are drinking green tea at night, then it will help you to be awake. If you have an assignment to finish, or an exam, or a deadline to reach the next day in office, then you may like to have green tea. Green tea has caffeine which will keep you awake. But, if you want to enjoy the health benefits of green tea then drink it in mornings, afternoons and evenings.
Over to you
There are many health benefits of green tea. Apart from boosting metabolism and helping with weight loss, it has many other health benefits, like:
Avoid strokes
Prevent cancers
Prevent diabetes
Avoid Alzheimer's
Prevents pimples and acne
If your skin is oily and there are lots of pimples, then the green tea may help in curing some of these skin issues. The pimples and acne are mainly caused due to the presence of unwanted toxins in the body, and green tea is good detoxifying agent.
For most of us green tea can be magical. But it may not suit everyone and may cause constipation or stomach upset. If you feel any issues like that, maybe you should consult a doctor and follow the advise.
Do you drink green tea?