The tropical Indian summers can be too disgusting due to the humidity. Daytime temperatures can rise to as high as 45 degree centigrade. With the rising temperatures comes the rising number of skin and health problems. During the sultry summer, your skin is exposed to the scorching sun, and it has to bear the heat, dirt, sweat and pollution. Body rashes, prickly heat and other skin issues like blemishes and pimples etc are too common in summer. If you are struggling in curing body rashes and prickly heat, then here's the post worth reading. Today in this post, we are going to talk about various remedies that you can use to prevent and cure body rashes and prickly heat this summer.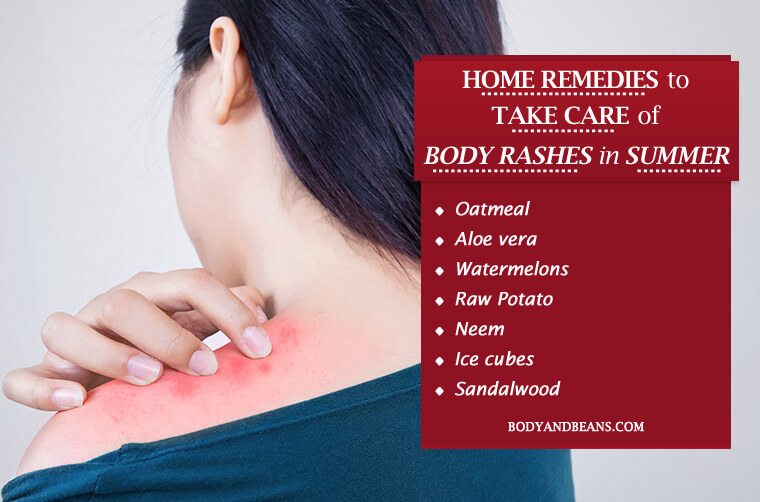 The rashes can also be caused due to allergy, sultry and hot weather or bad food habits. Taking care of body rashes may become challenging, if you don't know the right remedies. But there are several home remedies that can be applied to prevent and cure body rashes in summer.
What is heat rash and prickly heat?
When you expose your skin to the harmful ultraviolet rays of the sun, your skin becomes susceptible to damage and skin irritations. Heat rash and prickly heat is caused when the pores become bigger, sweat glands increases and this may cause skin allergy.
Heat rash and prickly heat are most common phenomena to take place in summer. The skin will have itchiness, round red rashes, swells in patches, and burning sensations.
When your kids are playing in sun, or on their way to school, when you are going office, and like these there are various instances when your skin is exposed completely to the sun.
The rashes have strong itchiness, and you will have urge to scratch the affected areas with your nails. And doing so may even worsen the situation. Instead of scratching, you should take some preventive measures which may help you to prevent and cure body rashes in summer.
Remedies to prevent and cure body rashes and prickly heat in summer
Last summer, I suffered a lot due to the painful and itchy body rashes. I am sure you have heard of the stuffy and sultry summers of Delhi (India). I used all the cosmetic powders and creams available in the market. It works as a temporary measure and gave me momentary relief, but I could not get permanent relief.
And then, one day, my mom suggested me some simple home remedies to deal with these summer body rashes. I did as per her instructions, and the remedies worked like magic.
Within few days, my rashes disappeared and it never occurred again. This year too, I have my remedies handy, in case I need them. I am sharing some of these home remedies here, so that you can use it to deal with the body rashes and other skin issues this summer.
Oatmeal
Oatmeal is that substance which has got all kinds of good qualities. It is a super food, which is highly beneficial for your health. But this is also a great scrub that you can use to clean your skin. Oatmeal can be an excellent exfoliating scrub.
It can easily remove the oil and dirt from the blocked sweat ducts and pores. The oatmeal scrub can cure and prevent any rashes and allergies, or any inflammation. Oatmeal also has anti-inflammatory properties which is beneficial for your skin.
Add oatmeal in lukewarm water and apply it on your skin.
You can fill your bathtub with oatmeal and water.
You can also make a thick paste of oatmeal with water and apply the same in affected areas to get instant relief.
Continue the process daily until you find that the rashes are gradually reducing.
Aloe vera
Aloe vera holds a central position when it comes to Ayurvedic treatments. Be it normal skin problems, dandruff, hair fall or digestive issues, aloe vera is highly beneficial in dealing with most of these issues.
The aloe gel or the aloe extract that you can find in the leaves of the aloe plant can cure the heat rashes quickly.
If you cannot get hold on an aloe plant, then you can buy the aloe rich moisturizers and creams and apply the same on the affected areas.
The aloe vera is highly beneficial because of its anti inflammatory and anti-allergic properties. It can effectively reduce the inflammation and allergies, thus cure the heat rashes and prickly heat. Aloe can give a cooling effect to your skin instantly.
Wash your body, remove the dirt and then apply the aloe extract or aloe creams. You can take out the gel and store it in a bottle and use it daily.
Watermelons
Being a summer fruit, watermelon is a super fruit worth eating in summer. Watermelon contains 95% water, polyophenols and various other compounds which help in hydrating your body in summer.
Watermelons also contain beta carotene and lycopene which contributes towards better skin conditions.
Take a pulp of watermelon, remove the seeds and then apply the fruit directly on the skin. The fruit will cool the place and give you immense relief. You can also eat the fruit and drink fresh fruit juice for getting relief.
Raw potatoes
The potatoes have water in them and they are cool in nature. The raw potatoes have lycopene in them which gives them anti-inflammatory properties. The potatoes can give a calming sensation to the itches and the burning rashes.
Cut some round potato slices and keep them in fridge for few minutes, then rub it gently on the rashes. You can grind the raw potatoes and then apply it on the rashes directly.
Neem
The neem leaves are rich in benefits, and there are no side effects of this herbal source. Neem is an essential part of Ayurveda, it is replete with benefits.
You can take out the extract by the boiling the neem leaves in water. You can also make a paste of neem leaves but do not add water there.
Apply the paste in affected areas. You can also drink the neem leaves juice. This juice is the strongest detoxifying agent. The neem juice will flush out the toxins from the body and thus cure the rashes from within.
Ice cubes
Heat rashes and prickly heat, as the names suggest, these are caused excessive high heat. Ice cube is the best way to soothe you in heat and nothing can beat that. Ice cubes can give you relief from the burning rashes by cooling instantly.
You can rub the ice cubes gently on the rashes, but by doing so you can get cough and cold. So, wrap the cube in a handkerchief and then rub it gently on the skin. The burning and the itchiness will go away soon, giving you relief.
Sandalwood
Sandalwood can kill all the germs, bacteria that are responsible for causing the rashes and the itchiness. The sandalwood powder can be mixed with rosewater or glycerin and then applied on the rashes. The sandalwood paste is beneficial for curing and preventing the heat rashes. Apply the paste, and then let it dry for 15-20 minutes. Then wash it with cold water. Do this daily before bath to get instant relief.
What else can be done to deal with summer heat?
Continuous sweating and dehydrated body can be really bad for your health. Here's what you can do to deal with the scorching sun this summer;
Apply sunscreen lotions on the exposed skin, face neck, hands etc.
Wear sunglass and hats or caps if possible.
You can wrap around a cotton dupatta to cover yourself up.
Do not forget to carry an umbrella with you.
Carry water bottle with you. Drink water of normal temperature.
Keep yourself hydrated by having some summer fruits and vegetables.
After returning home, clean your skin affected by the rashes fast, so that dirt and oil cannot sit on your skin for long.
Part from taking these precautions, make sure to drink plenty of water before going out and take shower twice, every day.
Precautions
We all have different body types and hence it is essential to observe the result when applying these remedies. Everyone may not get the same result and some of us may be allergic some of the substances.
If you find that the rashes are not decreasing, then it is better to visit a dermatologist and seek for medical assistance.
Over to you
Heat rashes and prickly heat are common problems in summers. People of all age groups and genders can have these skin issues in summer. But there are a few quick and simple home remedies that you can apply and get rid of these issues.
We have already discussed how simple ingredients like raw potatoes, watermelons, oatmeal, aloe vera etc can be used to fight body rashes and other skin issues in summer.
What else do you do to prevent and cure body rashes and other skin problems in summer?