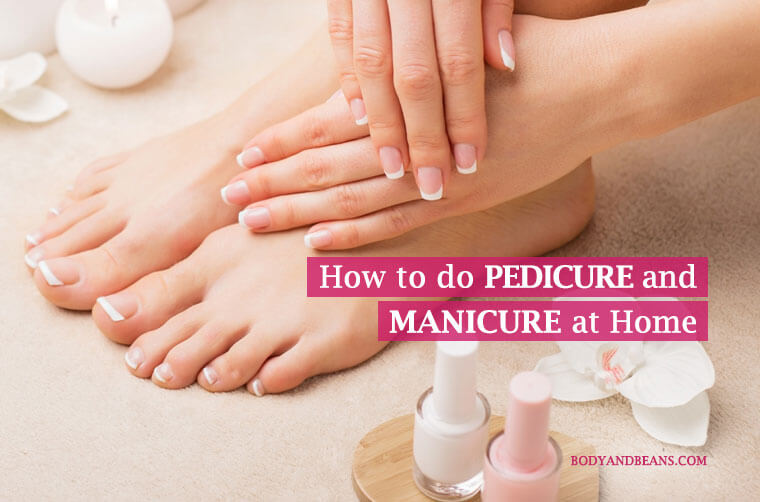 There can't be a better way to pamper you than getting a perfect pedicure and manicure done at home. Pedicure and manicure are one of the best ways of pampering oneself. And if you are looking to get that salon style pedicure and manicure done at home then this is the post worth checking. Today I am sharing everything worth knowing about pedicure and manicure at home. Trust me, the results will be very effective and since the procedure is also cost effective, I am sure you will love to do them quite frequently.
Although pedicure and manicure are so healthy and relaxing, sadly only a handful of people give proper attention to them and get them done frequently. Whereas in contrast to that, most of us are quite active when it comes to caring for our face or our hair, isn't it? Well, one of the main reasons behind most of us being so lazy when it comes to pedicure and manicure might be due to the fact that whenever we think of pedicure and manicure, we have a misconception that it might be difficult to do at home or that it may take too much of time to get it done on our own and hence feel like doing these only when we hit the salon or only on special occasions. Now there is nothing wrong in going to the salon but the fact is it is quite expensive and cannot be visited frequently which leaves the nails of our hands and legs unattended for a long time.
Moreover, beside the above-mentioned reason, there is also a general tendency to ignore doing pedicure and manicure time to time with the only exception being you as a part of the glamour world or in any profession where you have to face the cameras often. I am making this statement after a lot of observation. Even when girls visit a salon, they are more interested in going for a spa or a facial than investing a little more in doing pedicure and manicure. I do not know maybe most of us feel that is not much important but the truth is pedicure and manicure need to be done on frequent intervals as they are necessary not just to beautify your hands and legs but also in keeping your nails healthy and strong.
Many a times when we wash our hands, the dirt still remains inside our nails (especially when we have long nails) that is highly unhygienic and may even lead to infections or digestive issues. And, as far as our toe nails are concerned, they need even more attention as they are all the more exposed to the dirt, filth and germs. In short, you cannot just skip pedicure and manicure. In other words, not doing pedicure and manicure will keep your beauty regime incomplete. Moreover, pedicure and manicure help in proper circulation of blood and so there is yet another reason not to ignore them.
Also, we can never ignore the fact that if you do pedicure and manicure on frequent intervals; it will help you fight the problem of your skin getting tanned due to the harmful ultraviolet sunrays. So, I find no reason why you should not be doing timely pedicure and manicure at home or may be in your favorite salon.
I understand that hitting the salon is a time taking and costly affair. But you can always get them done at your home whenever you get some free time. I will teach you how and will explain the simple steps to a perfect pedicure and manicure at home. You just give them one try and judge things for yourself. So, if you are interested to learn about how to do pedicure and manicure at home, then continue reading this post and jot down the points carefully.
Pedicure and manicure at home – step by step guide
When you idolize the beauty of a female celebrity, you need to consider the fact that how much she takes care of herself in order to look that beautiful. And, maintaining oneself includes taking proper care from head to toe which inevitably includes doing pedicure and manicure on frequent intervals.
Beautiful hands and legs are a part of your beauty and so you must never give it a miss. Since salon is costly, you can get the pedicure and manicure done at your home and on your own. Here are some simple steps to a perfect pedicure and manicure at home. I will start with the steps of pedicure and then move on to the manicure procedure.
Step by step guide to do pedicure at home
Manicure is a simple cosmetic treatment for feet and fingernails. Apart from giving a relaxing feel, the goal of the procedure is to make your feet and nails look good. Usually performed at a salon, one can easily do pedicure at home and here's the step by step guide to help you get it right.
For proper pedicure at home, you need a large basin to comfortably fit in your legs. At first, you need to fill the basin with warm water and any detox bath soak as per your choice. This is really necessary as without these you will not get that proper relaxing feel. This is also good for proper blood circulation and to give your feet a soothing soak that is very essential in a good pedicure.
Now take a soft bristled brush or a bath sponge and scrub from the toes to the calves. This is necessary to exfoliate the area. If you have a pumice stone at your home, you must use it to exfoliate the areas of your feet that are rougher. However, try to be gentle while using it and do not make it painful for you. After that, using a nail brush, scrub your toes and make the toe nails thoroughly clean.
Next, you got to push the cuticles back very gently with the help of a cuticle pusher. Alternatively, you may also use a soft wash cloth. It is advisable that you do not cut the cuticles as they give protection to your nails from bacteria and infection.
After that, apply Argan oil or coconut oil and massage your skin to keep your cuticles healthy. In fact, you can do this daily to give proper protection to your nails and avoid the occurrence of nasty hangnails. Applying oils also keep the area moisturized.
Now it is time to trim your toe nails to your desired length. Be a little careful not to trim them too short as that might cause painful ingrown nails.
After that, you need to file the toe nails from one side to the center. Then do the filing from the other side to the center.
Then apply your favorite body butter on your feet and make them baby soft. After that, remove any residue before moving to painting your toenails.
While you paint your toe nails, I will suggest you to keep your toes separated. For that, you may weave tissue or cotton between your toes. There are also nifty toe separators made from foam available in market, you may consider using them as well.
Now, you may apply your favorite nail paints but if you want that salon style finish, then you may apply a base coat polish first, followed by nail polish and then some glossy glass top coat polish. Make sure you allow them to dry for few minutes in between the coat applications. And, after you have applied the top coat, it is best if you can wait for around 15 minutes and then start walking.
Step by step guide to do manicure at home
For the starters, a manicure is a cosmetic procedure for the fingernails and hands which can be performed at home or in a salon. This is the art of taking care of your fingernails and hands. And here's the step by step guide to do manicure at home, easily.
The very first step that you have to take before starting your manicure is to remove any existing nail paint (if there is any) using a natural nail polish remover.
Then get started with your manicure at home by soaking your hands in a container full of warm water. This will help to soften your cuticles. After that, using a nail brush, clean the under and around the nails and the nail beds. Now, exfoliate the area of the cuticle with a scrub. A sugar scrub along with the refreshing lavender essential oil will be great in this respect.
Next it is time to push back your cuticles using a cuticle pusher very gently. You may even use a soft wash cloth. And, just as I instructed during pedicure, I will request you not to cut the cuticles during manicure as well as they protect your nails from bacteria and infection.
After that, apply Argan or coconut oil and massage them into your skin. This will keep your cuticles healthy and will also prevent the occurrence of nasty hangnails.
Now, you must trim your nails as per your desired length and shape. Juts avoid cutting it too short as that will get painful and may lead to ingrown nails.
Then you need to file the nails but not in the back and forth motion. This is because it may lead your nails to weaken, snag or splinter. So, to avoid all this, try to file the nails from one side to the center and then from the other side to the center.
After that, massage your favorite butter cream in your hands to get that soft and smooth feel. This is good for improving your blood circulation as well.
Now, it is time to apply some nail paint. But, before that, properly remove any remaining oil or residue from your hands. This is important as if you skip it, you will have a hard time adhering your nail polish to your nails. You may use a Witch hazel in this respect.
Then as far as the nail paint goes, start with the base coat. After that, select your favorite nail polish and apply it. For smooth application, start with the brush at the center and then paint each side towards the tips. I always recommend going for a thin second coat as that makes the nail paint last for long. After that, end your manicure with a glass top coat polish and let it dry for 15 minutes.
Tips for perfect pedicure and manicure at home
Now that you have known the simple and easy steps to a perfect pedicure and manicure at home, I am hopeful that things will not seem so difficult henceforth. But there are other essential tips that I would like to share with you in order to get salon style pedicure and manicure done at home easily and on your own.
Use a base coat and top coat
You must have noticed that I have separately mentioned you to use a base coat and top coat both for pedicure and manicure. This is really needed if you want to get that salon like finish sitting at home. These are crucial to protect your nails from the start to the finish.
Moisturize beforehand
Moisturizing is important but make sure you do it beforehand as that will ensure your newly painted nails to dry safely without any disruptions.
Avoid Q tips
Many a times I have seen individuals using Q Tips to clean the nail polish mistakes but this is not appropriate for such detailed procedure. Use a makeup brush dipped in nail polish remover instead to touch up the smudges.
Don't shake nail polish bottle
Please avoid shaking your nail polish bottle before applying it on your nails. Instead roll it. This will prevent the formation of bubbles and give you smoother pedicure and manicure.
Use dry and cool environment
When you are doing the pedicure and manicure at home, try to select a dry and cool environment. This is because in a dry cool environment, your nail polish will get thoroughly dried in between the layers.
Use fresh nail polish
If you want your nail paint to look beautiful on your hands and legs, then you should always use a fresh nail polish bottle. The old ones generally do not give that smooth finish and you will not get the salon style pedicure and manicure that you desire.
Clean the tools
After finishing your pedicure and manicure, make sure you clean the tools. Cleaning of all the tools used during pedicure and manicure is mandatory in order to avoid the buildup of bacteria that may further lead to infections.
Over to you: ever done pedicure and manicure at home?
When you do your pedicure and manicure, the hands and the legs look beautiful and that adds to your overall look and personality. So, your beauty regime will remain incomplete without proper pedicure and manicure. I mean beauty regime cannot be done of only selected parts of your body, it must be from head to toe. If you have got a pretty face and gorgeous hair but your hands and feet are unclean and ugly, then that will create imbalance and disruption in the way you look. So it is advisable that when you take care of yourself, make sure you do not ignore the hands and the legs.
In fact, apart from the beauty aspect, pedicure and manicure are important to keep your nails clean, healthy and strong. So you must maintain a proper schedule to get your pedicure and manicure done just like you take care of your facial skin or hair.
Now, visiting a salon may costly and a time taking affair and hence visiting them every now and then may not be possible always. So, just like to take the help of home remedies to take care of your skin and hair, you can take care of your nails by doing pedicure and manicure at home on your own. To make things easier for you, I have already shared with you some very easy and simple steps to a perfect pedicure and manicure at home. So, if you follow these steps and additional tips, I am sure doing pedicure and manicure at home will not be that difficult for you.
In fact, the steps that I have recommended today are something that I have been following since a long time. And I am very happy with the results and feel no need to rush to the parlor to get my nails done. So, when I am so contented with the outcome, I am sure if you are able to implement the steps properly, you will also be very satisfied with the end result.
And, if you do the pedicure and manicure at home, feel free to share your tips and ideas as well. And, if you like my post, please share it with others and help me spread the word.
I also want you guys to send me topic suggestions if you want me to write on any particular topic. I will be more than happy to help you out in every possible way. Lastly, thanks for all the support that you all have shown to Bodyandbeans so far. I will hope our bond will remain so strong in future as well.
Until then, stay safe and do not forget to share your story of doing pedicure and manicure at home with me.