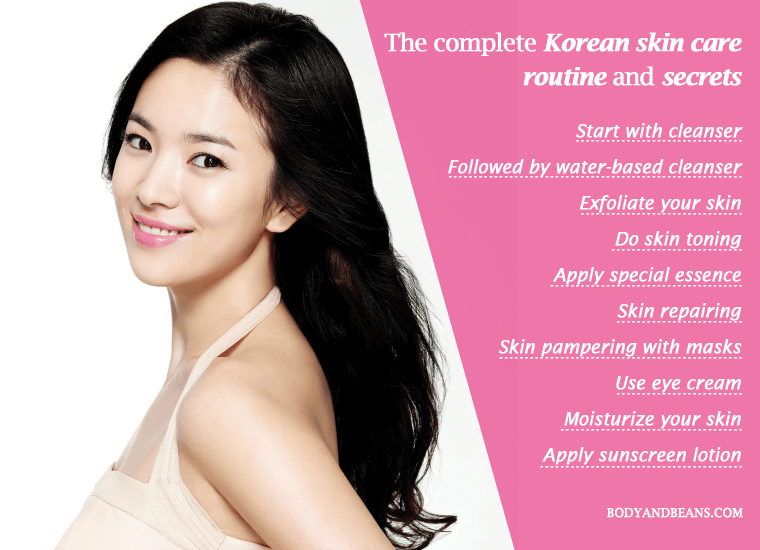 Have you ever come across a Korean woman in person? Well, if you did then you will actually understand what I am talking about. I seriously believe that the Korean have the best skin in the world. There is glow, there is that perfect texture, no marks at all, and perfectly flawless is perhaps the right word that can describe the skin of a Korean lady. And if you are wondering about how to get such healthy and flawless skin, then continue reading post as we discuss the Korean skin care routine in detail today.
Genes definitely play a role and most Koreans are blessed with naturally beautiful skin. But what makes their skin absolutely perfect is the amazing skin care routine that they follow. Skin is definitely an important aspect of our beauty. Even if you do not have perfect facial features, having a gorgeous and healthy skin will make you look charming and attractive. This is why having a beautiful skin builds up your confidence and makes you happy from inside.
Sadly, not each of us have natural clearer and glowing skin, but we can always strive to transform the quality of our skin by adopting right kind of skin care routine.
And, the best way to get it right is to take into account the easy and interesting Korean skin care routine and tips to get beautiful skin like Korean naturally. I recently met a Korean skin expert and we had a detailed discussion on what kind of skin care routine they follow and how it can be used to transform the skin quality of any individual.
And today in this post, I am going to give you a detailed over of the Korean skin care routine secrets and also talk about how it can help you to get the beautiful skin like Korean men and women. So, if you are looking for the perfect skin care routine that is followed by Koreans to look after their skin, then here's the post worth checking.
Ageing is inevitable and all of us are slowly aging by every passing day. It is natural and inevitable and as we age, our skin is also going to lose its charm over a period of time. But, if we learn to take care of our skin properly, right from the beginning and give it the right kind of protection from the harshness around, then we can obviously delay the skin aging process to a great extent.
Basically, it is very important to take care of our skin both internally and externally. By taking care internally, I mean eating all the healthy foods, drinking lots of water and juices to allow proper detoxification, regular workouts and so on. And as far as the external skin care routine is concerned, your skin requires proper cleansing, toning and moisturizing.
Korean skin care routine primarily includes these 3 steps. The techniques are a little unique, but trust me, they are very crucial for the overall well being of the skin.
Korean Skin Care Routine to Get Flawless Glowing Skin
Korean skin care routine may sound like a little too complicated, but trust me; all you need is a few simple steps to get that flawless glow. The only thing that you need to remember is that Korean skin care is not an overnight miracle. So, you need to diligently follow the skin care routine and slowly you will start seeing the results. The more consistent you are with your Korean skin care routine, the more benefitted you are going to be.
Here are some of the easy and interesting Korean skin care secrets to get flawless glowing skin like a Korean.
Start with oil cleanser
You need to first remove all of the makeup from your skin and for that; an oil cleanser is the best as far as Korean skin care routine is concerned. Choose a good quality oil cleanser and then apply it all over you face and neck. Do not miss out your lip and eye area. In a very gentle manner, massage the cleanser and then dab some warm water on it. Continue massaging on your wet skin and then after sometimes, wash off your face.
This process is a great way to dissolve the makeup and all of the dirt, dust and debris that has accumulated on your skin throughout the day, making it very fresh and clean. You can choose any good oil cleanser but the Erborian Solid Cleansing Oil is one good option that you may like to consider.
Apply water-based cleanser
If you feel that the cleansing part is complete with the application of the oil cleanser, then you are wrong because the cleansing part will become complete only when you use a good water-based cleanser after using the oil cleanser. The main reason is because even after using the oil cleanser, there will be some debris left on your face and for that, using a water-based cleanser is highly beneficial.
At first, wet your skin and then massage your skin gently in a circular motion using the water-based cleanser. After sometime, rinse your skin with water. Now, your skin becomes fully clean.
The water-based cleanser mostly come in either gel-based or foam forms. They are very efficient in getting rid of the impurities that the oil cleanser might have missed out making your skin squeaky clean.
Skin exfoliation
The third important step in Korean skin care routine is to exfoliate your skin. This is very much required in order to get rid of the topmost layer of dead skin cells and reveal the polished bright skin inside. When you scrub off the dead skin cells, it actually helps the skin care products to work on your skin thoroughly. Exfoliation clears the skin pores and makes the skin very smooth and radiant.
It is mainly due to the microbeads present in the exfoliators that help in the removal of the dead skin cells making your skin look radiant. And, that is why exfoliation is an important part of Korean skin care routine.
To get the maximum benefits of exfoliation, all you need to do is to wet your skin at first and then apply the exfoliator. Scrub it on your skin very gently in circular motions for some time and then wash it off. There is no need to use the exfoliant every day. If your skin is not sensitive, then use it 3 times weekly and in case of sensitive skin, limit it to 2 times every week.
Skin toning
Properly toning the skin is an important part of Korean skin care routine. It freshens up your skin and prepares your skin to absorb whatever products you will be using after that. Toners are also very important to balance the pH level of the skin, and they also remove any remote impurities that the cleansers might have missed.
You need to apply your favorite toner on your face using your fingertips. You may also dab it on the skin with the help of the cotton swabs. You need to massage in the outward motion that is away from the nose and towards your years.
Apply Korean essence
One of the most unique steps in the Korean skin care routine is the usage of the Korean essence. It is nothing but a toner cum serum hybrid having water consistency and excellent skin repairing properties. It also hydrates your skin and rejuvenates it.
After you have used two cleansers, your skin definitely needs extra amount of moisture to restore the balance of moisture in your skin, and that is exactly what these Korean essence does. Besides brightening your skin, it also balances the pH level of the skin.
You simply have to pat the essence on your face either using the cotton swabs or your fingertips in an outward motion right after you have toned it. Let the essence stay on your skin. The Benton Fermentation Essence is a good one and you may consider trying it.
Skin treatment and repairing
If your skin is uneven, or has dark spots or pigmentation or any other skin issues, then you can definitely consider treating your skin accordingly. You can actually choose the right serums, boosters and ampoules to help your skin repair well.
These treatments actually target the problem areas and fight common and stubborn skin issues like acne, large pores, wrinkles, dull skin etc. They actually address the skin issues and tackle them immediately, so the problem does not worsen.
Take adequate amount of treatment product and using your fingertips dab it on the problem areas of your skin. Massage very gently. Trust me; they are really very good in treating the skin concerns.
Sheet masks for skin pampering
The amazing Korean skin care routine will remain incomplete without the mention of the sheet masks. This is another Korean special and is something that you got to try. The reason behind the recommendation is because the sheet masks pamper and nourish your skin using the best ingredients at the same time provides you with a calming and mediating experience. You need to choose a mask that will serve the purpose of your skin and will also match your skin type.
You actually need to stick them on your skin and allow them to pamper and condition your skin with all the healthy nutrients. For that, you just have to place it on your face and let it stay for about 15-20 minutes. You need to relax while your sheet mask is on. You can use the sheet masks daily or once or twice weekly as per your choice.
Apply eye cream
Korean skin care requires you to take proper care of the skin near your eyes and so you must use a good eye cream. The portion near your eyes is really very delicate and you need to give it special attention. Eye creams are just perfect for this. They treat the under eye circles as well as smoothens the skin around your eyes. They also hydrate the skin and make them look very fresh and bright.
Simply take the eye cream of your choice and dab it gently on the orbital bone area using your fingertips. Avoid applying on your waterline. Using the cream twice every day, in the morning and before going to bed will give you magical benefits.
Time to moisturize
Moisturizing is very important in order to get a healthy skin. It is very important as it hydrates your skin by sealing in the moisture. It makes your skin very soft and supple.
Take a moisturizer that suits your skin type. It could be lotion, gel or cream- whatever works best for you. Rub some moisturizer in your hands and massage it on your skin two times daily, in the morning and before going to sleep.
Apply sunscreen
Applying sunscreen lotion with a good SPF is an essential step in Korean skin care routine. It prevents premature aging and gives protection from skin cancers. It shields your skin from harmful ultraviolet rays of the sun and protects it from pigmentation, tanning and dark spots.
Use a good sunscreen every time when you step out in the sun. Make sure it is the last skin product you are using to avoid diluting of the products and weakening of the effect of the sunscreen's SPF.
Korean skin care secrets worth trying to get beautiful skin
The above mentioned steps of the Korean skin care routine are really very important for you to follow if you want to have flawless skin like the Koreans. But, to get the maximum benefits, you should also adopt healthy living practices like eating right, sleeping properly, and regular exercise etc.
Listed below are a few of the other essential Korean skin care secrets worth knowing to get beautiful and flawless skin like Koreans.
Include lots of fruits, vegetables, lentils, nuts etc. in your diet. Because, the healthier your diet is, the more nutrition your skin is going to get to become healthy.
Stay very active and exercise on a regular basis. This will lead to healthy metabolic functioning and proper working of your digestive system which in turn, is very much required to keep your skin healthy from within.
Sleep well and early like before 10 pm. This is because the time between 10 pm to 2 am is the perfect time to take rest and rejuvenate your skin.
Be happy and have a positive and optimistic outlook towards this beautiful life and world.
Avoid taking stress and stay calm and relaxed. Stress can affect your skin a lot and so it is important that you get rid of stress. Try out mediation and all the relaxation techniques to stay relaxed and tension free.
Over to you
Proper skin care routine is vital if you want to maintain the quality of skin and delay skin aging signs. Healthy skin definitely adds to an individual's beauty and so we all desire to have good, healthy and glowing skin. But no matter how beautiful your skin is, unless you adopt proper skin care routine to maintain it properly, it is going to lose its charm really fast. But, if you desire to have skin like those of Korean women, then you should follow the Korean skin care routine diligently.
I have already shared the complete Korean skin care routine that'll help you to get healthy and glowing skin easily. If you follow these Korean skin care routines diligently, I am sure you will be able to maintain your skin quality easily. The Korean skin care routine may appear like a little too much, but trust me, it's going to give you extra ordinary results and hence it is worth it.
Apart from following the Korean skin care routine, you should also be mindful in eating, and ensure you that you are sleeping well, taking no stress and working out regularly. Regular exercise can surprisingly improve your sleep quality, digestion and it helps you stay calm and happy. Avoid stress and tension of all kind and remain positive and optimistic to live healthy and happy.
Have you followed any of these skin care routine? What's your skin care routine to maintain the health and glow of your skin? Feel free to share any tips, hacks and skin care routine that has worked for you.
And finally, if you like this post, please share this post and help us spread the word.
Until I come up with the next post, you stay healthy and happy.