Due to the increasing pollution, dirt and stress, we face lot of skin problems that were unknown in the past. It has thus become very important for us to maintain a daily skincare routine in order to keep our skin glowing and flawless and if you have oily skin, then it gets mandatory. Oily skin out of all the skin types is the most acne prone skin and the constant sticky feel is very irritating. If you have oily skin, then I am sure you would know how lifeless and dull it could become at times. Our skin require special attention and if you are not sure how to take care of oily skin type, then here's the post you can't afford to miss. Today in this post, I am going to share the list of top 31 natural face care tips for oily skin. There are natural ingredients, frequent usage of which can help you get rid of most of the oily skin issues.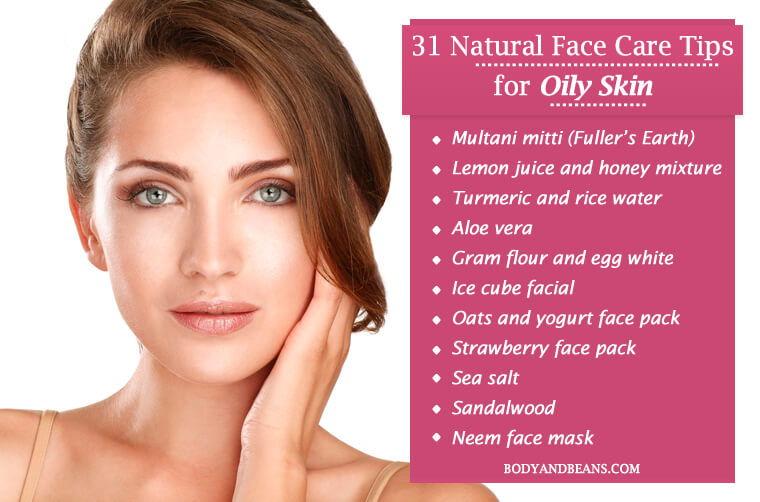 Human body produces oil to retain the moisture and give protection against the external irritants. This process is natural and it keeps our skin soft and supple. However, when there is excessive sebum production, we call it oily skin, medically termed as "seborrhea". The excess oil produced clogs the skin pores and leads to lot of skin problems, the most common being acne or pimple breakouts. Mainly we experience this during puberty, when our body undergoes several hormonal changes and the constant fluctuation of hormones can result to increased levels of androgen. Androgen is the hormone that signifies the maturation of the sebaceous glands that in turn increases oil secretion and ultimately leads to oily skin and oily hair.
Maintaining oily skin can be very frustrating at times, and using commercially available cosmetics can worsen the situation. Therefore, it is useless to spend bucks on costly commercial products that may not be worth using. Moreover, not everyone can afford those costly cosmetics. Well, if you want my opinion, there is no need to go for those market products when you can use common kitchen ingredients to get the easiest face care tips for oily skin that will make you glow. I will discuss these natural home remedies with you but before that, it is important for you to know all the factors leading to oily skin.
Causes behind oily skin
Puberty is one of the many causes behind your oily skin but there are other factors as well that can lead to your dull oily skin. Knowing all of them will help you get rid of your skin problems faster.
Genetics
Hormonal changes
Puberty
Stress
Pregnancy
Menstruation
Birth control pills
Humidity and other weather fluctuations
Cosmetics
Poor diet and oily foods
Excessive scrubbing
Some medicines
Now that you have known the causes, let's learn about the symptoms and side effects of having oily skin.
Common symptoms and side effects of having oily skin
Each sensitive skin type has its own series of side effects and symptoms. Therefore, let me tell you some of the symptoms and side effects of oily skin so that it is easier for you to identify it.
Larger pores
Excessive greasy skin texture
Pimples
Blackheads
Acne
Makeup does not stay long
Natural face care tips for oily skin
The problem of oily skin in most cases fades after puberty ends but for some it is a lifelong problem. The acne, pimples and the constant stickiness is very ugly to look at as well as very painful at times. However, if you know what ingredient to use or the method of its usage, your battle against oily skin will get easy. So let us start discussing some of the easiest face care tips for oily skin.
Multani mitti (Fuller's Earth)
One of the most recommended remedies of oily skin is the multani mitti face pack. Multani mitti removes the oil, dirt and grease from the skin and keeps it oil free for a long time. It also helps to lighten your dull skin and prevents the occurrence of the pimples. "European Journal of Pharmaceutical and Medical Research" published an article where the combination of multani mitti and orange juice was stated to be ideal for oily skin. You can also use lemon juice instead of orange juice both of which will help you fade the pimple marks while rose water will naturally moisturize your skin.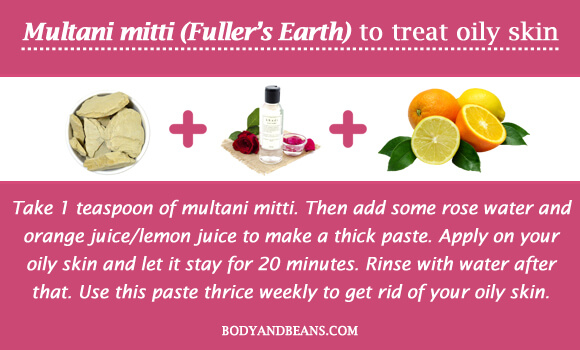 Application method:
You need to take 1 teaspoon of multani mitti. Then add some rose water and orange juice/lemon juice to make a thick paste. Apply on your oily skin and let it stay for 20 minutes. Rinse with water after that. Use this paste thrice weekly to get rid of your oily skin.
Honey balm
Honey is one such product that can be used in all skin types. Oily skin that is most prone to pimples and acne must be treated with honey balm. It is a natural humectant that reduces the blemishes as well as naturally moisturizes your skin. Research has shown honey to be very useful for treating skin problems like dermatitis and psoriasis vulgaris.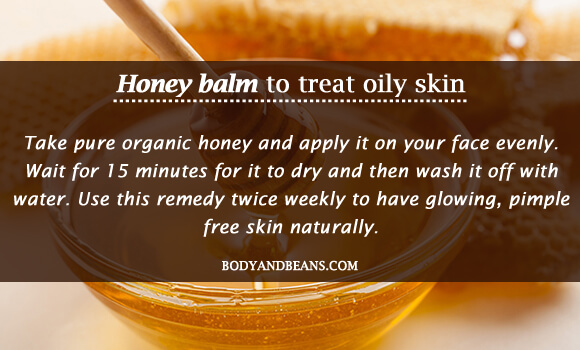 Application method:
Take pure organic honey and apply it on your face evenly. Wait for 15 minutes for it to dry and then wash it off with water. Use this remedy twice weekly to have glowing, pimple free skin naturally.
Cucumber face mask
Cucumber is a natural ingredient which is ideal for treating the dark patches of your oily skin. The antioxidants like orientin, cucurbitacin and vitexin present in it, naturally lighten your skin tone and fades the pimple marks. Its anti-inflammatory property is very efficient in soothing rashes and blemishes.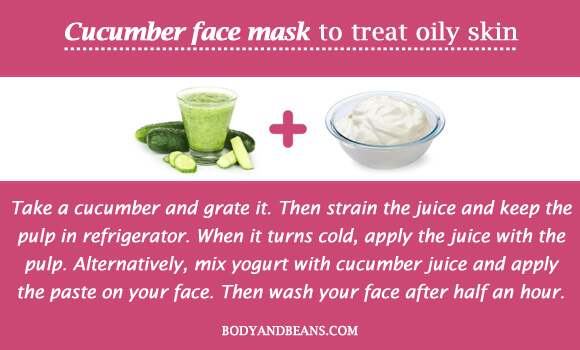 Application method:
At first, you need to take a cucumber and grate it. Then strain the juice and keep the pulp in refrigerator. When it turns cold, apply the juice with the pulp. Repeating this process will unclog the pores and gives a cooling sensation in your skin. Alternatively, you can mix yogurt with cucumber juice and apply the paste on your face. Then wash your face after half an hour. Both the methods are very useful and you can use it twice weekly for effective results.
Turmeric and rice water face pack
Turmeric is one ingredient that is used in various ayurvedic skin treatments for centuries and its benefits are not unknown to us. You can use turmeric for oily skin as well as it helps to regulate sebum produced by the sebaceous glands. Besides, its antiseptic and antibacterial properties help to reduce the pimples and the acnes that are so common in oily skin. In addition, it has skin lightening effect and when mixed with rice water becomes one of the easiest face care tips for oily skin that is worth mentioning. Rice water is a natural scrubber that opens the clogged skin pores and lets your skin breathe.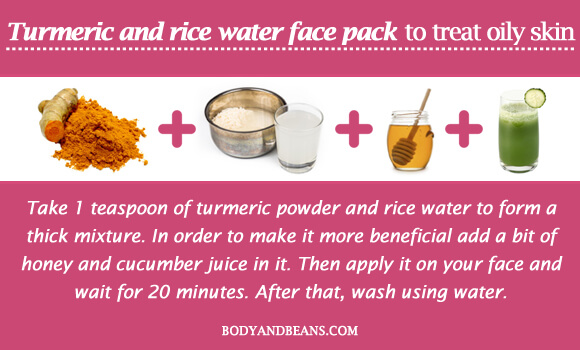 Application method:
Take 1 teaspoon of turmeric powder and rice water to form a thick mixture. In order to make it more beneficial add a bit of honey and cucumber juice in it. Then apply it on your face and wait for 20 minutes. After that, wash using water. Use this pack weekly for flawless glowing skin.
Lemon juice and honey mixture
As far as oily skin is concerned; nothing can beat the effectiveness of lemon. It acts like a natural scrubber that removes the dirt and oil out of the skin and gives a natural glow. It has a bleaching effect that helps to lighten the skin tone. Lemon also fights the germs and prevents the occurrence of pimples. Adding honey to lemon juice is a very effective nourishment face pack for oily skin.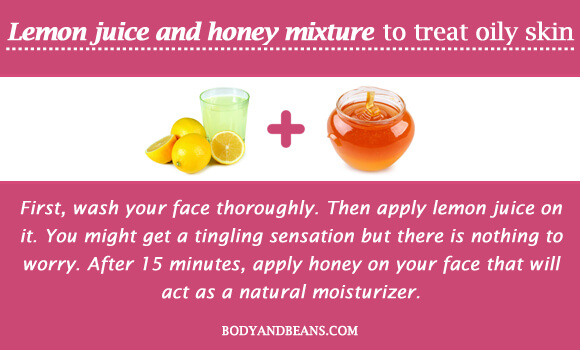 Application method:
First, wash your face thoroughly. Then apply lemon juice on it. You might get a tingling sensation but there is nothing to worry. After 15 minutes, apply honey on your face that will act as a natural moisturizer. However, if you have too much of a sensitive skin, you can dilute lemon juice with rose water and then apply it on your skin.
Yogurt
If you want to give your skin that refreshing touch, then you can go for yogurt face pack. Several studies have proved yogurt to be very useful for the skin. It not just improves the skin texture but also brightens up your lifeless oily skin. It cleanses the oils and the dirt from the skin pores and prevents the breakouts from occurring. Adding honey to it makes it so effective that it must definitely be counted among the easiest face care tips for oily skin.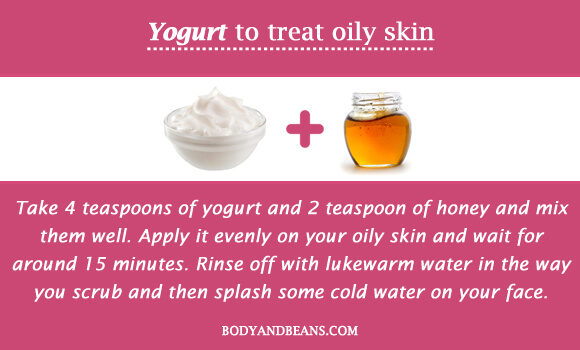 Application method:
Take 4 teaspoons of yogurt and 2 teaspoon of honey and mix them well. Apply it evenly on your oily skin and wait for around 15 minutes. Rinse off with lukewarm water in the way you scrub and then splash some cold water on your face. Use this remedy for few weeks and experience the results on your own. However, avoid using non-fat or low fat yogurt.
Aloe vera
This remedy is very useful for the ones who suffer from excessive oily skin. Aloe vera is anti inflammatory in nature and fights the acne causing germs. It also absorbs the excessive oil and treats the pimples and other skin rashes. Researches show that besides preventing pimples, it also soothes your skin from itching and other skin irritations.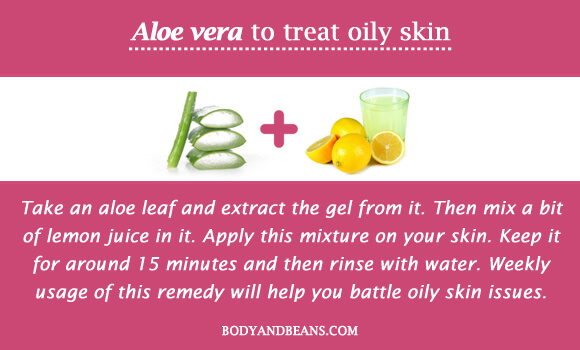 Application method:
Take an aloe leaf and extract the gel from it. Then mix a bit of lemon juice in it. Apply this mixture on your skin. Keep it for around 15 minutes and then rinse with water. Weekly usage of this remedy will help you battle oily skin issues.
Rose petal face mask
Another ideal facemask for oily skin is the rose petal facemask that is very skin friendly and hence can be used by most of you. Rose petals deeply nourish your skin and give you a youthful appearance. The addition of skin lightening and anti bacterial ingredients like yogurt and turmeric with rose petals makes it one of the essential and easiest face care tips for oily skin. This mask will make your skin glow as well as soothe the acne or the pimple breakouts.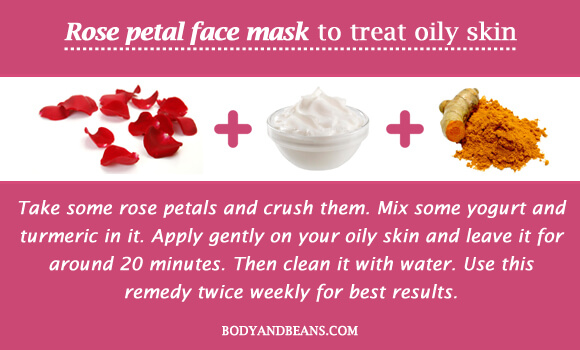 Application method:
If you want that flawless, glowing complexion then follow these simple steps. Take some rose petals and crush them. Mix some yogurt and turmeric in it. Apply gently on your oily skin and leave it for around 20 minutes. Then clean it with water. Use this remedy twice weekly for best results.
Neem face mask
Neem has been used since ages for treating various skin problems starting from healing wounds to batting oily skin issues. The antibacterial property of neem helps it to fight various germs and impurities that harm your skin and ultimately lead to breakouts.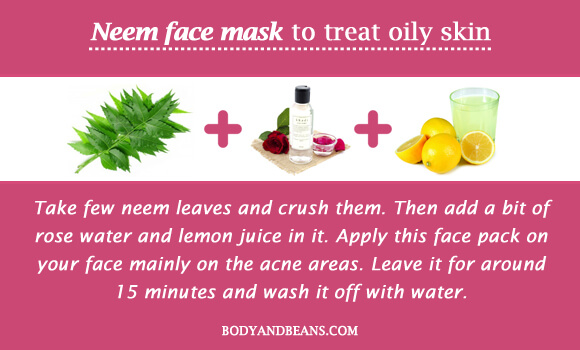 Application method:
Neem pack is very useful to treat acne prone skin and here is the way to use it. Take few neem leaves and crush them. Then add a bit of rose water and lemon juice in it. Apply this face pack on your face mainly on the acne areas. Leave it for around 15 minutes and wash it off with water.
Tomatoes
Most of you may not be aware but tomatoes are very effective for skin. They contain many astringent agents that reduce the oil and sebum from your skin and hence help you get rid of your oily skin. It also contains several other vitamins and antioxidants that give you glowing pimple free complexion.
Application method:
There are two methods of using tomato. In one method, you slice a ripe tomato and apply its juice on your oily skin. Then rinse your face after 15 minutes. Alternatively, you can mix tomato juice with cucumber juice and honey. Apply it and wait for 30 minutes before washing it with water. Both the methods are useful and they will leave your skin bright and clear. Use this remedy every week for significant benefits.
Mixture of gram flour and egg white
This mixture is one of the easiest face care tips for oily skin and is highly recommended by the beauticians. Gram flour being a natural skin exfoliator flushes out the dead skin cells and dirt from your skin therefore helping you clean your skin thoroughly. On the other hand, egg whites have the ability to control oil secretion and dry up your pimples, leading to fast cure. Besides, the Vitamin A content in it helps to tighten up loose skin and leave your skin with a youthful glow. You may also add a bit of multani mitti that is very beneficial to prevent excess oil secretion and hence makes the face mask ideal for oily skin.
Application method:
Take gram flour, egg white and multani mitti, 1 teaspoon all and make a thick paste. You may add moisturizing honey to this paste. Apply the mixture on your dull oily face and wait for 20 minutes before you rinse it with water. Frequent usage of this mixture will not only treat oily skin issues but also leave your skin perfectly toned.
Ice cube facial
People having oily skin generally have big pores due to their sebaceous glands being overactive. This makes their skin look coarse, dull and thick. With ice cube facial, you can get rid of your oily skin issues. It shrinks the pores, reduces acne and the under eye circles. It also naturally hydrates your skin and improves blood circulation leaving your skin to glow naturally. This is probably the easiest face care tip for oily skin especially during summer.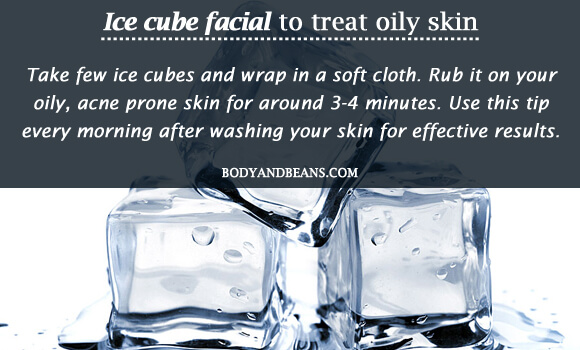 Application method:
Take few ice cubes and wrap in a soft cloth. Rub it on your oily, acne prone skin for around 3-4 minutes. Use this tip every morning after washing your skin for effective results.
Sandalwood
This skin friendly ingredient suits maximum skin types and is used very often for various skin purposes. You can thus use sandalwood for treating your oily skin issues. It is an antiseptic and has anti-inflammatory properties that prevent the occurrence of blemishes and acne. It also helps to lighten the skin tone and the dark pimple spots and gives a soothing feel to your skin.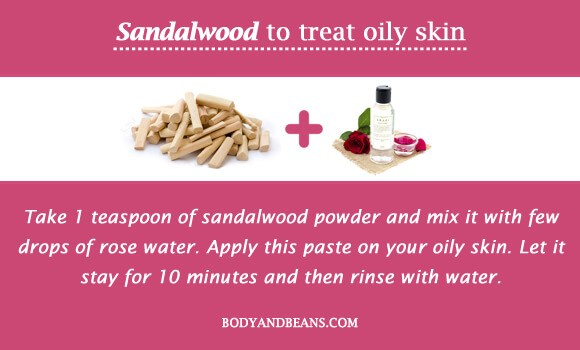 Application method:
Take 1 teaspoon of sandalwood powder and mix it with few drops of rose water. Apply this paste on your oily skin. Let it stay for 10 minutes and then rinse with water. You can use this remedy every alternate day to get that glowing, oil free, clear complexion.
Apple cider vinegar and cucumber juice mixture
This combo works great for oily skin. It not only removes the dirt and the oil from your skin but also gives that bright glow that we all desire. The apple cider vinegar is proved to be very beneficial as it soothes the skin, cleans the dirt out of the pores as well as fights various germs and bacteria that causes pimples and various skin infections. Cucumber on the other hand, has natural skin lightening properties and also hydrates and moisturizes your skin.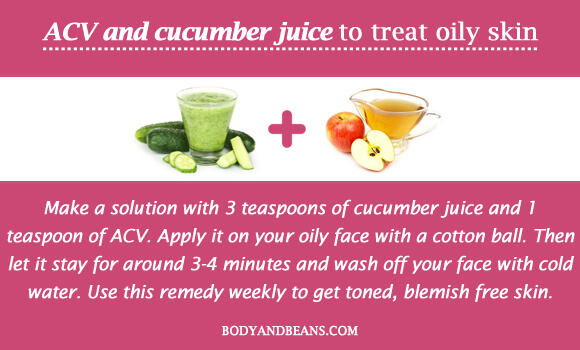 Application method:
Make a solution with 3 teaspoons of cucumber juice and 1 teaspoon of ACV. Apply it on your oily face with a cotton ball. Then let it stay for around 3-4 minutes and wash off your face with cold water. Use this remedy weekly to get toned, blemish free skin.
Sea salt
This natural exfoliator is excellent for dull, lifeless oily skin. The minerals present in it remove the oil and dirt from the pores. It detoxifies your skin and removes the blackheads and whiteheads that are so common in oily skin. Adding honey makes it all the more ideal. This mixture not just gives you clear skin but also the necessary moisturizing and nourishment needed.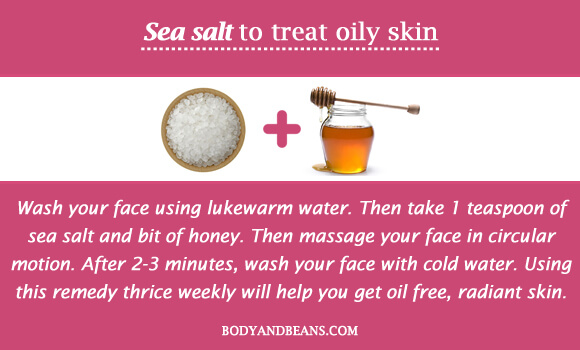 Application method:
Wash your face using lukewarm water. Then take 1 teaspoon of sea salt and bit of honey. Then massage your face in circular motion. After 2-3 minutes, wash your face with cold water. Using this remedy thrice weekly will help you get oil free, radiant skin.
Oats and yogurt face pack
This healthy combination is a must try for people with oily skin. Oats removes the oils from your face and gives a natural shine. Chemical saponin that is present in it cleans your skin and acts as an excellent scrubber flushing out the excess sebum, oil and dirt from your face. On the other hand, the lactic acid in yogurt makes it a great bleaching agent and helps to fight against pimples, blemishes and pigmentation issues.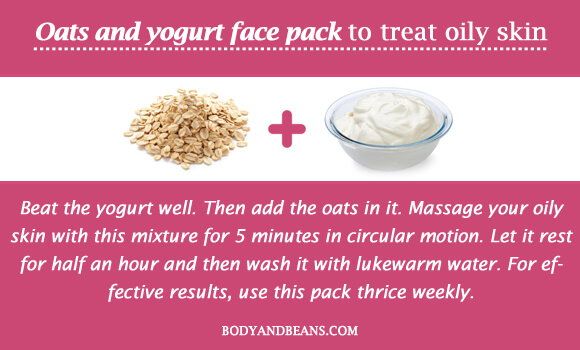 Application method:
Beat the yogurt well. Then add the oats in it. Massage your oily skin with this mixture for 5 minutes in circular motion. Let it rest for half an hour and then wash it with lukewarm water. For effective results, use this pack thrice weekly.
Strawberry face pack
This strawberry pack forms one of the easiest face care tips for oily skin. Strawberry has anti aging properties that helps you get that youthful glow on your skin. Besides, it helps you get rid of the excess oil and grease from your skin. In addition, the nutrients in it fight inflammation and other skin problems like the wrinkles, blemishes and pimples. Adding lemon juice with it intensifies the good effect and helps you get that bright, clear skin.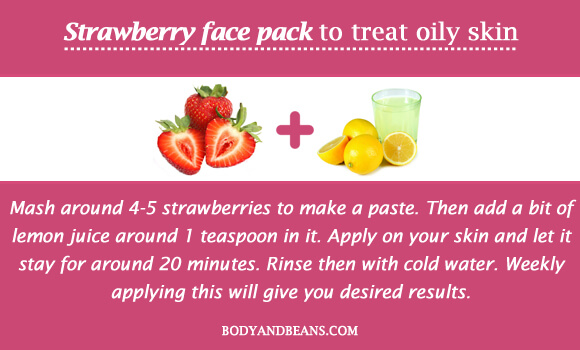 Application method:
Mash around 4-5 strawberries to make a paste. Then add a bit of lemon juice around 1 teaspoon in it. Apply on your skin and let it stay for around 20 minutes. Rinse then with cold water. Weekly applying this will give you desired results.
Other essential face care tips for oily skin types
Apart from the above-mentioned facemasks, you must all follow these steps to take care of your oily skin.
Include lots of proteins, vitamins, fruits and green leafy vegetables in your daily diet.
Drink plenty of water to keep body hydrated.
Avoid sugar and fat intake as much as possible.
Restrict your cravings for oily, deep fried foods, alcohol based beverages, chocolates, carbonated and caffeinated drinks.
Clean your face minimum twice daily with a mild face wash to remove the dirt and oil from your pores.
Apply toner after cleaning.
While moisturizing your face, go for water-based moisturizers that help retain the moisture of your skin.
Apply a sunscreen lotion every time you step out.
Keep blotting papers always with you to get rid of the greasiness of your skin.
Avoid harsh scrubbing of your face.
Use pore strips to remove the whiteheads and blackheads from your T zone area.
Make sure you remove the makeup thoroughly before going to sleep.
Get adequate sleep.
Keep yourself stress free as far as possible.
Over to you
Having sticky oily skin is frustrating but just like all other problems; it can also be dealt with natural home remedies. We have already discussed some of the most effective remedies and face care tips for oily skin that will help you to get glowing skin easily. These remedies will also help you to get rid of the greasy feel and have pimple free glowing skin.
Everyone wants to look great but very few are naturally god gifted. However, there is nothing to panic and spend thousands treating your skin problems. All you need to remember is that a disciplined life is the secret to good health and good looks. You have to be happy from within in order to look glowing. If you eat healthy, exercise and apply the naturally ingredients like honey, lemon, yogurt, cucumber, gram flour, sandalwood etc you will automatically be rewarded with a glowing skin that is worth envying.
Therefore, why wait? Go and use the easiest face care tips for oily skin and see which one works for you best. Also, do not forget to like, share and comment if you find it helpful.
Until then, stay happy, stay glowing.