Having clean, flawless and glowing skin is the desire of all and water is the best and easiest solution to get gorgeous and glowing skin. There is no denying that water hydrates your body, flushes out all the harmful toxins from your body, and gives you that perfect glowing complexion. But, if you closely observe, you will find that people today suffer from a whole lot of skin issues like pigmentation, rashes, acne, dullness and several other issues that were unknown in the past. However, the strange part is, besides unavoidable factors like pollution and dirt, it is inadequate water intake, which causes a number of skin problems.
Ever wondered why people do not drink adequate water despite knowing its benefits? Well the honest answer is – plain water is simply boring and hence we do not like drinking it much, which in turn has increased the toxic levels in our body. Nevertheless, not to worry, I will help you upgrade your regular water regime. Confused how? Well yes, there are several water recipes where by simply mixing common kitchen ingredients, you can get detox water that are not only healthier than plain water but are ideal to get gorgeous and flawless skin. And today we are going to discuss about top 13 detox water recipes that will help you to get gorgeous and clear skin easily. Once you try these detox water recipes, I am sure you are going to love water in a completely new way.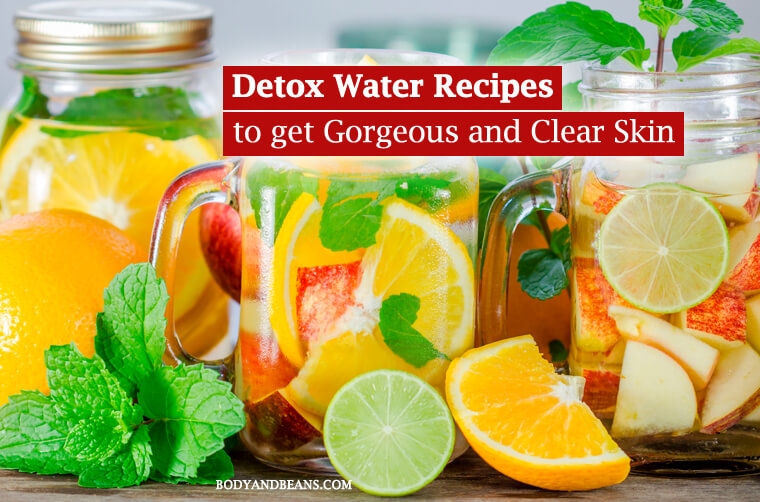 We all know how much looks conscious today's generation is. Most of them will try out every possible way starting from using costly market based products to expensive skin care treatments and facials to get rid of their skin flaws but will not drink water in adequate quantity. However, what they fail to realize is that, simply using outward creams or facials is not enough; you will have to hydrate your skin from within to get that natural glow and for that, you have to drink water. In fact, water was, is and will be the best solution to clean your body internally. So please do drink plenty of water and in case you hate plain water, you have my detox water recipes, which will make your water intake enjoyable.
13 Detox water recipes to get gorgeous skin
Human body contains around 60 % water and adequate amount of fluids must be taken for optimum functioning of all your body parts. Properly hydrated systems make you more active, energetic and help you naturally glow from within. Even doctors, nutritionists recommend drinking minimum 6-7 litres of water per day to remain fit and gorgeous. However, since plain water is really bland, I will share with you some of the best detox water recipes that will add a new tasty twist in your daily water intake. With these 13 detox water recipes, you will get that glow which will make you the centre of attraction among all.
Therefore, let check out some of the best detox water recipes to get gorgeous and glowing skin.
Lemon detox water
Among all the detox water drinks, lemon water is the simplest and the easiest detox water recipe that helps in getting gorgeous skin. Lemon is one ingredient that is used in treating lot of skin issues starting from skin whitening, moisturizing, to acne treatments.
The Vitamin C in it clears your skin from the blemishes and wrinkles and also purges the harmful toxins from your system. In fact besides skin benefits, lemon also boosts your immune system, balances pH levels and fights several other health issues.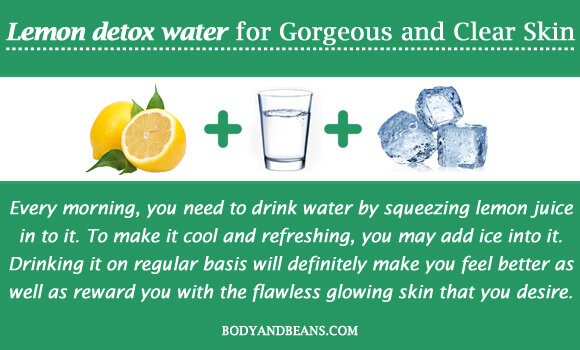 Every morning, you need to drink water by squeezing lemon juice in to it. To make it cool and refreshing, you may add ice into it. Drinking it on regular basis will definitely make you feel better as well as reward you with the flawless glowing skin that you desire.
Apple and cinnamon detox water recipe
Apple and cinnamon makes the perfect detox water recipe for your skin. This not only helps to free your system from the harmful chemicals in your blood but also fights several diseases and strengthens your immune system.
Apples contain several nutrients including Vitamin C that synthesizes collagen thereby giving your skin a glowing youthful appearance. Besides, it makes fast recovery of the damaged cells and gives you a flawless complexion. Cinnamon on the other hand improves the circulation of the blood and helps to get rid of the pimple and acne breakouts. There are two methods – boil and no boil.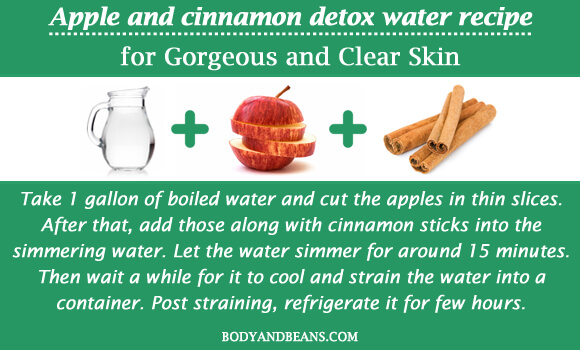 In the boiled method, you need to take 1 gallon of boiled water and cut the apples in thin slices. After that, add those along with cinnamon sticks into the simmering water. Let the water simmer for around 15 minutes. Then wait a while for it to cool and strain the water into a container. Post straining, refrigerate it for few hours. Then drink it and enjoy the taste as well as the skin and health benefits of apples and cinnamon.
The no boil method is all the same except for the boiling part. Here you just have to let it sit for a bit and then refrigerate. However, if you take my advice, go for the boil method, as it is more nutritious.
Cucumber, lemon and mint detox water recipe
Mixing of cucumber, lemon and mint in water makes it one of the healthiest detox water recipes to get gorgeous skin. Cucumber hydrates your body naturally and flush out all the harmful toxins from your system.
On the other hand, mint boosts your digestive system and adds a cooling flavor while lemon is a natural bleaching and detoxifying agent that mobilizes bile from liver to small intestine. All these ingredients together help you have a clear glowing skin.
Keep the lemon wedges and cucumber slices in a jar. Add few mint leaves and a pinch of salt in it. Then pour plain water in the mixture and after refrigerating, drink it.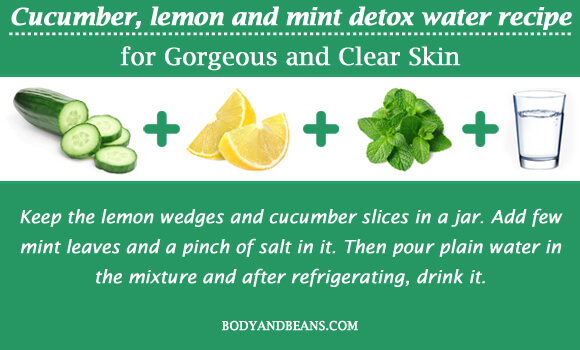 This recipe will not only make you glow but also help you reduce few kilos. So drink this tasty and healthy detox water every day in order to glow naturally from within and look your best.
Strawberry detox water recipe
If you want to look as bright and pretty like the strawberries, then you can go for this detox recipe. Strawberries are full of nutritious and healthy antioxidants that facilitate naturally glowing skin. They are also rich in vitamin C that is very helpful in treating inflammation of your gums as well as soothes the problem of your dry, dull and rough skin making it soft and supple.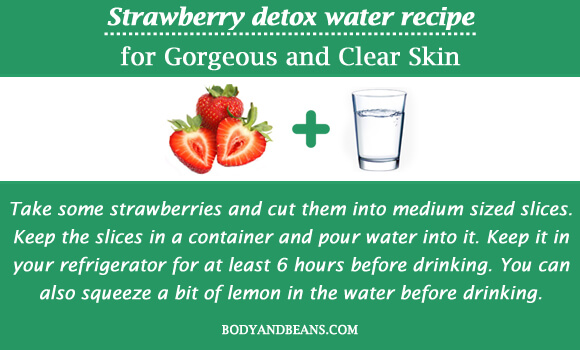 Take some strawberries and cut them into medium sized slices. Keep the slices in a container and pour water into it. Keep it in your refrigerator for at least 6 hours before drinking. You can also squeeze a bit of lemon in the water before drinking. This light and refreshing detox water recipe is very beneficial to get gorgeous skin.
Blueberry and orange detox water recipe
If you have a very acne prone skin, you may try out this blueberry and orange detox water recipe. Blueberries contain many antioxidants that are very healthy for your acne prone skin. Also, oranges are rich in Vitamin C that nourishes your skin and fights your breakouts.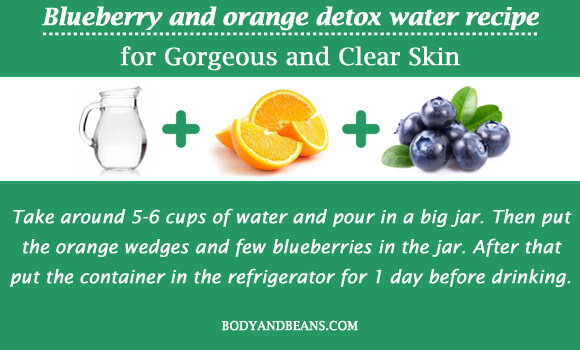 Firstly, you need to take around 5-6 cups of water and pour in a big jar. Then cut the oranges into wedges and put them in the jar. After that, add few blueberries in the mixture. Then put the container in the refrigerator for 1 day before drinking. If you want to intensify the taste, you can also squeeze the juice of any orange and muddle the blueberries. Your drink is now ready and make sure you drink it cool in order to get that refreshing feel.
Lemon, aloe, apple cider vinegar, honey and mint detox water recipe
People who suffer from lot of skin problems and desperately want to detoxify your body must go for this detox water recipe. The Vitamin C content in lemons is very good for your liver and it stimulates the detox functioning of your body. Honey is an anti bacterial agent that helps to fight germs that causes several skin infections. Further, the addition of apple cider vinegar and aloe promotes a healthy gut that enables you to have a fairer complexion.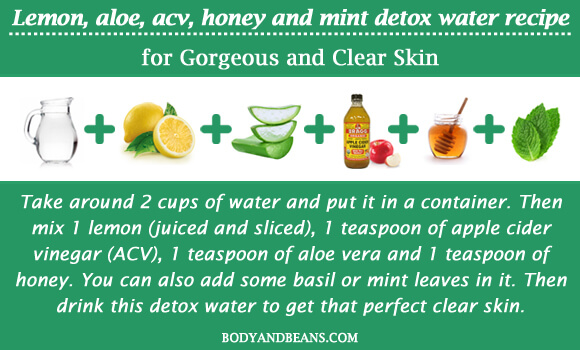 You need to take around 2 cups of water and put it in a container. Then mix 1 lemon (juiced and sliced), 1 teaspoon of apple cider vinegar, 1 teaspoon of aloe vera and 1 teaspoon of honey. You can also add some basil or mint leaves in it. Then drink this detox water to get that perfect clear skin. However, if you want a sugar free detox recipe, you can omit adding honey.
Peppermint, grapefruit, lemon, cucumber and ginger detox water recipe
The combination of these ingredients in water is very healthy for general wellbeing. Besides being good for kidneys, this solution also helps in bloating and detoxifies the germs in your system thereby giving a natural healthy glow on your face. Cucumber as you already know is a natural hydrator. Ginger is good for your digestive system and helps in proper blood circulation. Peppermint has antimicrobial properties that protect you from germs.
In addition, it effectively curbs your appetite and helps in fewer calorie intakes, thereby helping you to maintain your body weight. On the other hand, lemon and grapefruit detox your kidneys and both especially lemon are very efficient in lightening the skin tone.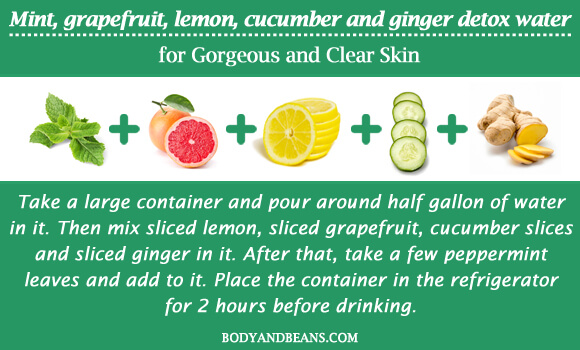 Take a large container and pour around half gallon of water in it. Then mix sliced lemon, sliced grapefruit, cucumber slices and sliced ginger in it. After that, take a few peppermint leaves and add to it. Place the container in the refrigerator for 2 hours before drinking. However, make sure you drink it before 24 hours to avoid the fruits turning soggy. You can have this detox water recipe early in the morning to give a refreshing start to a new day.
Blackberry and mint detox water recipe
Tired of the warmth of the summer and want to make your skin breathe? Well then, go for this combo that is according to me an ideal summer fluid. This infused water has anti-inflammatory properties that give you quick relief from any skin inflammation, rashes or infections. Blackberries contain many antioxidants and the nutrients that keep your skin healthy and clean. Mint besides adding the cooling effect stimulates your digestive system and thereby purifies you from within.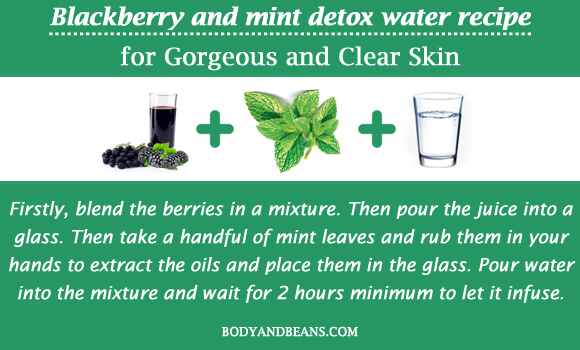 Firstly, blend the berries in a mixture. Then pour the juice into a glass. Then take a handful of mint leaves and rub them in your hands to extract the oils and place them in the glass. Pour water into the mixture and wait for 2 hours minimum to let it infuse. You can drink this on a regular basis or have it especially on humid summer days.
Cucumber, watermelon and mint detox water recipe
People, who have acne problems, need to detoxify your system. For that, the refreshing drink of cucumber, watermelon and mint is ideal. Once your skin is hydrated, you will have a natural glow on your face. Watermelon will flush the harmful toxins while cucumbers help you in the hydration process. Adding of the mint leaves will give cooling effects and makes you feel refreshed and glowing.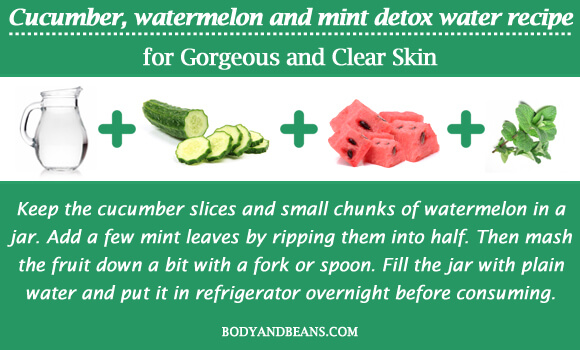 Take a cucumber, cut it into medium slices, and put those in a jar. Then cut small chunks of watermelon and keep it in the jar. Add a few mint leaves by ripping them into half. Then mash the fruit down a bit with a fork or spoon. Fill the jar with plain water and cover it. Put it in refrigerator overnight before consuming.
 Chia fruit water detox recipe
Chia seeds are the perfect superfood that contains lots of minerals, nutrients and other antioxidants that are highly beneficial for your skin. It also has anti-inflammatory properties that will give you relief from the acne breakouts. Further, adding lemon will make it an ideal drink that will make your skin glowing and flawless.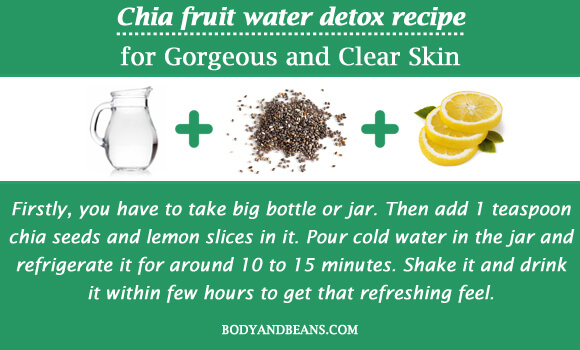 Firstly, you have to take big bottle or jar. Then add 1-teaspoon chia seeds and lemon slices in it. Pour cold water in the jar and refrigerate it for around 10 to 15 minutes. Shake it and drink it within few hours to get that refreshing feel. However, if you want you can also go for strawberries instead of lemons.
Raspberry, kiwi and peach detox water recipe
This highly nutritious infused water is one of the best detox water recipes to get gorgeous skin. Raspberries, kiwis and peaches together are very healthy for your skin and make your skin glow naturally. It purifies you of all the toxins and keeps your system detoxified. Besides tasting yummy, this drink is rich in Vitamin C, fiber and other healthy antioxidants that your body needs.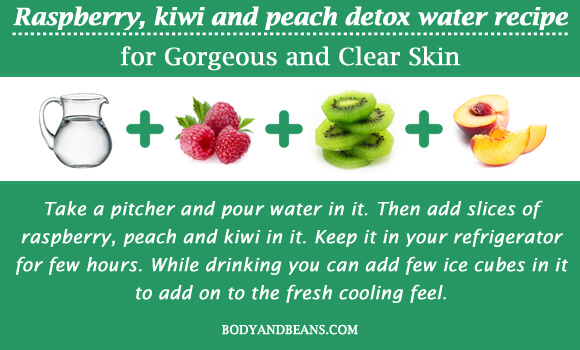 Take a pitcher and pour water in it. Then add slices of raspberry, peach and kiwi in it. Keep it in your refrigerator for few hours. While drinking you can add few ice cubes in it to add on to the fresh cooling feel. Frequent drinking of this will clear your skin and keep your body healthy.
Aloe vera and lemon detox water recipe
Both aloe vera and lemon are very good for treating a whole lot of skin issues. They are antimicrobial which fights the germs that cause skin rashes and infections. Lemon is a bleaching agent that flushes out the toxins from body and gives you the perfect glowing complexion. Aloe vera contains several minerals, vitamins, amino acids and antioxidants that not only helps you fight skin infections but also enables you to shed few extra kilos.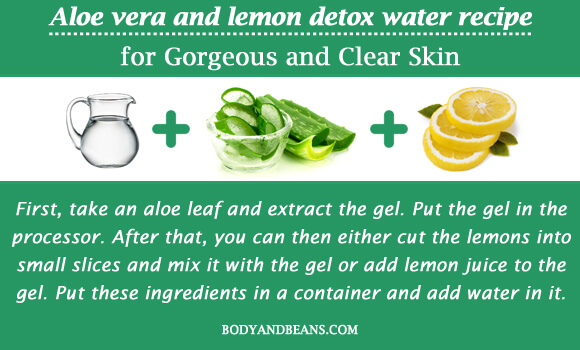 In order to get the maximum benefits simply follow these steps. First, take an aloe leaf and extract the gel. Put the gel in the processor. After that, you can then either cut the lemons into small slices and mix it with the gel or add lemon juice to the gel. Put these ingredients in a container and add water in it. You can drink this detox water recipe often in order to free yourself of the skin issues and get a healthy glowing skin.
Pineapple and sugarcane detox water recipe
If you want your detox water to have that tropical taste then the pineapple and sugarcane detox water recipe is the best option for you. Sugarcane is very effective for your skin. It contains all the nutrients and antioxidants that fight acne and prevent your skin from aging fast. Pineapple on the other hand frees your body from the free radicals and thereby cleans your systems.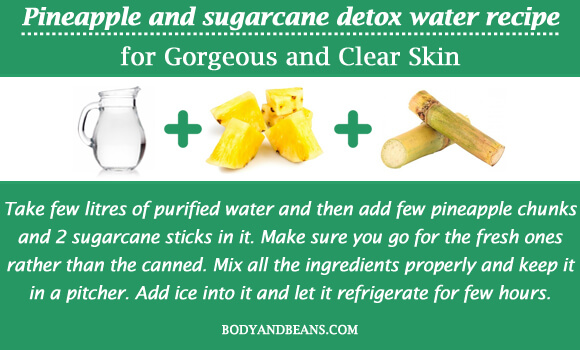 Take few litres of purified water and then add few pineapple chunks and 2 sugarcane sticks in it. Make sure you go for the fresh ones rather than the canned. Mix all the ingredients properly and keep it in a pitcher. Add ice into it and let it refrigerate for few hours. Let it stay long as longer the time it gets to sit, the better will be the flavor.  This tasty infused water is definitely among the best detox water recipes to get gorgeous skin.
Over to you
If you are fit and healthy, it automatically reflects on your face. Therefore, in order to get that glow in your face, you have to free your body from the harmful chemicals. And the best way to detoxify your body is to drink plenty of water every day. However, since plain water is boring, you can use the detox water recipes we have discussed above. The detox recipes shared above are very easy to make and it will certainly help you to get gorgeous and Glowing skin.
Fresh fruits and vegetables are very essential to lead a healthy life and with some of these natural kitchen ingredients and fruits like lemons, apples, berries, cucumber etc, you can make detox water recipes that help you get gorgeous skin. In fact, not just beautiful skin most of these detox water recipes help in burning your fat as well as prevent various diseases from occurring.
As I always say that simply putting lot of facemasks, or doing facial will not help you make your skin glow, for that, you have to cleanse yourself from within. The harmful toxins make your skin look lifeless, dark and full of blemishes. The cleaner your system, the more glowing and flawless will be your skin. Therefore, by drinking these detox water recipes in frequent intervals together with balanced diet and exercise, you can get the healthy, glowing skin that will make everyone envy you.
Do you have any skin issues? Have you ever tried out any of these detox water recipes? Which one according to you is the most delicious and magical? Do share me your feedback in the comments below and also mention any other detox water recipe that you find beneficial for your skin and health.
Until then, stay happy, stay glowing and stay detoxified.
You may also Follow this blog with Bloglovin