With the festive season – Durga Puja, Diwali, Karwachaut, Christmas and wedding fever round the corner, I am sure you are all geared up to look your fabulous best. You must have already brought or at least planned buying all the cool jewelleries, makeup's and the classy dresses to celebrate the festivity. But wait a minute. Are you suffering from blackheads? With the increasing level of pollution, hectic lifestyle, stress and harmful chemicals, blackheads have become a common sight. We all hate blackheads and removing them can be such a pain. If you are unable to get rid of blackheads and looking for some of the most natural ways, then here's the post worth reading. Today in this article, I will share with you 25 easiest remedies to remove blackheads naturally.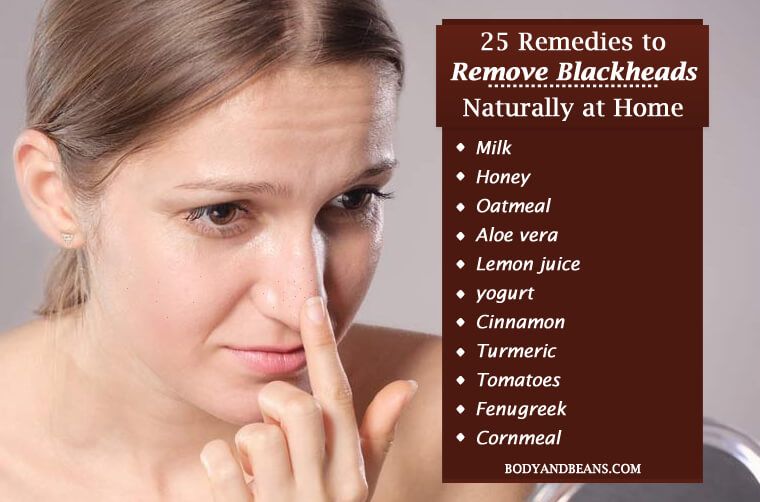 What are blackheads?
Blackheads are small black projections that appear on your skin. Dead skin cells and oils accumulate in the skin follicles often producing these bumps. When the skin over them opens, they are exposed to the air, which makes the surface look dark or black. Hence, these bumps are called "blackheads". These dark acne lesions contain oxidized melanin, the pigment made by the skin cells called melanocytes.
Blackheads are actually a mild form of acne involving pimples, spots, zit or whiteheads, usually appearing on the face, but also on the back, chest, neck, arms and shoulders. According to the American Academy of Dermatology (AAD), acne tops the list of most common skin disorders in the United States with a population of around 40 to 50 million Americans suffering from it.   Teenagers generally spend thousands of rupees behind these but it is always advisable to go for the natural remedies to remove blackheads instead of the costly cosmetics products that in turn might harm the skin.
Causes of blackheads
Before we find about the remedies to remove blackheads, it is important to know about the causes of blackheads. Blackheads may be caused due to several reasons including:
Smoking
Hormonal changes
Dead skin
Excessively oily skin
Over exfoliation and not moisturizing properly
Over-do of harmful makeup's
Stress
Alcohol
Caffeine
Unhealthy eating habits
Sweat
Poor hygiene
Menstruation
Birth control pills
Inheritance
Pollution
Apart from the causes mentioned above, blackheads may be caused due to some specific medicines or drugs like corticosteroids, lithium, or androgens.
What are the symptoms of blackheads?
You can easily spot blackheads due to their dark color. They are slightly raised, although not painful because they are not inflamed like pimples. Pimples form when bacteria invade the blockage in the hair follicle, causing redness and inflammation.
Sometimes, blackheads are a sign of some other skin conditions. Blackheads often leave marks on your face that can get irritating as it hampers the whole look. Lucky for you, I will share the natural home remedies to remove blackheads, which are both easy to use as well as cost effective. Come let us start the discussion.
25 Natural remedies to remove blackheads
These open-air pimples are very frustrating to deal with. However, if you are looking to remove your blackheads, try some of these tried and tested home remedies to remove blackheads. These remedies can be the best to clean your skin and stop the formation of the annoying dark spots. I am sure that if you diligently follow these remedies, you will have the perfect clear skin that you have always desired, easily at home.
Milk
This is probably one of the easiest remedies to remove blackheads. You need to apply the raw milk into the affected areas and scrub it in circular motions. Wash it off after some times. The lactic acid content in milk helps to break down the dead cells and thereby removes them. The scrubbing of your face must be done every day to remove the dark bumps and get that perfect milky white glow. However, if you are allergic to dairy products, it is better to avoid this remedy.
Honey
This is one of the patent ingredients which is being used for its medicinal benefits since ages. According to studies, the antibacterial property of honey helps to reduce the problem of blackheads.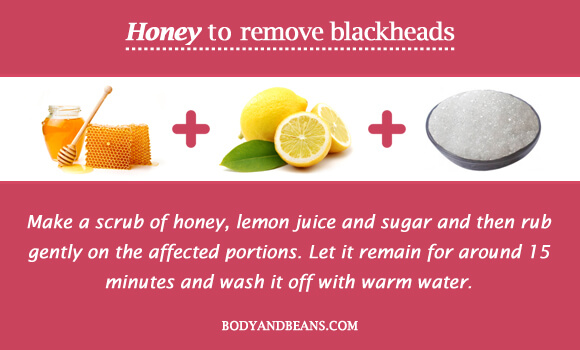 Make a scrub of honey, lemon juice and sugar and then rub gently on the affected portions. Let it remain for around 15 minutes and wash it off with warm water. This scrub suits all skin types and so you can use it on a regular basis. The addition of lemon juice brightens your skin and the sugar as you know is a great exfoliator.
Egg white
This is one of the most essential ingredients, which will not only help you get rid of blackheads but also protect your skin from becoming oily and sticky. Albumin, which is present in egg white, also helps tightening the skin pores.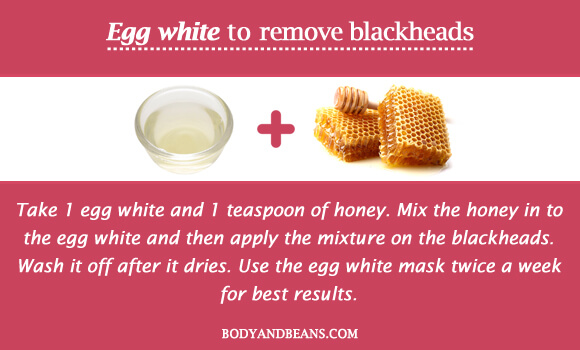 Take 1 egg white and 1 teaspoon of honey. Mix the honey in to the egg white and then apply the mixture on the blackheads. Wash it off after it dries. Use the egg white mask twice a week for best results.
Aloe vera
Aloe vera is a magical herb for skin, hair and health. Just take an aloe leaf and extract the gel out of it. Apply the gel on your blackheads and rinse with lukewarm water after 10 minutes. Aloe vera soothes the skin, cleanses pores, and controls excess oil production. All these, in turn, help you get rid of blackheads, acne, and many other skin issues. This method suits all skin types and leaves your skin clean and soft.
Oatmeal
Oatmeal is more than just a popular hot breakfast cereal. It works as a gentle natural cleanser and exfoliant, loosening clogged pores that lead to blackheads. It also contains powerful antioxidants and has anti-inflammatory properties too. It soothes irritation, removes dead skin cells, and soaks up excess oil to help clarify the complexion.
Cook adequate oatmeal with distilled water as per instructions. Allow the oatmeal to cool to room temperature before applying to affected areas. Rinse it off with lukewarm water after 20 minutes. You can use this remedy to remove blackheads on a regular basis.
Lemon juice and yogurt
This combination is also perfect for fighting blackheads. Lemon cleans your face, tighten the pores and make skin tone light. Yogurt on the other hand prevents skin from becoming dry and is a natural moisturizer.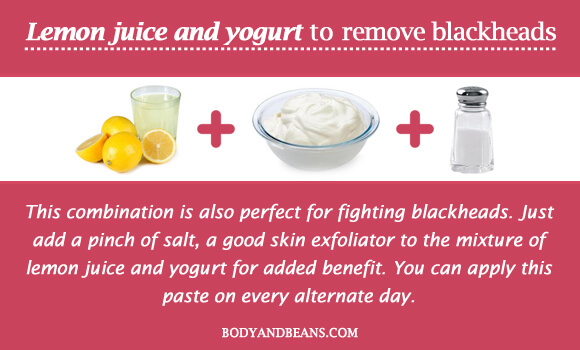 Just add a pinch of salt, a good skin exfoliator to the mixture of lemon juice and yogurt for added benefit. You can apply this paste on every alternate day.
Cinnamon and lemon juice
Cinnamon improves the circulation of blood and keeps the skin healthy and glowing. It also tightens pores and delays aging. Lemon also has antibacterial activity that further aids in treating blackheads, whiteheads, and acne.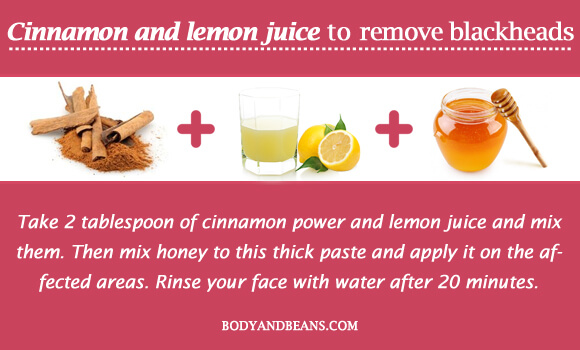 Take 2 tablespoon of cinnamon power and lemon juice and mix them. Then mix honey to this thick paste and apply it on the affected areas. Rinse your face with water after 20 minutes.
Turmeric and mint juice
Turmeric contains curcumin, which is antimicrobial in nature and removes the bacteria present in the skin's pores. Further, the anti-inflammatory and antioxidant properties of turmeric improve the texture and health of your skin. The addition of mint juice gives a soothing and cooling effect to the skin.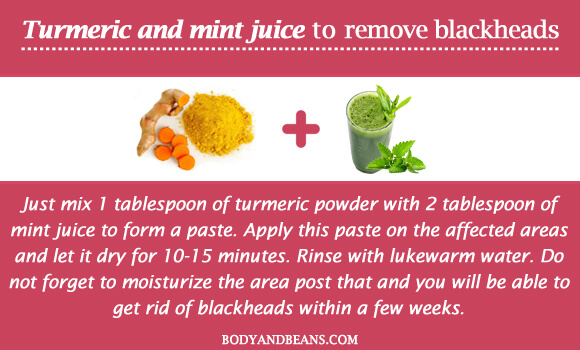 Just mix 1 tablespoon of turmeric powder with 2 tablespoon of mint juice to form a paste. Apply this paste on the affected areas and let it dry for 10-15 minutes. Rinse with lukewarm water. Do not forget to moisturize the area post that and you will be able to get rid of blackheads within a few weeks.
Milk and nutmeg solution
Possibly the best smelling exfoliant, the lactic acid of milk combined with the tough granules of nutmeg remove your blackheads quickly and in a pain-free manner.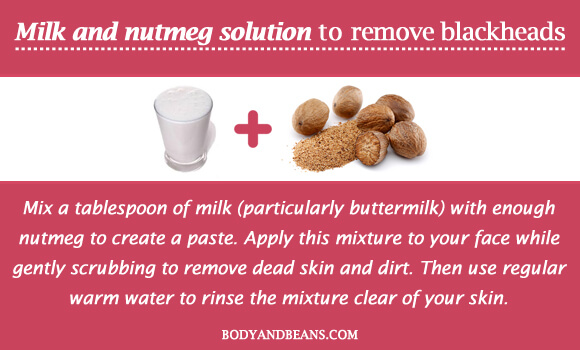 Mix a tablespoon of milk (particularly buttermilk) with enough nutmeg to create a paste. Apply this mixture to your face while gently scrubbing to remove dead skin and dirt. Then use regular warm water to rinse the mixture clear of your skin.
Tomatoes
Did you know that you can use tomatoes as remedy to remove blackheads and get flawless skin? Well, that's true. Just before going to bed, take a small tomato, peel and mash it, and apply it over the blackheads. Let it remain overnight and then wash it off in the morning.
This procedure helps to dry the blackheads as tomato has anti bacterial properties. It also contains lycopene that exerts strong antioxidant effects on the skin and removes all the damage-causing free radicals.
Fenugreek
It is a common name as far as skin problem is concerned.  It consists of powerful antioxidants and has anti-inflammatory and emollient properties that efficiently clear blackheads and whiteheads from your skin.
Just make a smooth paste by grinding fenugreek leaves with adequate water. Apply this face on the blackheads and rinse with lukewarm water after 10 minutes. Pat dry and apply a moisturizer.
Clay mask
The paste of bentonite clay and water is ideal to remove the deeply embedded marks. Bentonite clay absorbs the impurities from your face and cleans your pores thoroughly, leaving behind fresh and clean skin. It is also antibacterial in nature. Its regular application will help get rid of blackheads from their roots.
Green tea
Drinking green tea has lot of health benefits as we all know. But do you know green tea paste helps to fight blackheads? It is rich in antioxidants that clear up your skin and make it healthy and glowing. It absorbs the impurities and clears blackheads quickly.
Mix 1 teaspoon of tea leaves with water to make a paste. Apply this paste on your face and leave it on for 15-20 minutes. Rinse with lukewarm water, pat dry and moisturize. This green tea paste suits all skin types.
Strawberry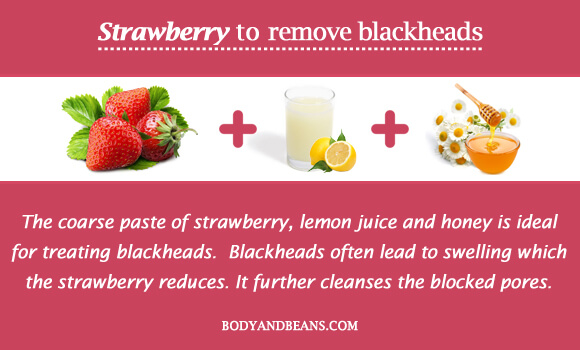 The coarse paste of strawberry, lemon juice and honey is ideal for treating blackheads.  Blackheads often lead to swelling which the strawberry reduces. It further cleanses the blocked pores. This natural exfoliant contains Vitamin C, which helps remove the dryness and moisturize it.
Baking soda
Baking soda besides being an anti bacterial and anti fungal agent is also an excellent skin exfoliant. It helps you get rid of the pimples and the acne. The application of a fine paste of baking soda and water on the affected portions and then washing it with warm water after 20 minutes is very effective in reducing the marks. Adding few drops of lemon or toothpaste can act as an added advantage.
Cornmeal
Cornmeal is used as an abrasive exfoliant when combined with your regular liquid facial soap. Mix a teaspoon of the cornmeal with your favorite face wash and scrub your face gently in a circular pattern.
Be careful not to scrub too roughly, as this could inadvertently damage your skin. Rinse the soap and cornmeal off with warm water.
Apple cider vinegar
The antibacterial properties of apple cider vinegar helps in killing all harmful bacteria present on your skin. It will also clean out your pores and help to remove blackheads.
You can apply the vinegar on your face with a cotton ball and then wash off your face after it dries.
Coconut oil
This might be a bit surprising, but coconut oil works really well to get rid of blackheads. It consists of lauric acid, an extensively tested antimicrobial agent. It eliminates the dead skin cells and nourishes your skin. You just need to take some virgin coconut oil and massage on your blackheads before going to bed. Let the skin naturally absorb it. This is best suited for dry and combination skin.
Castor oil
Castor oil is a great cleaning agent. It absorbs the impurities of the skin and clears the dead skin debris that blocks the pores, hence reducing the occurrence of blackheads. Apart from India, castor oil is widely used in Africa for its cleaning properties.
All that you have to do is to take castor oil and massage the black head affected portions. You can wipe off the excess oil with cotton after 20 minutes and the blackheads will be gone after a few applications.
Jojoba oil
Jojoba oil is an essential oil that closely resembles the skin's natural oil. When it is applied, it decreases the production of excess sebum that was causing the clogged pores. This unclogs pores and helps you to get rid of the blackheads. First, wash your face with warm water and pat dry.
Massage your face for around 15 minutes with jojoba oil and then with warm water again. You can add tea oil if you want. Repeat this twice a day.
Salt water
Washing your face with salt water is a slow but effective remedy to remove blackheads. It has antibacterial properties and helps removing the excess oil from the face, which is one of the causes of blackheads. Remember to put some moisturizer on your face after washing with salt water to avoid dehydration of skin.
Mint toothpaste
I know this may surprise you but yes mint toothpaste works really well to remove the blackheads. Take the toothpaste and apply it on your face mainly the nose area. After it gets dry take some water and massage your face in circular motion. After few minutes wash off your face and rub an ice cube on that area.
The mint in the toothpaste will open up your clogged pores and kill any bacteria that may be present. The ice cube rub in the end will close your pores and prevent future blackheads.
Cleansing
When you put a lot of makeup on your face or after you come home, proper cleaning of your face is very important. This removes the dirt from the pores and prevents blackheads.
Use oil free anti bacterial cleanser to wash off the oil from your face. Wash the cleanser with water, dry it and then apply a mild moisturizer to avoid the dryness of the skin. If your skin is properly cleaned, half of your work will be done there.
Steaming your face
One of the simplest and the best home remedies to remove blackheads is to steam your face.
Pour hot water on the tub and steam your face after covering it with towel. Repeat this 3-4 times. Then add a natural exfoliator like brown sugar or sea salt and repeat the process of steaming your face.
The heat of the steam open up the skin pores. It further removes the toxins and helps in better circulation. The exfoliator used helps you scrub off the blackheads easily.
Balanced diet
Ok so this is very important for having a flawless glowing skin. No matter how much beauty pack you put on my face, unless you are healthy from within, the radiance will not appear on your face. Eat various varieties of foods so that your body gets adequate amount of each nutrient. And do not forget to drink plenty of water and avoid oily stuffs.
Over to you
Blackheads can be difficult to deal with, especially when you don't know about the right kind of remedies to remove blackheads. Today in this post, we have discussed about the symptoms, cause and remedies to remove blackheads naturally at home.
You can use all natural and easily available natural ingredients like honey, yogurt, lemon, apple cider vinegar etc to get rid of blackheads. Removing blackheads is not an overnight miracle as the commercial products may promise. But if you use the right set of products and apply it correctly, removing blackheads and getting flawless skin should not be an issue. You need to have that patience and diligently try out some of these natural home remedies to remove blackheads and see which one works for you best.
So say "Hello" to natural remedies and "Goodbye" to blackheads.
And finally, if you know any other remedies that have helped you to get rid of blackheads, then feel free to share it with us. And if you liked this post then please share it and earn good karma.