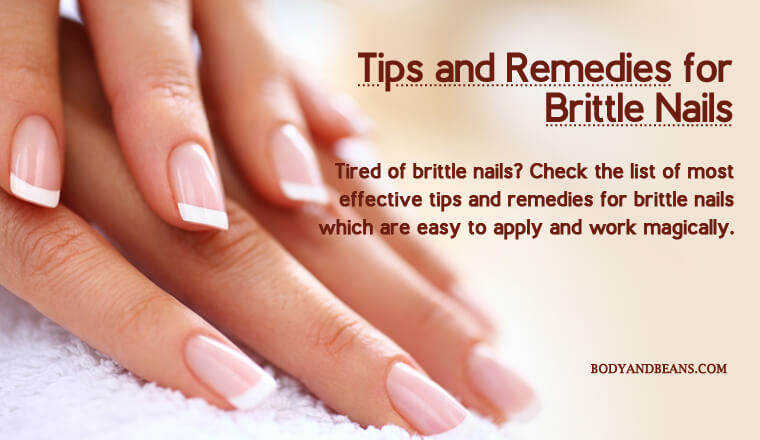 Beautiful glossy nails form a part of good looks and they increase the beauty of your hands and feet. Nails also reflect your personality and says a lot about how much self-caring or hygienic you are in real life. However, not all are blessed with naturally good nails and one can face different nail issues with brittleness of your nails being the most common one. And, if this is your case, then no matter how beautifully you apply the nail paints, your hands will look dull, unhealthy and unattractive. One unevenly broken nail is enough to hamper the beauty of your fingers but lucky for you there are remedies to solve the problem of brittle nails.
Well, yes, by properly maintaining your nails using natural ingredients, you can make your nails strong and prevent their easy breakage. So, if you desire to have healthy and shiny nails, then keep reading this post as today I am sharing 21 tips and remedies for brittle nails which is easy to apply and will help you solve the  problem of brittle nails once and for all.
In this looks conscious world where everyone wants to look their best, having fragile nails is a problem. Not only do they look bad but also they break suddenly and gets constantly entangled with the attire that you are wearing. I mean, how bad is it if you are wearing a beautiful dress and your broken brittle nails damage it by pulling the strings of the dress out here and there. This is very disturbing and so to avoid such discomfort you must try out home remedies for brittle nails. And, to help you out, I will be talking about which ingredients you can use, how to use, and how often to use to get rid of brittle nails easily at home.
I will be starting my discussion on the easiest and most effective tips and remedies for brittle nail but before that, let's check out the common factors that may lead to the brittle nails. This will help you deal with the problem much effectively.
Common factors that lead to brittle nails
Many factors lead to brittle nails. While sometimes, it may be due to the deficiency of certain nutrients, most of the time it starts with you. So, it is important for you to know the reasons leading to brittle nails that will help you get rid of the problem better.
Here is the list of possible factors that makes your nails fragile.
Deficiency of iron
Fungal infection
Hypothyroidism
Hyperthyroidism
Nail psoriasis
Aging
Inadequate usage of hand lotion
Using low quality nail polish and keeping it for long
Cutting the cuticles
Using cheap and old nail polish removers
Lack of proper hygiene
Lack of proper care
Sunburn
Windburn
Prolonged exposure to water
Constant texting and typing
Endocrine disorders for e.g. Sjogren-Larsson syndrome
Malnutrition
Reactive arthritis
Now that you have known the causes, let's start our discussion on the home remedies for brittle nails that are effective and easy to apply.
Best tips and remedies for brittle nails
Many a times, I have seen women taking lot of care for their face, hair, etc. but often ignoring the other parts more specifically their nails. This is somewhat weird because if you want to keep yourself presentable you have to maintain yourself from top to bottom and that definitely includes taking care of your nails. Various factors along with lack of proper care forms one of the vital reasons behind your brittle nails. Therefore, you must take proper care and here are my easiest home remedies for brittle nails that you may use to solve your problem effectively.
Use coconut oil for brittle nails
In order to avoid the occurrence of brittle nails, it is important that you properly moisturize your nails and when it comes to that, coconut oil must definitely be your first choice. The saturated fats in coconut oil are very good that does not let your skin dry up. Applying coconut oil can also prevent several nail infections that are known to cause brittle nails.
There are different ways to use coconut oil out of which I prefer two methods. Firstly, warm the coconut oil a bit and then apply on your nails. Then for the next 5 minutes properly massage it. This method will improve your blood circulation and will keep your nails nourished. Use it 2-3 times on a daily basis.
Secondly, you may mix the warm coconut oil with little lemon juice in a container. Soak the nails in it and keep it for around 10 minutes. Use this remedy before you go to sleep. And, for best results, wear gloves nightlong after that.
Use olive oil for brittle nails
Olive oil is one such ingredient that is used in several cosmetic products and is one of the best home remedies for brittle nails. It properly nourishes your nails and repairs the damage. The nutrients present in it help the nails to become strong and healthy.
Warm the olive oil and keep in a bowl. Then dip your nails in it. Continue for 2-3 minutes and then take the nails out and wear cotton gloves. You may leave it for an hour or night long as you prefer. Then wash off using fresh water and apply some mild moisturizing cream.
Use vitamin E oil for brittle nails
Another great way to moisturize your nails is by using vitamin E oil. It strengthens not just your nails but also the cuticles that protects your nails from easy breakage. Vitamin E oil properly nourishes your nails and keeps them hydrated. Besides, Vitamin E being an essential component of skin delivers a youthful shine to your nails.
To get the benefits, you need to take a vitamin E capsule and open it to extract the oil. Then apply the oil on your brittle nails before you go to bed. After that, massage gently for 5 minutes and leave it to dry naturally. Use this remedy on a regular basis for best results.
Use sea salt for brittle nails
One of the most soothing and relaxing home remedies for brittle nails is soaking your nails in a solution of sea salt and warm water. This method not just makes your nails healthy but also softens your nail cuticles. It can also cleanse your nails very well by removing all the accumulated dead skin cells that may be one of the factors behind brittle nails. In addition, the minerals in the sea salt have healing and rejuvenating properties that further repairs any damage leaving behind healthy shiny nails.
Here you need to take around 2 tablespoon of sea salt and add in the container containing warm water. For better results, you may add wheat germ oil and lemon essential oils in it. Then dip your nails and keep it for around 15 minutes. Pat your nails dry after that. Then apply a mild moisturizer on your hands and legs. Use the method 2-3 times weekly for fast results.
Use green tea for brittle nails
Green tea is not simply good for good health but is also very efficient in treating your brittle nails. Well, yes, green tea contains several antioxidants that strengthens your nails and prevents its early breakage. Moreover, you can also get rid of the yellow coloring of your nails using green tea.
There are many ways to draw the benefits of green tea for your brittle nails. In one method, you simply need to brew green tea and then keep it to cool. After that, soak your brittle nails in it for around 15 minutes and then remove. On the other method, you can soak your nails by mixing few drops of wheat germ oil and a pinch of salt with 2 teaspoon of green tea. Keep your nails soaked for 5 minutes and then pat dry.
In another method, massaging your nails twice weekly with a mixture of green tea and coconut oil or aloe vera gel also works wonders to prevent fragile nails. You may go for any method as per your wish.
Use flaxseeds oil for brittle nails
You can also use flaxseed oil to get rid of your brittle nail problem. Flaxseeds contain various micronutrients like potassium, vitamins, magnesium, protein, lecithin, zinc etc that are very essential for nail health. Further, the presence of omega 3 fatty acids in them intensifies the good effects and keeps your nails healthy and strong.
Every night, before you go to sleep, make sure you massage your nails gently with flaxseed oil for few minutes. Then cover your nails with gloves and keep it nightlong. This is a great way to avoid brittle nails. Also, include flaxseeds in your food chart in moderate amounts to reap the benefits.
Use apple cider vinegar (ACV) for brittle nails
One of the great home remedies for brittle nails is by using ACV to get rid of the problem. Well yes, organic apple cider vinegar contains calcium, iron, magnesium and potassium, vitamins, all of which are highly potent in making your nails healthy and strong. Moreover, the mild acidic content mainly the presence of malic acid and acetic acid is also very helpful in preventing the occurrence of nail infections that are one of the causes behind brittle nails.
To get the benefits, take proportionate amounts of water and ACV and mix the two of them. Then soak your nails in the solution and keep for 10 minutes. Use this remedy daily for desired results.
Use beer for brittle nails
It is not simply the favorite drink for celebration as bear has many beauty benefits as well with preventing brittle nails being one of them. Beer is a natural moisturizer that nourishes your nails. It contains many nail friendly minerals like phosphorous, potassium, selenium with biotin that as per research deserves a special mention as one of the key ingredients in treating brittle nails. With beer, you can mix olive oil and apple cider vinegar to intensify the good effects.
Warm olive oil around quarter cup and mix half cup of beer and quarter cup of ACV. Soak your nails for 15 minutes in this solution and then remove. Repeat the process two times weekly for maximum benefits.
Use tea tree oil for brittle nails
Tea tree oil is a natural antiseptic that is used in treating various skin problems and now you can use it for your brittle nails as well. Fungal infections that are one of the vital reasons behind brittle nails can be treated using tea tree oil. You can also solve your problem of discoloured nails using this antiseptic oil.
Tea tree oil is quite strong so it is advisable you use it in diluted form after mixing it with water or some other essential oils. As per as my suggestion goes, I love using it along with olive oil. You can add around 5 drops of tea tree oil and mix with half tablespoon of olive oil. Apply the solution on your nails and let it stay for half an hour. After that, rinse your nails using lukewarm water, pat them dry and apply any mild moisturizer. Continue this remedy twice daily for at least one month for remarkable improvements.
Use egg yolk and milk for brittle nails
Lack of proper nutrients is one of the many reasons behind the occurrence of brittle nails. And, talking about nutrients, proteins and calcium are the vital ones that enable your nails to remain strong and what better sources of them than the egg yolk and milk. The mixture is extremely nourishing for your brittle nails and also prevents splitting or peeling and so you must definitely give it a try.
Although, not very appealing to hear, the mixture of egg yolk and milk is great for your nails. Here, you need to mix 2 tablespoon of egg with an egg yolk and massage the mixture thoroughly on your nails. Keep it for 30 minutes and wash using lukewarm water. Use the remedy 2-3 times weekly for good benefits.
Use hot oil treatment for brittle nails
You can massage the nails with the natural oils but if you want to intensify the results, then a deep nourishing hot oil treatment is ideal for you. The natural oils like almond oil, jojoba oil and olive oil are good for nails. These oils contain healthy fats and various nutrients that help to repair the damage caused by excessive usage of harsh nail paints and nail paint removers. So, if your nails needs repair, you know which remedy to use.
Take equal amounts of olive oil, jojoba oil and almond oil and mix all of them. Heat the mixture a little. Then apply the mixture using cotton on each of your nails (you must apply the soaked cotton pads on each of your brittle nails). After that, wrap foils around nails and let your nails remain covered. Let it stay for 10 minutes and remove both the foil and the cotton pads. This is a great way to nourish your nails as the oils penetrate deep and repairs the damage. Use it 2-3 per week.
Essential tips to get rid of brittle nails easily at home
Now that you have already known about the effective remedies, there are certain tips that you must follow that will help you to solve your problem better. Sometimes, eating healthy and making good lifestyle changes can also aid in getting rid of your problem. The following list of tips also forms a part of your home remedies for brittle nails and must never be ignored if you want to treat the problem of brittle nails from the very roots.
So, here are some of the essential tips that are useful to treat your brittle nails.
Modern research has already shown the importance of biotin in treating brittle nails, so you can eat healthy foods containing good amounts of biotin in them. Such foods include eggs, almonds, sweet potato, tomato, oats, onion etc. These not just contain biotin but several nutrients good for your nails as well.
It is essential that you avoid frequent using nail polishes especially the ones containing acetone in it. They highly damage your nails and make them brittle. So wear nail polishes occasionally and allow your nails to get exposed to natural air. Fortified polishes are a good option, so you may use them.
While you are doing the household works like washing clothes and dishes, it is advisable that you wear plastic gloves. This will help you prevent over exposure to water or other chemicals like detergents and also help you to avoid peeling of your nails. However, in case you have difficulty in wearing gloves, make sure you cut your nails short all the time to minimize the absorption of chemicals and water.
While too much exposure to water on the outside is bad for your nails, drinking ample water is great to get rid of brittle nails. You must drink good amount of water to keep yourself hydrated throughout the day. Also, eat healthy water rich foods like cucumbers, watermelon to moisturize your nails from inside.
Maintaining good nail hygiene is much needed. If you want to go for frequent pedicure and manicure that is great, but if you cannot afford it often, then why not do it yourself. Clean your nails on a frequent basis, then trim them straight across using manicure scissors or clippers, and then gently make the tips rounded.
Proper moisturizing is mandatory. So besides using the natural ingredients (mentioned above), it is important that you massage your nails using petroleum jelly or some other thick cream several times all through the day.
According to "American Academy of Dermatology", you must try to avoid using artificial nails to cover up your nail problems. This is because it can lead to nail fungus infection that can further damage your nails.
Alcohol based hand sanitizer are also a complete NO-NO for you as these products leave your nails dry and hence make them more susceptible to breakage.
The "American Academy of Dermatology" further states that while you cut your nails, try to be careful not to cut away the cuticles completely as this can increase the risk of an infection. So, you can use good cuticle cream or oil to avoid the nail surface getting dry.
Make sure your nails are exposed to natural sunlight daily for few minutes so that they get sufficient Vitamin D. However, that does not mean too much sun exposure as that may lead to reverse effect.
Conclusion
I have seen many suffering from the problem of brittle nails but there is nothing to worry about it, as all you need is a little care to get rid of the problem. There are many natural ingredients like coconut oil, olive oil, milk, egg yolk, sea salt, flaxseeds etc that can help you make your nails healthy and strong.
I have mentioned in details 21 easiest and the most effective tips and home remedies for brittle nails. I have also explained the methods in which you can use the ingredients. You need to diligently follow them and be patient enough to wait for the results.
However, despite the fact that the easiest and the most effective tips and home remedies for brittle nails work out for most individuals, sometimes things get worse and that is when it is important for you to take proper medical help. "Mayo Clinic" has stated certain conditions where doctor's help is very important. Here are a few of them.
Change in the nail color mainly when you see discoloration of the entire nail or the occurrence of some kind of black dark streak underneath your nail
When you notice any change in the shape of your nails. For example, curled nails
Drastic thinning or thickening of your nails
When your nails start getting separated from the surrounding skin
Any kind of inflammation or swelling accompanied by pain around your nails
Bleeding around your nail surface
Do you suffer from brittle nails? Have you checked out my list of 21 easiest and the most effective tips and home remedies for brittle nails? Do share with me your feedback in the comment section and tell us which one worked best for you. I am open to suggestions so you may suggest other easy tips and home remedies for brittle nails that you feel is of great help.
Until then, stay safe and stay gorgeous