Hair fall is seriously a matter for concern, for both ladies and gents. And it not easy to fight hair fall. But did you know that you can use guava leaves for hair fall treatment? Yes, you heard that right. Guava is a magical fruit, but even the guava leaves are loaded with medicinal properties and nutrients that helps fight hair fall naturally. You can use guava leaves to fight temporary hair fall, and grow healthy and shiny hair, all naturally.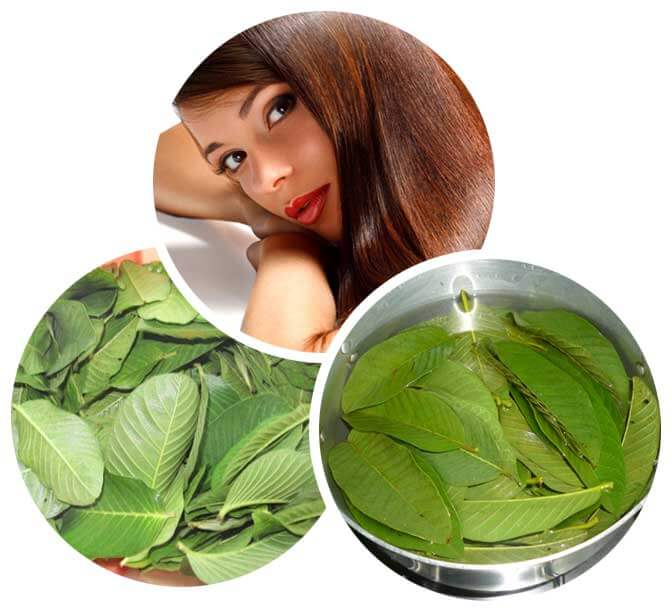 There are tons of medicines, shampoo and other hair care products available that promise to help in treating hair fall. But only a few of these hair care products work, if used as per the direction and, for the specified period of time.
Using medicines and chemical based hair care products may not be a viable option for everyone, because it may have side effects. And secondly, buying the costly hair care creams, gel or medicines to treat hair fall may not be economically viable option for everyone.
If you have been using such hair care products without much success, you may try guava leaves for hair fall treatment. It is a natural remedy and has no side effects. And the remedy I am going to talk about is, guava leaves.
Just a few months ago, I had a serious hair fall issue and I was really concerned about it. I was planning to visit a Doctor who practices Ayurveda, but my mother told me about this guava leaves remedy. I tried continuously for three for months and man it works like a charm. Guava leaves can actually help you fight hair fall and I am going to share the trick right here in this post.
Cause of hair fall
Hair fall is very common today in both men and women. There can be different reason for different people which may cause hair fall. Some of the most common cause of hair fall is here under;
Physical or emotional stress is the most common reason for hair fall
Hair fall may be caused by deficiency in protein and vitamins
Hair fall may due to aging, or unhealthy eating and living habits
Disease like thyroid or anemia may cause hair fall
Dirt and pollution can be one of the reasons for hair fall
Dirty scalp may also cause hair fall
Access consumption of food containing vitamin A may also cause hair loss
Hair fall may be caused due to heredity
And there are many more reasons for temporary or continuous hair fall. Like some women experience temporary hair fall post delivery.
And if you want to fight hair fall and promote hair growth, then the best that you can do is to eat rightly balanced meal, practice healthy living habits and keep your scalp clean.
Medicines may not be the solution all the time, especially because it has side effects. And if you want to fight hair fall and promote hair growth, you may try natural remedies like guava leaves.
Using guava leaves to treat hair fall
A friend of mine has even consulted a hair care clinic that promises to reduce hair fall. She used the medicines for almost six months, lots of thousands of rupees, without any significant results. And then she started using guava leaves and she says that, it's probably working. The result is not yet significant, because she has just started, but she can feel the difference.
Guava leaves has nutrients and vitamins that promotes hair growth. Guava leaves are rich sources of Vitamin B2, antioxidants and other nutrients that help in fighting hair fall. Even if the guava and guava leaves, both are edible, you don't have to consume the leaves. All that you have to do is to make a hair cleanser using guava leaves and apply it regularly on your hair (may be thrice a week)
How to make the all natural hair cleanser using guava leaves?
It's pretty simple and here are the steps;
Take 15-20 of fresh guava leaves
Wash the leaves properly to get rid of dust and other visible impurities
Take a pan and pour about one liter of water in to it
Add all the guava leaves and put it on the oven
Bring it to boil so that guava leaves can release all its nutrients and vitamins into the water.
It may take around 20-25 minutes, depending on the heat of the oven.
Once done, switch off the gas and leave the pan aside
Let it cool down for some time (may take an hour or so) and then strain the leaves.
Store the cleanser in a glass container
The ideal way to apply this cleanser is during the bath time. Clean your scalp properly by shampooing and then apply the guava leaves cleanser you made. Massage your scalp slowly and then leave it for 15 odd minutes and wash your hair.
You can apply guava leaves cleanser twice or thrice a week for best results. And within a few weeks of application, you will have fuller, healthier hair. Guava leaves not only strengthen the follicles, but it also boosts the root of the hair. And best of it has no side effect and costs almost nothing. And to fight hair fall more effectively, you should include guava fruits in your daily fruit consumption.
Other health benefits of guava leaves
Guava fruits and guava leaves are loaded with nutrients and minerals and there are a number of health benefits of guava, and you should include it in your daily diet. If you have to eat one fruit every day, probably it should be guavas.
And guava leaves are equally good for our health, especially skin and hair. Apart from fighting hair fall and, encouraging hair growth, guava leaves can be used to fight aging, bad breath, gum ailments, cough and cold and much more.
Conclusion
Hair fall or hair loss is inevitable as we grow. Aging can be one of the reasons for significant hair fall, but there may be many other reasons for hair fall in men and women. Fighting hair fall is not easy, especially if you rely on the chemical based shampoo and medicines.
Guava leaves has medicinal properties which can be very effective in fighting hair fall and promoting hair growth. And best of all, guava leaves is a natural remedy and has no side effects.
If you are struggling with hair fall, you may like to use guava leaves and see the difference. Have you tried guava leaves as a hair care solution? Feel free to share your experience.