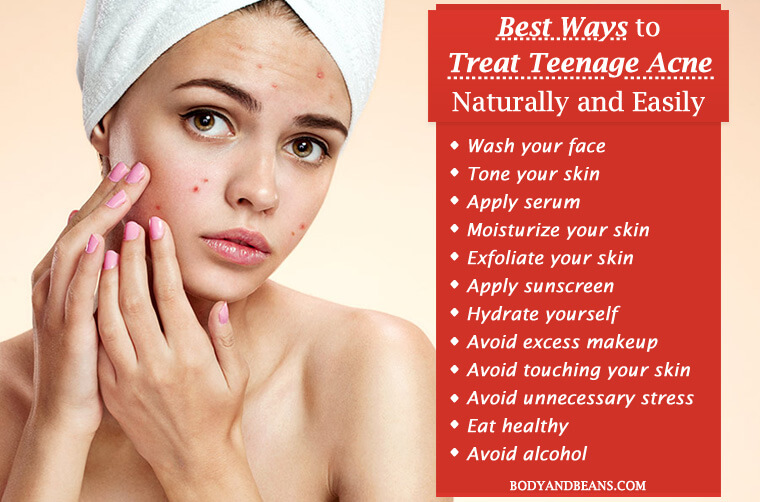 Teenage is actually the most important and interesting phase of our life. It is mainly because a lot of change occurs with us both mentally and physically. While there are certain positive changes like we get matured and we learn to face the world, we face many negative changes as well. One such negative thing that most of us experience is the irritating teenage acne. I mean, this is really frustrating, especially at the time when we start understanding the concepts of physical beauty and love to groom ourselves up. And, these acnes seem to ruin everything. However, no matter how much you get pissed up, getting stressed about teenage acne is not going to solve the problem. In fact, stress aggravates it all the more. Teenage acne is a natural phenomenon mainly due to the hormonal changes in our body. Since it is quite natural to have it, you must also try to treat it naturally. And if you are wondering about what to do, and how to treat teenage acne naturally, then read on. Today I am going to discuss about everything worth knowing about acne, including the list of 14 best ways to treat teenage acne easily at home.
For many youngsters, teenage acne comes like the nightmare. They literally try out everything to cure acne; starting from frequently visiting the parlor to using expensive cosmetics and beauty products to get fast results. Some of them also have the habit of popping and squeezing them in the desire of lessening the size of the pimples quickly. But, amidst all these, what they fail to understand is that by doing all these stuffs, they are simply ruining their skin more which may lead to permanent marks on their face. Moreover, they are just wasting time and money on the chemical containing commercial beauty and skin care products, when they can actually treat acne naturally.
I definitely understand your pains and let me just tell you that it is not just you, but thousand others including me who have gone through this phase or is currently going through it. So, you are not alone in this battle against teenage acne. Just give it some time. Once you cross this age, you will slowly experience less acne problem (until and unless you already suffer from an acne prone skin).
In the meantime, what is best for you is to maintain a good skin care routine and adopt natural ways to cure teenage acne. I am sharing some of the most effective ways to cure teenage acne right here in this post. If you properly follow these skin care routines and tips then I am sure you will be able to treat acne much effectively and easily at home.
But before we get into the details of how to treat teenage acne, let's find out the common causes behind the occurrence of teenage acne first and then move to the natural acne remedies.
What causes the occurrence of teenage acne?
Teenage acne is a very common thing and there is nothing to fear about it. It is very frustrating, I know, but it is indeed a part of the growing process. When puberty hit us, there is excess secretion of androgen which stimulates the oil glands and leads to excess production of oil or serum. This excessive oil blocks the skin pores and attracts lot of dirt, and slowly take the form of acne. It also leads to the growth of Propionibacterium acnes bacteria that further damage your skin.
Here are various types of teenage acne:
When your skin pore is clogged and it bulges out, it is known as a whitehead.
Blackhead occurs when the skin pore is clogged and air exposure makes the top part blackish.
When there is a blocked inflamed red pore filled with pus, we call it a pimple or pustule.
Lastly, there are the cysts which are painful big red bumps that grow deep inside your skin. It is the most severe form of acne.
Best natural ways to treat teenage acne easily at home
Medicines are available to deal with the problem of teenage acne but despite that if you maintain a good skincare routine, you will be able to treat teenage acne easily at home. Remember that these are not just for your teenage years, but these will help you in your entire life to maintain a flawless glowing skin throughout. So, learn these acne remedies carefully and apply them correctly to maintain flawless skin quality.
So, without wasting much time, let's check the best natural ways to treat teenage acne naturally and easily at home.
Wash your face
Properly washing of your face can be very effective in getting rid of acne. The basic thing that you have to do in order to maintain your skin and lessen the acne breakouts is to wash your skin religiously two times daily. This is very important as it will remove the excess sebum from your skin and also cleanse your skin off the various impurities and the dead skin cells. This in turn will open up the skin pores and allow your skin to breathe.
Use a mild face wash and lukewarm water to wash your skin properly. Never use the harsh soaps on your skin. Also, avoid washing your face too often as it will take away the natural oils and leave your skin too dry. So, washing two times everyday can be very effective in curing teenage acne.
Tone your skin
Once you have washed your face, do not forget to tone it. This is essential and is definitely one of the effective ways to get rid of teenage acne. It actually removes any remaining traces of dirt or impurities from your skin and makes your skin clean from the roots. It also removes the residue of the face wash or the cleanser that you have used.
Proper toning leaves your skin absolutely dirt free and gives your skin a fresh feeling which is very essential to prevent acne breakouts.
Apply serum
After you have toned your skin, do not miss out applying the serum. You just have to take a little bit of it and apply on your face. Avoid rubbing it too harshly. Serum actually contains active agents that penetrates deep inside your skin and keeps it clear and acne free. So, skipping the application of a good serum is a no-no if you are determined to lead the rest of your teenage years acne free.
Moisturize your skin
You may believe that since excess of oil leads to acne, so your skin must be very oily all the time. While it is partially true that your skin does get too oily, but at times, the acne makes your skin excessively dry as well. So, your skin also needs proper moisturizing to stay healthy. A good mild moisturizer will reduce the dryness of the skin and also not let your skin peel.
When you go to the market to buy any moisturizer, just make sure you are buying one that is non-comedogenic as they are good for most type of skin and does not block your skin pores.
Exfoliate your skin
Exfoliation of your skin is very important in order to get rid of your teenage acne. It clears your skin off all the dead cells and leaves your skin fresh and smooth. But, the scrub you are using is equally important. Avoid the granular scrubs as it might lead to skin irritation.
Exfoliate your skin once or twice weekly to make your skin flawless and glowing easily.
Apply sunscreen
Many of us believe that applying sunscreen on a daily basis can actually lead to acne. But let me tell you that it is a pure misconception and you need to use a good sunscreen whenever you get out in the sun. The harmful ultraviolet rays of the sun can severely affect your already acne prone skin and also tan your skin to a great extent.
Moreover, if you are on acne medication and you go out in the sun without applying sunscreen, then that may lead to skin discoloration. So, it is better that you keep a good sunscreen lotion or cream in your bag all the time.
Hydrate yourself
Water is life and you need to drink it in good amounts not just to maintain good health, but also to get good skin and hence staying hydrated all the time is definitely one of the most effective ways to cure teenage acne easily.
Water is very important and it carries the nutrients to all parts of your body. It is also a great detoxifier that flushes out all the harmful toxins from your body and keeps your system clean from within.
Dehydration will actually make your skin too dry and irritate your skin further. In fact, in some cases, too much dryness stimulates the oil glands and lead to overproduction of oil which might increase the acne breakouts. So, make sure you are drinking 3-4 liter of water daily.
And, if you find water too plain and blunt, then you may take the help of detox water recipes to stay hydrated and detoxified. These are a healthier and tastier version as it contains several healthy ingredients mixed with water.
Here's a detailed article with various detox water recipes for beautiful skin that you must check.
Avoid excess makeup
I know most of the youngsters especially teenage girls love to dress up and apply makeup, but if you honestly want to get rid of your teenage acne, then you must try to avoid makeup as much as possible.
Daily makeup is not needed. It is best to stay natural and let your skin breathe. Other times, when you are going to a party or hanging out with your friends, you might use makeup but on a minimal level.
Secondly, don't forget to remove the makeup properly once your return home. Sleeping whole night with your makeup on will aggravate your acne problem and harm your skin a lot. Besides this, the kind of makeup products you are using is equally important. Go for the branded ones and avoid the cheap brands containing harsh chemicals that may be harmful for your skin.
Avoid touching your skin frequently
Whenever you get acne in your teenage years, you may feel tempted to touch your skin continuously and sometimes unintentionally. But, you need to be really careful about that. This is because your hands may contain dirt and germs and if you are continuously touching your acne with your hands, it may irritate your skin.
Moreover, while you touch your skin all the time, you may also get tempted to pop and squeeze the acne which is a complete no-no as if you do these, it will ultimately lead to permanent acne marks on your face. So please control it as much as possible.
Avoid unnecessary stress
Since you are in your teens and is slowly on the process of getting matured, you may face many negative things which can affect you a lot. You may feel victim to severe stress and mood swings, which if not controlled may lead to stress and severe depression. Now, stress is not just bad for your health but it can aggravate the problem of acne as well.
Studies are going on this and experts believe that cells that secrete sebum or oil have stress hormone receptors and so with increase in stress levels, it may upregulate those cells which can lead to further acne breakouts. So, controlling stress is obviously one of the best ways to get rid of teenage acne.
Now, controlling stress is not always in your hands but you can definitely try out ways to keep yourself happy and stress free. You can take the help of meditation and other relaxation techniques which will help you stay relaxed and calm in stressful situations. Regular yoga, walking, meditation etc is considered to be the best stress buster, so include these in your daily routine.
Eat healthy
Eating healthy and nutritious diet is a must in order to get rid of teenage acne. Whatever you eat has a direct influence on your health as well as your beauty, so if you eat healthy foods, your skin will automatically glow from within. The healthy nutrients will help you get rid of the ugly acne easily. While most of the healthy foods are good, but you must specifically focus on foods containing vitamins, zinc and omega 3 fatty acids.
The main reason behind that is these nutrients are great in reducing any kind of inflammation and thus will be able to treat the acne easily. Zinc helps in controlling the excess secretion of oil and Vitamins and omega 3 leads to quick healing and clear skin. And, needless to say, your diet chart must contain lots of healthy vegetables and fruits that will keep you strong as well as clear your skin off the acne from within.
Now, that you are eating the healthy nutritious foods, please avoid the junk oily ones which can stimulate the acne breakouts.
Avoid alcohol
I firmly believe that teenage is not the right age to start drinking alcohol. I mean I understand that you are growing and you may get attracted to such stuffs easily but trust me, alcohol is not just injurious to your health but can aggravate this problem of teenage acne as well.
There are several reasons why you should immediately stop over consuming alcohol. Firstly, it increases the levels of testosterone and estrogen in men and women. It also stimulates androgen production which further triggers the oil producing glands in your body which in turn leads to further acne breakouts. In addition, as per reports the overconsumption of alcohol can also lead to release of the stress hormone cortisol and increase the overall stress levels in your body which you already know to be unfavorable for your acne.
Use hair care products carefully
Whatever you put on your hair can also lead to acne breakouts. This is because most of the hair strays, hair gels and pomades contain too much alcohol which may irritate your skin to a great extent. Acne may also happen due to the buildup of chemicals in your scalp or allergies due to the ingredients present in the hair products.
In addition, the chemicals and the pomades also block the skin pores and lead to breakouts. So, please avoid too much usage of commercial hair products and try to keep your scalp clean all the time.
Use natural remedies to get rid of teenage acne
Besides all the above things, you can take the help of natural home remedies as this is one of the best ways to get rid of teenage acne. Many may not believe but there are several natural kitchen ingredients which if used properly can actually reduce the acne problem in no time.
Most of these ingredients like honey, lemon, sandalwood, multani-mitti (Fullers Earth), cucumber etc. are great for your skin. You just have to identify your skin type and use these products on a frequent basis.
We have a detailed post with various natural home remedies to get rid of the pimples. The method of usage are also mentioned in each case and so I recommend you check this post for further guidance.
Conclusion
Teenage acne is a common phenomenon. It is not a disease but is actually a result of natural bodily changes. For most of the individuals the problem of this acne slowly disappears once you enter in your 20s. Instead of getting frustrated, try out means to get rid of it as early and naturally as possible. However, ways to get rid of teenage acne does not mean you only have to hit the parlor or spend thousands of bucks in expensive skin care products. Instead try out best skin care practices and natural ways to treat teenage acne. This will save your money as well as give you effective results.
Today, I have already discussed about the various ways to treat teenage acne naturally and if you follow these best practices, you are bound to get benefited. Basically, you have to maintain a basic skin care routine on a daily basis. Proper cleansing toning moisturizing must be done. And, besides that, you have to take care of what you eat, and what makeup or hair products you use.
Drink lots of water and get rid of your alcoholic habits as much as possible. Basically, maintaining a disciplined lifestyle is going to be the key in getting rid of skin disorders including teenage acne.
Maintain discipline and a healthy lifestyle and half of your problems will be solved. And, if you really want to take care of your skin and use certain face masks for it, then go for the natural home remedies.
There are several kitchen ingredients which if used properly can give you miraculous benefits. Such ingredients like cucumber, lemon, honey, milk, tea tree oil, sandalwood etc. have been used since generations for beauty problems and have natural healing properties. They are very easily available and are hence very cost-effective remedies to get rid of teenage acne easily and naturally.
Besides, all these, you also need to get rid of the stress which is an important cause behind aggravation of the acne problem. Moreover, stress in itself is bad and can cause several other health issues. So try to take the help of meditation and other relaxation techniques to get over stress. Sleep for 7-8 hours and try to keep your calm and happy most of the time.
Are you going through the teenage acne phase and is super frustrated with it? You must have tried many expensive means but have you tried some of the natural tricks, as discussed above to get rid of teenage acne? Well if not, then you must go through my list of effective ways to get rid of teenage acne naturally and see the results for yourself.
And if you have tried any other tricks to treat teenage acne, then feel free to share those tricks and remedies with us.
Until then, stay happy, stay beautiful and do not let acne take a toll on your teenage days.