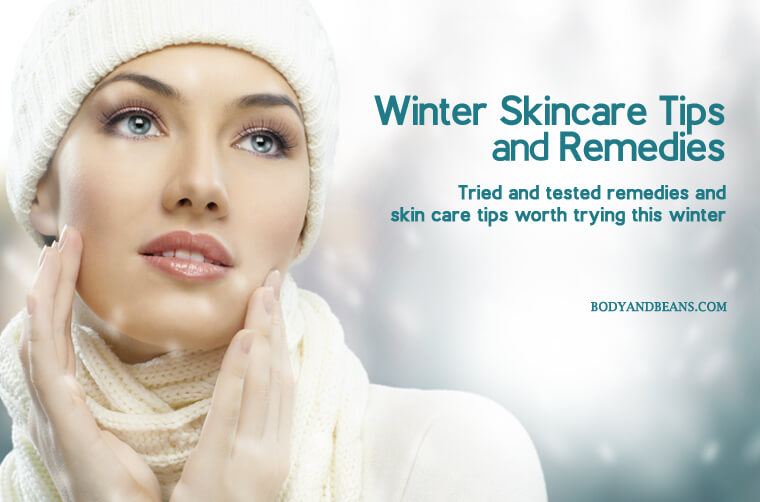 Now that winter is already round the corner, many of us have started experiencing the problem of excess dryness and itchy skin. This is because the abrupt weather changes can affect your skin in different ways and that may lead to skin problems that are typical to that particular season only. The usual skin care tips may not work across all seasons and hence you have to change your skincare routine as per the weather. For example, summers often lead to the problem of excess oil and pimples on face whereas winter can ruthlessly attack your skin and rob the moisture out of it leading to excessive dryness. But not to worry as today, in this post I am going to talk about winter skin care. I will share the list of 27 winter skincare tips that will help you in taking good care of your skin this fall. Along with the winter skincare tips, I am also sharing some of the best home remedies that will help you to protect your skin this winter.Despite cleansing, toning and moisturizing being the three basic skin care steps that any individual may follow to look beautiful, your skin require special care and attention according to specific season. And if you are wondering about how to protect your skin from the harsh winter climate, then keep reading this post to learn about some of the most effective and time tested winter skincare tips and remedies discussed in this post.
Most Indians enjoy winter, as it gives us the much-needed relief from the summer heat. However, sadly, the winter climate although pleasant in most parts of India, may not be that favorable for your skin. The cold dry winter with less humidity can dry up your skin largely and if you do not take early protection, it may lead to cracks and even start bleeding (in extreme cases). So take proper precautions to protect your skin from the dry climate outside and with my 27 easiest winter skincare tips and remedies, I am sure your skin will enjoy winter equally.
However, before I start with the winter skincare tips and remedies to combat the skin troubles, let me first discuss on the skin problems that are common in winter season.
Common skin issues we experience in winter
The dry chilly winter affects your skin a lot and lead to several unhealthy and unattractive skin conditions that are specific to the season. Knowing about the common skin issues in winter will certainly help you find the appropriate remedies so here's the list of skin issues that you may face in winter.
Dry and dehydrated skin
Itchiness
Scaly skin
Chapped skin
Cracked lips
Cracked toes
Keratosis Pilaris breakouts
Winter rashes
Red nose
Dry hands and legs
Dry cuticles
Inflammation sometimes leading to excess red cheeks
Oily skin(extreme lack of sebum leads to its overproduction)
Now that we have learnt about the common skin issues in winter, let me start with my list of winter skincare tips. I will talk about the skin home remedies using some common ingredients first and move on to the other essential winter skincare tips.
Winter skincare remedies and masks
Winter damages skin excessively and to combat the skin problems, many take the help of the expensive creams. But trust me most of them are not much effective leading to a complete waste of money. Therefore, if you have tried using the expensive products with no positive results, it's time for you to go for the natural home remedies using simple kitchen ingredients and keep your winter skin issues at bay. These essential masks are not just cheap but are equally safe and effective in fighting winter skin conditions.
Papaya, banana and honey mask for winter skincare
Mixture of papaya, banana and honey is ideal for winter skin and is one of the best winter skincare tips one could ever get.  Both banana and papaya are loaded with antioxidants and are anti aging agents. Therefore, when these two fruits mix with the honey which has moisturizing properties, it intensifies the good effects. This pack will make your skin look firm and youthful.
Application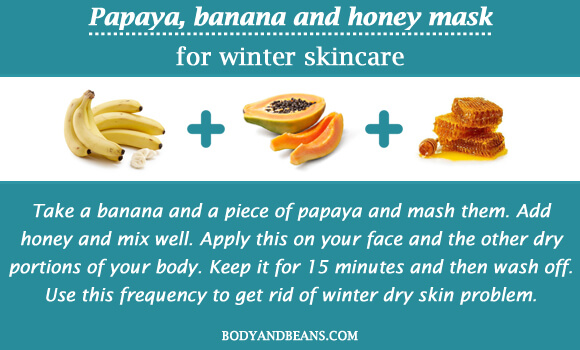 Take a banana and a piece of papaya and mash them. Add honey and mix well. Apply this on your face and the other dry portions of your body. Keep it for 15 minutes and then wash off. Use this frequency to get rid of winter dry skin problem.
Banana mask for winter skincare
If you do not like using papaya on your skin, you may omit it and instead use the combination of banana and honey. This mask is a moisturizer that nourishes and hydrates your winter skin. It has anti aging effects, removes all the wrinkles, and smoothen the dry skin.
Application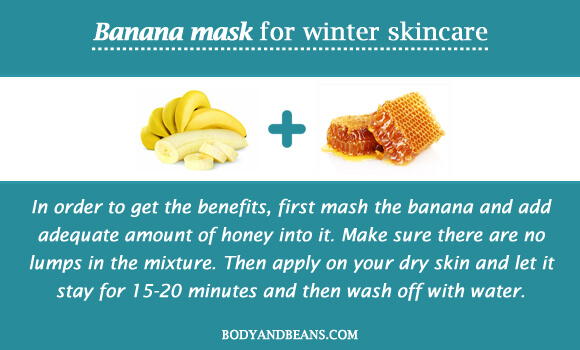 In order to get the benefits, first mash the banana and add adequate amount of honey into it. Make sure there are no lumps in the mixture. Then apply on your dry skin and let it stay for 15-20 minutes and then wash off with water.
Yogurt and buttermilk mask for winter skincare
Yogurt is very good for skin. The loaded amounts of zinc, vitamin B6 and calcium keep your skin clean and fade the blemish marks. Buttermilk, on the other hand, contains lactic acid that helps to combat dry and dull winter skin. The yogurt and buttermilk mask not just reduces the problem of dry skin but also soothes the itchiness that accompanies it.
Application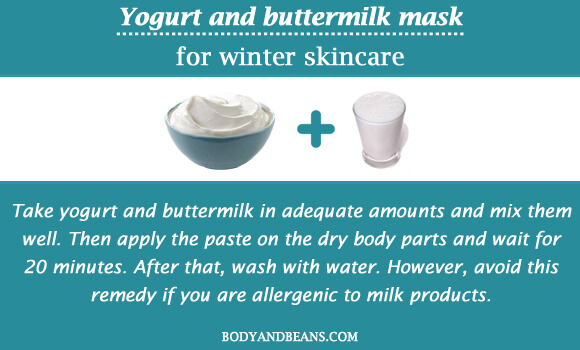 Take yogurt and buttermilk in adequate amounts and mix them well. Then apply the paste on the dry body parts and wait for 20 minutes. After that, wash with water. However, avoid this remedy if you are allergenic to milk products.
Olive oil and egg yolk mask for winter skincare
Egg yolk is nutritious and the vitamin A and lecithins present nourishes and soothes your dry skin. Besides, olive oil contains vitamin E, K and other antioxidants that protects and moisturizes your skin in winter. Therefore, the olive and egg yolk mask is definitely one of the best winter skincare tips that you must follow.
Application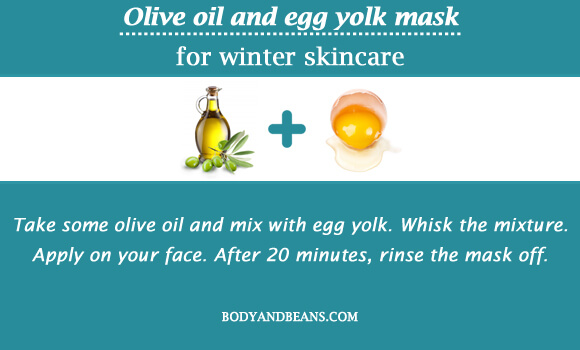 Here, take some olive oil and mix with egg yolk. Whisk the mixture. Apply on your face. After 20 minutes, rinse the mask off.
Avocado and honey mask for winter skincare
Both avocado and honey are natural humectants that are very beneficial for dry skin problems. With avocado, your skin gets vitamin E, C, carotenoids and other healthy fats that keeps the skin hydrated and protects against the damage caused by the free radicals. Honey, as usual being a natural moisturizer nourishes and keeps your skin soft and supple.
Application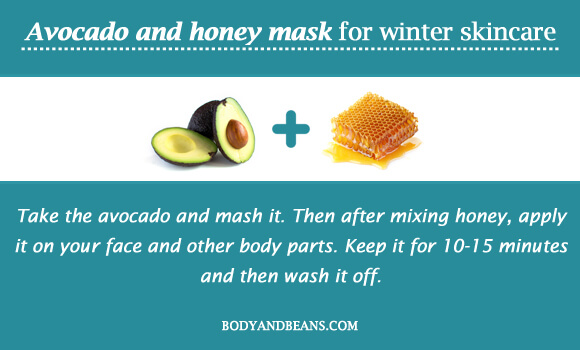 Take the avocado and mash it. Then after mixing honey, apply it on your face and other body parts. Keep it for 10-15 minutes and then wash it off.
Use milk and almond for winter skincare
If you do not have any problem with milk and dairy products then the mask using milk and almond is definitely one of the most effective winter skincare remedy. Almonds are highly nutritious for your skin because of the presence of vitamin E and fatty acids in it. On the other hand, milk is a natural moisturizer and exfoliator, which contain lactic acid and other enzymes that make your skin soft and glowing.
Application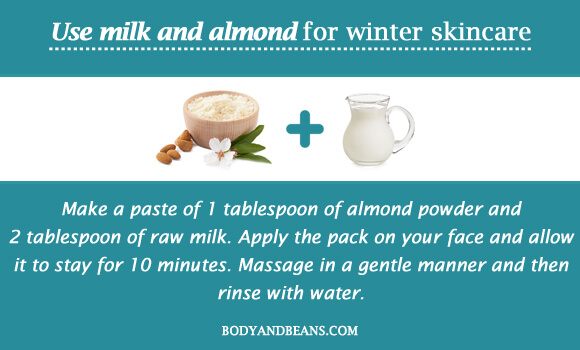 Make a paste of 1 tablespoon of almond powder and 2 tablespoon of raw milk. Apply the pack on your face and allow it to stay for 10 minutes. Massage in a gentle manner and then rinse with water.
Coconut oil for winter skincare
Virgin coconut oil is a great ingredient to treat winter skin problems. The presence of fatty acids prevents the loss of moisture from skin. It makes your skin soft and supple. Moreover, coconut oil is skin friendly and generally suits all skin types.
Application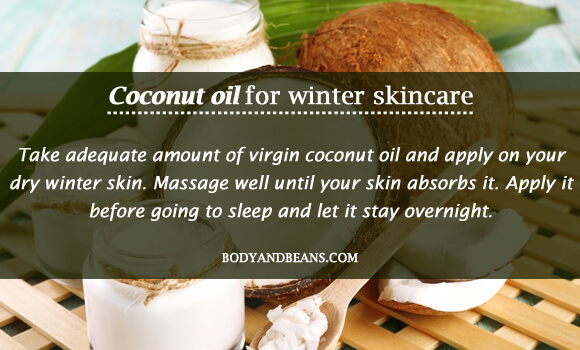 Take adequate amount of virgin coconut oil and apply on your dry winter skin. Massage well until your skin absorbs it. Apply it before going to sleep and let it stay overnight.
Honey and milk mask for winter skincare
Both honey and milk are individually very good for protecting your skin from harsh winter but both the ingredients when mixed together becomes more beneficial. The honey and milk mask naturally nourishes and moisturizes the skin. It also helps you get rid of your flaky skin and keep it smooth.
Application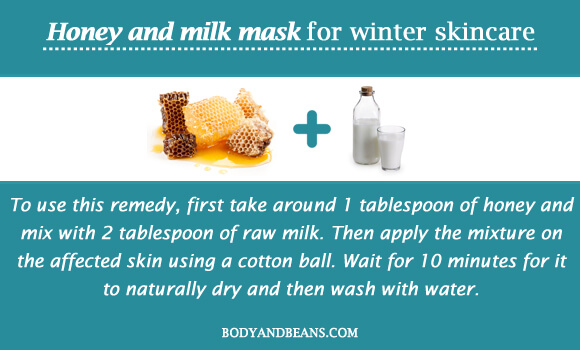 To use this remedy, first take around 1 tablespoon of honey and mix with 2 tablespoon of raw milk. Then apply the mixture on the affected skin using a cotton ball. Wait for 10 minutes for it to naturally dry and then wash with water.
Use lemon and honey for winter skincare
You may be a bit confused seeing lemon in the list but trust me, it works. This combination is good for people with oily skin. Sometimes in chilly winter, skin dries up excessively and this lack of sebum leads to excess oil secretion by skin that in turn leads to the stickiness. This is when you can use this lemon honey mask. Lemon is a natural toner that contains Vitamin C that helps to soothe any inflammation, itchiness or irritations on the skin. Honey on the other hand handles the moisturizing part.
Application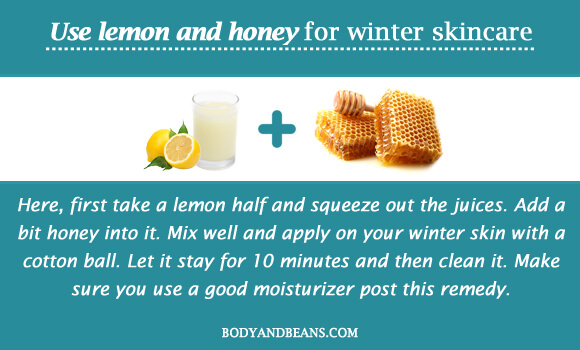 Here, first take a lemon half and squeeze out the juices. Add a bit honey into it. Mix well and apply on your winter skin with a cotton ball. Let it stay for 10 minutes and then clean it. Make sure you use a good moisturizer post this remedy. Also, avoid this remedy in case you got an excessively dry skin.
Use sunflower oil as winter skin care remedy
The usage of sunflower oil on dry winter skin is definitely one of the best winter skincare tips according to me. The rich content of vitamins and fatty acids present makes it an emollient that inhibits the moisture from escaping. This oil also keeps the skin hydrated and leaves the youthful glow on your skin intact.
Application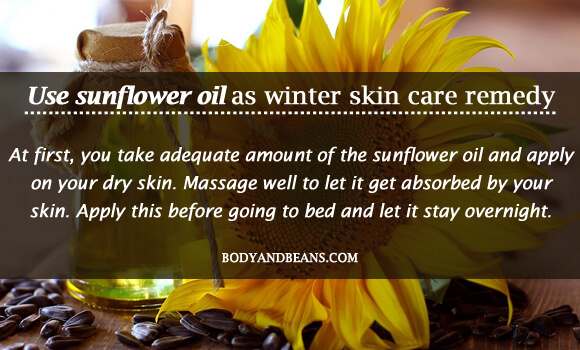 At first, you take adequate amount of the sunflower oil and apply on your dry skin. Massage well to let it get absorbed by your skin. Apply this before going to bed and let it stay overnight.
Strawberry honey mask for winter skincare
If you want to look beautiful like the strawberries even in winter, then go for the strawberry honey mask. Strawberries are loaded with vitamin C that helps you get rid of the dryness. They are natural exfioliants that keep your skin smooth soft and supple. Also, the mild acids removes the accumulated impurities and dead skin cells and lightens your skin tone. Honey is for moisturizing but you may use fresh cream also to double up the moisturizing part. However, avoid the fresh cream in case of allergy towards dairy products.
Application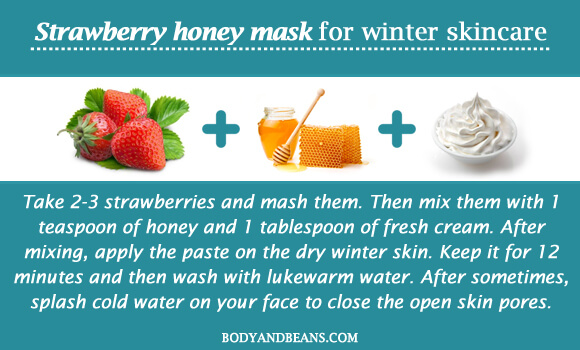 Take 2-3 strawberries and mash them. Then mix them with 1 teaspoon of honey and 1 tablespoon of fresh cream. After mixing, apply the paste on the dry winter skin. Keep it for 12 minutes and then wash with lukewarm water. After sometimes, splash cold water on your face to close the open skin pores.
16 Essential winter skincare tips worth knowing
Besides the home remedies that I talked about, winter skincare would be incomplete without the inclusion of the below mentioned tips. So, here are some of the other common and most important winter skincare tips that you cannot do without in chilly winters.
Try to drink water throughout the day and keep your system hydrated. This will help you in flushing out the toxins from your body and give a healthy glowing complexion. You may drink many juices to save yourself from dehydration.
Avoid very hot water baths or showers for long hours. This is because the hot water robs the moisture out of your skin and makes it dry. In other words, try taking warm showers but do not overheat the water.
For the face, you may use any mild face wash and clean with lukewarm water.
Avoid using washcloth or loofah while taking a bath as they make your skin dry. Instead, use your hands to wash your body.
Too much of using soap can damage your skin. So use less and make sure it is a mild one.
Apply petroleum jelly to keep your lips moist and soft.
Get rid of the cosmetics or makeup products that have a high alcoholic content.
Avoid the harsh facials and go for the homemade face packs (the ones I discussed above) to enjoy the natural winter glow. The face packs will solve maximum of your skin issues.
Make sure you do not skip the SPF even in winters. The sunrays in the winter season are equally damaging as they are in the summers. In fact, not just the sun but also the snow glare is harmful, so never forget to use good sunscreen.
The sun and the snow glare besides harming your skin can affect your eyes and the portion of the skin around your eyes that may lead to dark circles. Therefore, every time, you step out make sure you are wearing good quality sunglasses.
If you got a sensitive skin, it is mandatory to wrap a scarf around your face when you are out in the cold. This will protect you from the excessive cold wind and snow outside.
Do not forget the hands and legs and use dry socks and gloves to protect them.
The scratchy fabrics harm your skin and lead to itching, rashes and excessive dryness. So go for the softer and smoother quality clothes.
Many people use heaters to get rid of the excessive cold but that damages the skin and takes away the moisture by blowing out hot dry air. So it is preferable you use a humidifier instead that will not interfere with your winter skincare regime.
Balanced diet is always important and in winter try to consume lots of fruits and vegetables and incorporate foods rich in vitamins, iron, omega 3 fats, etc.
Caffeine or alcohol in moderate amounts is good as it keeps you warm but please do not over-consume to avoid dehydration and other health problems.
Over to you
Winter skin can cause a lot of trouble and hence to make things easier for you, I have discussed in this article some of the most beneficial winter skincare tips. Here I have talked about many things favorable for winter skin starting from the kind of makeup you can use or avoid to the clothes and food that protects your skin from harsh dry weather to other habitual or lifestyle changes that you can adopt. In fact, not just that, the essential homemade beauty masks that I have also mentioned are very effective and so the sooner you start using them, the better for your skin.
Therefore, if you are worried about how to protect your skin from the harsh cold outside, make sure you follow my 27 essential winter skincare tips and accordingly take proper protection to avoid the damage as much as possible.
Do you have sensitive skin? Does your skin trouble you a lot in winters? How do you tackle your skin in chilly winter climate? Share your winter skincare regime with us and comment whether you find my winter skincare tips beneficial. Also, do not forget to like and share this post with others.
Until then, take care, stay beautiful and enjoy the winter.