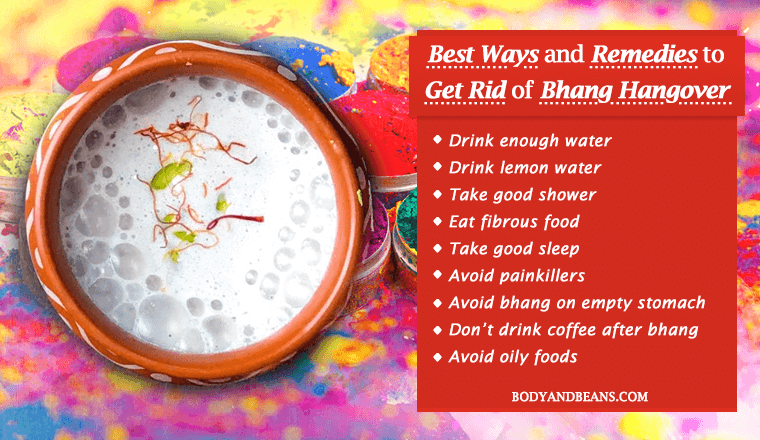 For me, the Holi celebrations remain incomplete without Thandai with bhang. And I am sure, there are many who take bhang, just once in a year on holi. Bhang is an herbal blend that is made from the leaves and the buds of the cannabis plant. It is just fun having bhang on holi and that is why many of us cannot resist the urge of drinking bhang ka sharbat or bhang thandai in Holi. But the problem occurs when you don't know how much to drink and you end up drinking bhang a little more than you can actually digest. When you over consume the bhang, you are going to have a long and strong hangover. If you have had bhang hangover last holi and you are wondering about how to get rid of it this time, then here's the post worth checking. Today in this post, I am sharing 11 best ways and remedies to get rid of bhang hangover or the bhang ka nasha this holi.
Bhang hangover can last a little longer than other hangover. When you have bhang hangover, you may experience extreme nausea, headaches, dehydration, too much tiredness, drowsiness etc. after a while which can continue till the next day in some cases. Trust me, this bhang handover or the bhang ka nasha when hits you real hard, it does not feel good after sometime, so the early you get over it, the better for you.
Now, with Holi, 2019 already knocking at the door, I am sure most of you have plans to take bhang. So be careful and drink bhang thandai moderately to avoid any hangover. But in case you or someone in the family get bhang hangover then, there are easy ways to get rid of it. There are interesting remedies to get rid of bhang hangover (bhang ka nasha) quickly. Trust me, if you carefully follow these remedies, you will be able to enjoy your bhang as well as get instant relief from bhang hangover.
Bhang spreads in your body at a very rapid rate. The effect it has on your body that is the hangover is quite different from what you experience after having alcoholic drinks. However, the bhang when used in moderate amounts in combination with other medicines actually is very helpful in case of many health issues. But, it activates bodily functions a lot, so if you drink it more than 500mg, it can often prove to be harmful. Now, amidst all of the festivities of Holi, I understand that you get so much involved that you end up drinking a lot. But it is my humble request that you please be responsible towards your health and exercise caution while taking bhang this holi.
And if you are planning for bhang party this Holi, then please make preparations for the remedies to get rid of bhang hangover (bhang ka nasha) from early on, as it may be required in case you get bhang hangover.
The remedies to get rid of bhang hangover are anyways easy to prepare, as it require usually available natural ingredients, which may be readily available in your kitchen.
So, are you ready to know about them? I think you are, so let us not wait further and start with the discussion.
Best ways and remedies to get rid of bhang hangover this holi
Bhang and holi is inseparable. Bhang for many of us is definitely a very integral part of celebrating Holi. But the hangover that we may have later n is not a very good feeling. So, it is very important to stay away from bhang and if you plan to take bhang, then take moderately.
And if it goes out of control, then you should have ready remedies to get rid of bhang and that's what I am sharing hereunder. Listed below are a few of the best home remedies to get rid of bhang hangover or the bhang ka nasha, as we call it.
Drink enough water to get rid of bhang hangover
One of the easiest remedy or the ways to get rid of bhang hangover or 'bhang ka nasha' is to keep your internal system properly hydrated. This will enable you to get rid of all the toxins that have got accumulated in your system. Moreover, if your body lacks adequate amounts of water and gets hydrated, then the effects of bhang will become stronger on you. Therefore, ensure that you don't get dehydrated by drinking enough of water and you'll be able to get rid of bhang hangover easily.
Lemon water remedy for hangover
Did you know that lemon water is very effective as a remedy in getting rid of any type of hangover, including the bhang hangover? Well yes, the lemon remedy is one of the most popular and effective remedies to get rid of bhang hangover and incase of a hangover, you should definitely give it a try this Holi. The primary reason behind the recommendation is because of the presence of the Vitamin C and the other antioxidants in it that prevent the formation of the free radicals. Secondly lemon water also is helpful in restoration of the salts in your system.
In short, lemon water is very important to counteract the heaviness associated with the bhang, so you actually get a lot of relief from the hangover fast. To make the lemon water tastier, you may like to add a little bit of honey to it and it will help you get rid of all types of toxins that in turns help get rid of bhang hangover.
Don't drink coffee
Many believe that drinking lots of coffee can actually help you get rid of the bhang hangover. But trust me, that is not true and it's just a misconception. In reality, it will actually worsen the effects and so, it is advisable that you stay clear of caffeine rich items after a whole day of herbal intoxication. Moreover, coffee has a diuretic effect and depletes water from your system which is also not favorable for you after you have consumed enough bhang. So if you have taken bhang, stay away from coffee.
Take herbal tea
Too much of coffee or tea consumption is not advisable as that kind of increase the bhang effects. But, one can drink herbal tea like green tea, jasmine tea rose tea etc. as they are low in caffeine and soothes your system really well. Moreover, the antioxidants present inside the herbal tea also helps a lot in tackling the bhang hangover. So, grab your cup of herbal tea this Holi and get rid of the groggy feeling as early as possible.
Avoid bhang on an empty stomach
Please do not do the mistake of drinking bhang on an empty stomach because it is going to have a really bad effect on you. Your stomach is going to become a gas container which is not going to help you in any way. Instead, it will make you weaker. In contrast to that, if you eat healthy nutritious stuffs, your stomach will remain full and that will help you expel the herb from your system in the right amount of time. It's not that you have to eat too much before taking bhang, but the idea is to not drink the bhang on an empty stomach to avoid hangover.
Eat fibrous food
When I tell you to eat something before having bhang, I just do not mean that you eat anything that comes your way. Instead, you should concentrate on foods that will help you deal with the hangover and eventually reduce its effects fast.
And, fiber rich foods definitely fall in that category. These are just great in helping you combat the intoxicating effects of bhang like a boss thanks to the several antioxidants present in them.
So, you should never forget to eat fruits and all of those vegetarian salads while enjoying your bhang this Holi.
Don't take oily fried stuffs
Just like eating the fruits and the veggies are very helpful in combating the bhang hangover; consuming fried and oily stuffs can be terribly bad. This is because they are not unhealthy in general but also increases the intoxicating effects of the bhang and make you feel groggier.
I thought of mentioning it separately because most of us are as it is fascinated with the oily fried stuffs and if you cannot resist the temptation while consuming the bhang, it is going to harm you doubly. So, please be a little sensible and avoid it amidst all of the Holi fun.
Take a good shower
One of the other interesting ways to get rid of bhang hangover or the 'bhang ka nasha' is by taking a good shower with normal warm water. Warm showers are in general very refreshing and so, when you take a shower after all the Holi celebrations, the warm water actually is very effective for your nerves and helps you a lot in fighting the feeling of drowsiness, headaches, body aches etc. So, do take a long shower and get over the bhang hangover fast.
Take a walk
I know what you are exactly thinking now. Well, it is true that you do not feel like going for a walk after drinking bhang but please try to push yourself to do that, as it will definitely help you a lot in dealing with the annoying side effects of bhang.
An energizing walk in the fresh air uplifts your mood which will also indirectly help you to get over the bhang ka nasha.
Take good sleep
Well, this is undoubtedly one of the easiest ways to get rid of bhang hangover (bhang ka nasha) quickly because you naturally tend to get very sleepy after you have consumed bhang. So after taking a walk, get yourself enough sleep because it will help to reduce all the side effects of bhang and when you wake up, you will definitely feel better. Please do not force yourself to stay awake as that will worsen your headaches and sickness.
Avoid painkillers
In normal times, when you have a headache, as aspirin might work and make you feel better. But, the headache you experience after consuming bhang hangover is not going to go with any painkiller. Instead, it may actually make the situation a lot worse especially if you are suffering from a medical condition. So, please avoid taking painkillers if you want to get rid of bhang hangover in the right way.
Over to you: how do you deal with bhang ka nasha?
Holi is all about fun and frolic with people splashing colors at each other and enjoying foods, sweets, Thandai and intoxicating bhang. It is definitely the time to forget all your worries and just let go yourself free. But you know what safety is always in your hands and you should also exercise caution while enjoying Holi. While using safer colors is definitely recommended, it is also advisable that you stay in your limits while consuming bhang.
Bhang, herbal blend that tastes great but the hangover you experience after that is too annoying and often hard to go. So, firstly you must drink in moderate quantity, and secondly keep yourself prepared with the remedies to get rid of the bhang hangover or the 'bhang ka nasha' fast and naturally.
I have already shared various ways and remedies on how to get over the bhang hangover fast. As you can see, all of these tricks are really very simple and there is no such thing that you will find hard to do. So, I am hopeful that you will not give any excuse and remain ready to combat the bhang hangover effectively. Of course, in worst case scenarios when nothing is working for you, then you must not hesitate to take doctor's help.
While drinking bhang in moderate amounts is OK but if you are suffering from high blood pressure and other serious cardiovascular issues, then it is better for you to avoid consuming bhang. Please avoid such risks and do not turn the festive mood into something that is saddening for you as well as for your loved ones. Your health definitely comes first and then comes all of the enjoyment, so please be a little more responsible towards yourself this holi and every day.
So, that is all I had to share on how to get rid of bhang hangover fast and naturally. I am hopeful that these simple hacks and remedies will be helpful for you.
And, if you know about any other natural remedy that can help deal with the bhang hangover, then do let us know by commenting below.
What else do you think one can do to get rid of bhang hangover?
If you have ever felt bhang ka nasha, then what exactly did you do to handle the bhang ka nasha?
Until then, enjoy Holi but do exercise caution for your own safety.
Happy holi!