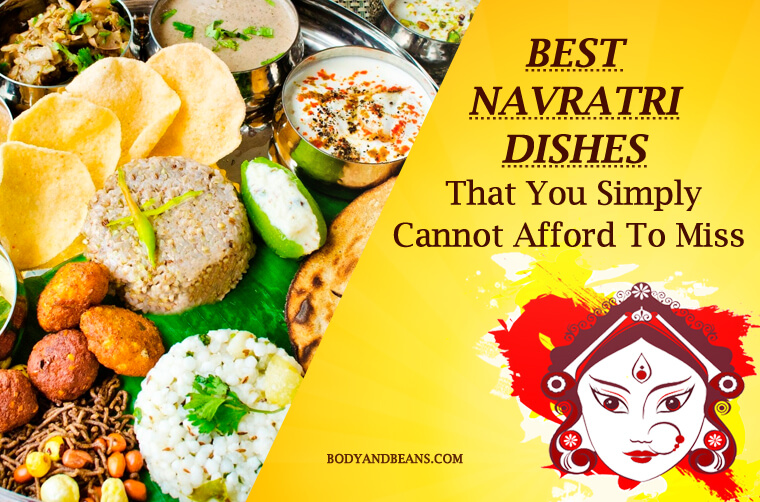 With the arrival of Ma Durga, the celebrations have begun and there is the essence of festivity all around. Be it Durga puja for the Bengalis, or Navratri for the Non Bengalis, it is certainly the most awaited time of the year and Hindus all over the world celebrate Goddess Durga's arrival in their own unique ways. While Bengalis celebrate it from buying new clothes, giving anjali in Asthami, "pandal" hopping wearing new clothes with friends and family, arranging festive events, trying out various new delicacies, sharing sweets in Dashami etc, for the Non Bengali Hindus, Navratri is mainly about early morning pujas and most importantly, their traditional ritual of fasting. Although, Navratri fasting does not mean that they go completely without food, but they do avoid onion, garlic, grains, regular salt and all non-vegetarian food items. Instead, they prefer various food ideas using butter, ghee, "aloo" (potato), "chana"(chickpea) and many other vegetarian dishes that are a specialty of Navratri festival. So keeping the Navratri tradition of fasting in mind, I thought of sharing with you 14 best Navratri dishes that are a must try for you this year.
The nine sacred days of Navratri is all about rejoicing Ma Durga's homecoming in her all nine "avatars" (forms) and is also the most appropriate time to celebrate her victory over the demon Mahisasura who symbolized 'egotism'. The ancient "Puranas" and texts have emphasized the importance of "nirahar" (sans food), "nirjal" (sans water) and "vrat" (fasting) during these days. It is one way where a devotee of Durga can elevate his/her mind and body. Moreover, it is considered one of the best ways to celebrate the victory of good over evil. All these traditional and religious values make Navratri fasting undoubtedly the most holy fasting ritual among the Hindus.
However, besides the religious touch, Navratri fast holds a scientific reason behind it as well. It is held twice a year (in summer and in autumn) and experts believe that due to the seasonal changes, human body has low immunity during this time. Therefore, consumption of light, nutritious foods will protect human body from the various diseases, infections or flues that are common during this time. On the other hand, the intake of the spicy non-vegetarian foods can attract lot of negative energies, which can take a toll on our health and hence must be avoided.
Navratri is finally here and I take this opportunity to share some of the best Navratri dishes that are my personal favorites too.
Excited?
So let us get started.
14 Best Navratri dishes that you will love to try
Navratri fasting makes an individual go back to his/her roots and take a break from the everyday routine lifestyle. This is a very sacred practice among the Hindus and is followed generation after generation. So come let us embrace the magic of the festival with 14 best Navratri dishes that you simply cannot afford to miss this year.
Baked aloo chat or fried chota aloo ki sabji
"Aloo" or potato is the best ingredient for the Navratri fasting and can be used as a side ingredient in many recipes but if you prefer a dish where aloo is the main ingredient then there are two dishes that I will like to suggest you. There is chota aloo ki sabji for you, if you love spicy dishes, baked aloo chat for the ones who want something healthy and less spicy and the rest may try both of them.
Method to prepare fried chota aloo ki sabji:
You may go the spicy way by making a sabji with chota aloo (baby potatoes), cumin seeds, rock salt, green chillies, curry leaves, turmeric powder, coriander powder, oil, red chilli powder and coriander leaves.
In order to make chota aloo ki sabji, follow the steps
Fry the potatoes first and keep them on a paper for the excess oil to get absorbed.
Then in a small container make a semi-paste with turmeric powder, rock salt, coriander leaves, red chilli powder and water.
After that, take a pan and heat oil in it for few minutes.
Add curry leaves, cumin seeds, semi paste (the one that you made), and green chillis in the pan. Mix them well.
Then add the fried potatoes and mix well.
Before serving, garnish the dish with chopped leaves of coriander.
Method to prepare baked aloo chat:
For the ones who avoid spicy stuffs, baked aloo chat is a must try. This recipe is both healthy and tasty.
Here you have to bake the potatoes instead of frying them.
Then add the other masalas in adequate quantities.
After that, add a bit of lemon juice in it to get that lemony fragrance and flavor.
Vrat ka chawal
Are you a rice lover and cannot live with a rice item this Navratri? Well, then vrat ka chawal made with samvat rice is the right dish for you. This dish is very light and can be easily digested by your stomach. Besides, it keeps your stomach full for a long time and keeps your hunger pangs at check. The ingredients required to make this rice includes samvat rice, potatoes, peas, cloves, peppercorns, cinnamon sticks, green chillis, turmeric, cumin powder, cumin seeds, ghee, bay leaf, rock salt and sugar. So do try out this healthy rice recipe this Navratri.
How to prepare vrat ka chawal:
Wash the samvat rice well and keep it in a container.
Then take microwave and melt ghee in it.
Add bay leaf, cloves, cumin seeds, cinnamon sticks, peppercorns, and green chillis in the ghee and mix them well.
After that, add the diced potatoes with turmeric powder and microwave them for about 5 minutes.
Then take the samvat rice, add water and mix it in the microwave. Also, mix adequate rock salt and sugar in it. Stir them well.
Cook for half an hour.
After your food is cooked, you may garnish it with basil or mint leaves.
Sai bhaji
This Sindhi vegetarian recipe excludes the usage of garlic and onions and hence is perfect for Navratri fasting. Sai bhaji is made with dill, spinach and fenugreek leaves together with pulses and a mixture of other vegetables. The three different kinds of leaves used in the dish give a unique flavor to the recipe with the dill leaves adding a tangy flavor to it. Hence, this recipe with its innovative mixture of ingredients is indeed one of the best Navratri dishes that you will simple love to try.
Method to prepare sai bhaji:
Take a pressure cooker and heat oil in it.
Add the cumin seeds in it and fry for few minutes.
Then fry the ginger and green chillis.
Take the potatoes, tomatoes and brinjal and let them fry for 5 minutes.
After that, sprinkle coriander powder, turmeric powder and red chilli powder and stir well.
Now mix the three kinds of chopped leaves in it and cook for 5 minutes.
Then add chana dal, a bit of rock salt, and water in to it.
Cover the pressure cooker and let it cook until you hear two whistles.
Then when you feel the frying is done, mash the whole thing and eat it hot.
Kuttu ka parantha
This famous recipe is a must try this Navratri. It is devoid of saturated fat and is ideal for curbing your appetite, regulating blood sugar as well as boosting your digestive system. The rich content of fiber, iron, protein and magnesium makes it the perfect healthy recipe for you. If you are overweight and want to avoid too much spice, you may bake them instead of frying. This helps you to regulate your body weight as well as give your body the needed nutrients.
Here is my version of kuttu ka parantha recipe:
Method to make Kuttu ka parantha:
Make a smooth paste with kuttu atta (buckwheat), mashed potatoes and water. Let it stay for half an hour.
After that, make small parantha balls and roll them into paranthas.
Put the paranthes in the griddle, apply thin layer of ghee on one side of the parantha, and heat it.
Put the ghee on the other side and continue heating.
Remove when both the sides of the parantha turn brown.
Kala chana
"Kala Chana"or black chickpeas can never be missed as far as the best Navratri dishes are concerned. It is often offered to Ma Durga and hence forms a part of the Navratri bhog or prasad. Men and women who are keeping the fast can also eat this delicious dish. Although there are several ways to eat kala chana, but the recipe made by using jeera, mustard seeds, curry leaves, green chopped chillis, coriander powder, red chilli powder, rock salt and oil is the healthiest and most easy to make one. Hence, you may try out this one this Navratri.
Method to prepare kala chana:
You need to soak the chana overnight for minimum 6 hours and after that boil them.
Then in a pan heat oil and after few minutes, add cumin, mustard seeds, curry leaves and green chillis in it. Mix them well.
After cooking for a while, add the cooked boiled chana, coriander, rock salt, and red chilli powder in it.
Then stir for 5 minutes.
Your dry chana dish is ready to get served now.
However, if you want to make a curry of kala chana, then use tomato puree and water while cooking.
Khatta moong
You may try out this Gujrati dish this Navratri. Khatta moong is made with "moong dal" or green gram along with some of the most exotic spices. The unique usage of curd in it adds to its tangy flavor and makes it even more mouth watering. Apart from curd and moong, the other ingredients used here are besan (gram flour), turmeric powder, red chilli powder, green chilli, sugar, mustard seeds, cumin seeds, fenugreek seeds, clove, cinnamon, curry leaves, oil and rock salt.
Method to prepare khatta moong:
First, you have to soak the moong in water for minimum 2 hours.
Then pressure cook water and salt until you hear 2 whistles.
Then take a bowl and whisk the curd or yogurt with besan, red chilli powder, sugar, rock salt and turmeric powder.
After that add water in adequate amounts in the bowl.
Then take a skillet and heat oil in it.
After few minutes, add the mustard seeds, cumin seeds and fenugreek seeds.
Then add the clove, cinnamon, curry leaves, whisked curd and stir the mixture well.
Lastly, add the moong and water and boil it for 5 minutes.
Khatta moong recipe is now ready.
This Navratri eat khatta moong alongside steamed rice.
Sabudana khichdi
Sabudana khichdi is ideal for religious purposes and is definitely one of best Navratri dishes and my personal favorite too. This easy to make recipe is full of carbohydrates that gives your body the much-needed energy during fasting days. Moreover, it is very light and hence do not create any stomach issues during fasting. You may try out making this recipe using middle sized sabudana(pearl sago), potatoes, peas, grated coconut, cumin seeds, green chillis, ghee, fresh coriander leaves, sugar and rock salt. Here are the few steps to make sabudana khichdi.
Method to prepare sabudana khichdi:
Firstly, soak the sabudana overnight in adequate water.
Then next morning, singe ghee in a pan and then add cumin seeds, chopped green chills, chopped potatoes and peas in to it and stir well.
You may add coconut although it is not mandatory.
After that, add the soaked sabudana, rock salt and sugar and cook it for 10 minutes.
Then eat it after garnishing it with fresh coriander leaves.
Sabudana khichdi tastes heaven when eaten with raita and fruits. So, do try out this dish this Navratri.
Matar paneer
Matar paneer may be a common recipe but the taste of it is worth trying several times. In fact, as far as paneer is concerned, it is probably the favorite ingredient for most of the vegetarians. Matar paneer is not just tasty but is also very nutritious. The ingredients needed are chopped tomatoes, paste of ginger and green chilli, turmeric powder, coriander powder, red chilli powder, kasturi methi, garam masala, cumin seeds, rock salt and malai. Generally, onions are also used but since it is for Navrati, I have excluded it from the ingredients list.
Method to cook matar paneer:
Fry the paneer pieces in a pan until they turn brown. Then keep them in a paper to let the excess oil get absorbed.
Take 2-3 teaspoon of oil and heat it.
After sometimes, add cumin seeds, ginger, chilli paste, rock salt, chopped tomatoes and turmeric powder in it and mix them well.
Let it cook for a while and then add red chilli powder, kasturi methi, garam masala, green peas and water to it.
Cook for 5 minutes and put the paneer cubes in the mixture.
At last, add the malai and continue cooking for few minutes.
Matar paneer is now ready. You may eat it with kuttu ka parantha this Navratri.
Chawal ka dhokla
If you want a break from the usual fried pooris, chapattis or pakoras, try out this fermented dhokla. This healthy recipe is made of samwat ka chawal that is commonly eaten during Navratris. It is tempered with cumin, red chillis, curry leaves and ghee, which adds to its unique taste. So go, try out this recipe and soothe your taste buds this Navratri.
Method to make chawal ka dhokla:
You have to first roast the samwat chawal in a pan lightly.
Then mix the chilli paste, chawal, yogurt and prepare the batter. Let the mixture ferment nightlong.
After that, grease a container with around 2 teaspoon of oil or ghee and then put the batter into it.
Put the container in a steamer and cook it for around 20 minutes.
However, do cut this steamed dhokla into small pieces and garnish with coconut and coriander to make it look good as well as taste yummier.
Eat it once it cools down a bit.
Aratikaaya Masala Pulusu
This South Indian recipe is another Navratri special dish that you can try. This plantain curry is generally made of raw bananas. The other ingredients that you need here is vegetable oil, curry leaves, mustard seeds, chilli powder, turmeric powder, tamarind pulp, ginger, little rice and rock salt. Aratikaaya Masala Pulusu has a rich flavor with the tamarind adding to the tangy taste to it. Therefore, this typical south food with all the sprouting mustard seeds and curry leaves is a dish that you cannot afford to miss this Navratri.
Method to prepare aratikaaya masala pulusu:
Make a paste with ginger, rice and little water.
Then boil the bananas. After boiling, let it cool a bit, then peel and cut in to small pieces.
After that, take a pan and heat oil in it.
Post that, add the mustard seeds, curry leaves, ginger-rice paste, tamarind paste, water and all the other spices.
Lastly, add the banana pieces. Cook it until the gravy thickens.
Serve it hot with coriander leaves sprinkled over it.
Kele ki barfi
After discussing all the fried, spicy or baked recipes, here is one dish that the sweet lovers cannot afford to miss. Well yes, kele ki barfi is a yummy Navratri recipe, which I believe each one of you will love to eat. In fact, you can eat this sweet dish after your meals to keep your hunger pangs at bay for a longer time. It is not just tasty but the bananas present in it make it even more nutritious and good for health.
Method make kele ki barfi:
You have to mash the ripened bananas first and cook it with milk.
Let it dry and then add around 2 teaspoon of ghee. Stir it until it turns brown.
After that, mix the sugar, coconut and walnut in it and continue stirring. Leave it until it dries.
Cut them small in any shape you want and then eat them during your fast.
Makhana kheer
Desserts are perfect for Navratri and are a favourite item for many people who are fasting during Navratri. You may also try out this delicious makhana kheer. In fact, it is low fat and can be eaten by overweight people as well. The ingredients required here are milk, makhana, sugar, pistachios, almonds and cardamom powder.
Method for preparation of Makhana kheer:
At first, take milk in a container.
Then cut the makhana into small pieces and put the pieces in the milk.
Keep it for around 2 hours for it to simmer until it starts boiling and the seeds turn soft.
Add a bit of sugar and stir it for a while.
After that, add the other ingredients almonds, pistachios, and cardamom powder in it and continue stirring.
Once it is done, eat it hot or cold.
This low fat Makhana kheer is definitely one of the best Navratri dishes that you must eat this year.
Kela ki kebab
Wanna eat some spicy snacks this Navratri? Well yes, I then have the right dish for you. The kebabs made of spiced banana are a unique recipe unlike the chicken or mutton kebabs that you may have eaten often. The vegetarian banana kebabs are hence a must try this Navratri.
Method to prepare Kela ki Kebab:
Peel the raw bananas.
Steam them along with elaichi and ginger.
Remember to add little water while cooking it. Do not use excess water.
After that, let it cool down a bit.
Then mash the bananas and mix kuttu ka atta, rock salt, coriander powder, chilli powder, lemon juice, chopped green chilli, and chopped coriander into it.
Later, make small cylindrical shaped rods and dust them with kuttu ka atta.
Then dry the kebabs with little ghee until they turns brown.
Try out this simple tasty recipe and make your fasting tasty and spicy.
Fruit salad
This recipe is mainly for those who wants to fast with fruits. If you prefer to include fruits during your Navratri recipe then instead of simply eating apples, or grapes or bananas, you can easily make a recipe together with various fruits. This will keep you full for a long time and the procedure is very simple. Have a look.
Method to prepare fruit salad:
Take the apples, bananas, chikoos (sapodilla), papayas and guavas and cut them into small pieces.
Then take pomegranates and grapes in a container and mix it with the other fruit pieces.
To finish it, add a bit of black pepper, chat masala and rock salt over it. This is just to add to the spicy touch to your otherwise sweet fruit salad.
This tasty nutritious oil free fruit salad is an ideal recipe and is definitely one of the best Navratri dishes.
Over to you
Navratri festival is very dear to majority of the Hindus and people here willingly follow the holy ritual of fasting. While some solely remain on fruits, others prefer having vegetarian meals. Why not make your Navratri fasting special this year. I have discussed with you 14 best Navratri dishes and for your convenience, also shared the method of making all of them. Hope you will love to try them out at least once.
All the recipes mentioned above are very apt for Navratri and are definitely among the best Navratri dishes that you cannot afford to miss this year. Each has its unique taste and the method of making them is very easy. So why depend on the usual sweets, fruits, pooris or alu sabjis. Take a break from the conventional ones and try out these yummy vegetarian dishes that are ideal for Navratri fasting.
Are you on Navratri fast? Have you checked out my list of 14 best Navratri dishes? Do try out this dishes this year and feel free to share any other recipe which you feel is great for Navratri fasting. Also, please do like, comment and share if you find it useful.
Until then, stay happy and have a blast this Navratri.