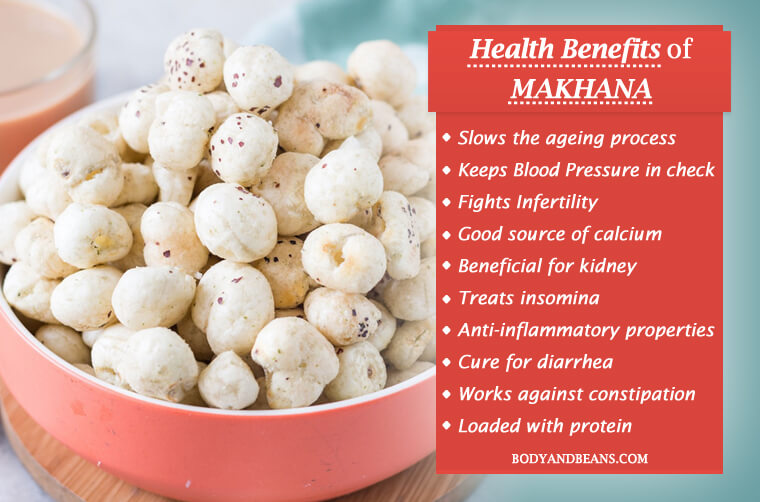 Euryale ferox is a perennial plant that is known as Lotus seeds or Gorgon nuts or Makhana in India. It is normally grown in ponds and wetlands; makhana has been used in Ayurvedic and Chinese medicines for thousands of years. Besides being tasty, Makhana has a number of health benefits too. Instead of eating processed foods or junk foods, you can munch on roasted makhanas to avoid the Trans fat. It can also be added to soups, salads or can be eaten raw, but it is commonly used to prepare pudding or kheer which is known as Makhana Kheer. As I said, it's not just light and tasty snack, but there are a number of health benefits of Makhana or the fox nut. Today in this post, I am going to talk about the health benefits of Makhana.
Makhana is a low-in-fat food that you can snack on whenever you want. It is a stress-buster food which also enhances the quality of your sleep. It is also proved to soothe the burning sensation of both the visceral and internal organs owing to its cooling properties. It has a low glycemic index that prevents obesity and keeps body fat in check. It has been known to cure anemia, acid reflux, and arthritis and so on. If you are still wondering about whether to eat makhana or not, I suggest you read on the post and learn about several health benefits of Makhana.
Surprising health benefits of Makhana
There are two types of people, one who like eating roasted makhana and the others who don't like it at all. I am from Mithila (Mithilanchal) and we are blessed with makhana. In our tradition, it is considered as the most auspicious fruit. We offer this fruit to God and it is often consumed during the fast in Navratra and other auspicious occasions. I always liked eating roasted makhana and I was never concerned about the nutrients and other health benefits of makhana. Thankfully now I know about the various health benefits of eating Makhana and I am happy to share it with you.
Are you ready?
Lets get started.
Slows the ageing process
Fox nuts contain flavonoids that are considered to be the strong anti-oxidants. They remove the harmful free radicals from the body and also boost the immune system. Fox nuts contribute to getting a healthier skin as they inhibit or slow down the ageing process. They lower the chances of infection, considerably. Fox nuts inhibit premature graying of hair, wrinkles, and other signs of ageing. If you are still wondering why on earth someone would want to eat fox nuts, it's time to think again.
Contains a Lot of Protein
Studies say, proteins are important structural element of tissues and muscles in the body. Additionally, they help in the production of hormones, hemoglobin and enzymes. Proteins help heal bones faster and prevent osteoporosis by stimulating calcium absorption and aiding bone metabolism.
Fox nuts are loaded with protein and other essential nutrients. There is 11% protein in one packet of fox nuts, which is higher than the protein content of any other nut.
Eating foods high in protein maintains the blood glucose level and effectively reduces the absorption of sugar from the meals. This is especially helpful for patients of type-II diabetes by balancing the required energy levels of the body. Since proteins control the level of sugar, they also control the level of cholesterol and keeps heart diseases at bay.
Since proteins also take part in production of hormones, they help keep our mood in check. Proteins help the neurotransmitters in our body to function properly, hence leading to proper synthesizing of dopamine and serotonin that keep us calm and give us a positive outlook. If you lack certain key amino acids, which are the building blocks of protein, you will feel weak, moody and show signs of depression and anxiety more often. 
Keeps Blood Pressure in Check
Fox nuts are rich in potassium but contain relatively lower levels of sodium. This is beneficial for patients with high blood pressure. Sodium tends to stimulate hypertension and high blood pressure; hence, fox nut is one of the best natural medicines to maintain normal level of the systolic blood pressure.
Since fox nuts are rich in potassium, it keeps the heart beating at a steady rhythm and keep it healthy.
Fights Infertility
Fox nuts maintain the natural water content of the body, which in turn, makes the secretions of the body more hydrated. Fox nut or Makhana is considered to be good for those having reproductive and sexual disorders. It's believed the consumption of makhana can enhance the quality and quantity of semen in male body
Contains a good amount of Calcium
Calcium is the major component of bone building and is an essential element of attaining peak bone mass. If you are struggling with calcium deficiencies then eating makhana can be seriously beneficial for you.
Beneficial for Kidney
Kidneys function properly when there is a steady blood flowing through them in a well-balanced pressure. As fox nuts help maintain the blood pressure, the pressure of blood flowing through the kidneys is pretty constant. This ensures that our kidneys are working at optimum level. According to Ayurveda, fox nuts, being natural astringents acts as a good cure against kidney disorders.
Treats Insomnia
Fox nuts or lotus seeds are a natural sedative that keeps insomnia at bay. Lotus seeds are supposed to have calming effects and are antispasmodic, which means, your nerves relax better and you get better sleep. It also helps the dilatation process of the blood vessels and helps you feel rejuvenated. This is due to the presence of isoquinoline alkaloids in Lotus seeds.
Aphrodisiac
According to Ayurvedic and Unani beliefs, lotus seeds have aphrodisiac properties. They increase the libido in both male and female, thus leading to more sperm count in men and an improved fertility rate in women.
Spleen Detoxifier
Spleen is a part of the immune system that acts as a blood filter.  Old red blood cells are recycled in the spleen, and platelets and white blood cells are stored there. Lotus seeds rid the body of dead blood cells and purify the blood stream. They boost proper functioning of spleen and keep it healthy.
Assists in Arthritis
Gorgon nuts help patients with arthritis. They soothe the pain and numbness in joints. Lack of calcium in the diet causes calcium to deposit which leads to joint pain. The high amount of calcium content in makhana is beneficial to maintain the proper calcium level in the body and prevent osteoarthritis.
Anti-inflammatory Properties
Fox nuts contain flavonoids, which are secondary metabolites in plants. Flavonoids are anti-inflammatory and anti-bacterial that maintains the overall health of the entire immune system of the body. Flavonoid also reduces the risk of cardiovascular diseases.
Cure for Diarrhea
Makhana or the fox nuts have astringent properties that helps cure diarrhea. If you are suffering from prolonged diarrhea, the eating makhana can be beneficial for you because it contains the high quantity of caustic properties which is known to be beneficial in checking diarrhea and increasing appetite.
Against Constipation
Makhanas are fiber-rich which helps keep the digestive tract healthy and averts constipation and digestion problems.
High Phenol Content
Fox nuts have high phenol content than any other nuts or cashews. This property, makes the fox nuts, an effective agent in fighting against atherosclerosis and cancer. According to this study, the bioactivity of phenolics may be related to their antioxidant behaviour, which is attributed to their ability to chelate metals, inhibit lipoxygenase and scavenge free radicals.
Helps with
coffee

 addiction

Apart from being healthy and beneficial for your health, Makhana can help you get rid of coffee addiction. If you are a coffee addict and you badly want to get rid of this habit, you should keep a bowl of roasted makhana on the table. Eating roasted makhana can help you get rid of the coffee addiction.
Quick and simple ways to eat Makhana
Fox nuts are neutral in taste, it taste a bit sweeter, but most of the people, they may not find any strong taste when eating alone. But Makhana can be used in cooking and there are a number of ways to use makhana in your cooking.
Roasted Makhana
The simplest recipe is to make roasted makhana and here's how to make this.
Heat ghee in a pan and add salt and turmeric and keep stirring it. Optionally you can add red chilies powder, mustard seeds or curry leaves to it. Then add the fox nuts and let it roast for some time and you have a wonderful and healthy snack which goes well with a hot cup of tea or coffee in the evening.
The same roasted makhana can be prepared in another way and here's how.
Heat oil in a pan, add makhanas and roast them for about 20 minutes. Once they become crispy and crunchy, add turmeric powder, chili powder and salt. Switch off the heat and stir well. Sprinkle chaat masala and serve.
You can also try these recipes by Mr. Sanjeev Kapoor to make tasty and healthy dishes of makhana.
Conclusion
Makhana is a phenomenal food with lots of nutrients, antioxidants and fiber. You may have eaten Makhana, but if you are unsure about the health benefits of Makhana then let me tell you that its probably better than most of the dry fruits. Makhana contains a number of antioxidants which helps slow down the ageing process. Eating makhana is beneficial for skin, hair and also helps you keep the blood pressure in check. It also contains calcium, fiber and has low glycemic index which can keep you fuller for longer and hence help you in weight loss.
So follow one of the recipes and make yourself a bowl of roasted fox nuts right away. Indulge in the flavors of a traditional Indian snack and let me know if you liked them!