Diabetes is the 7th most fatal disease causing death every year. Globally, 1 out of 11 adults are suffering from diabetes. Diabetes is known as the silent killer. The reason it is called a silent killer is because, the symptoms of diabetes are not so evident in the initial stages. Over 25% of patients suffering from diabetes are not even aware of it. If not detected at early stage, it can have dire consequences on health and well being. The most common diabetes that most of the people are suffering from is Type 2 diabetes. Type 2 diabetes can be prevented and controlled by adopting healthy living and eating habit. Today, we are going to talk about some of the most effective natural home remedies to prevent and control diabetes.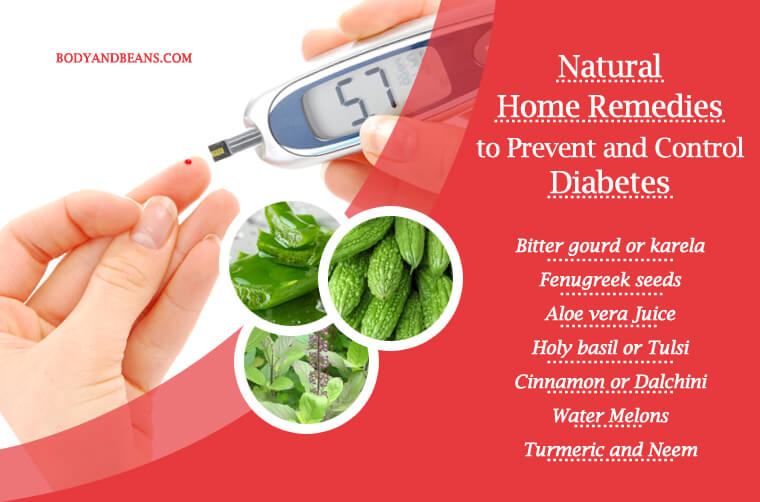 According to International Diabetes Federation (IDF), more than 642 million people are expected to have diabetes by the 2040, and that's definitely scary. Even if diabetes can easily be prevented and control with proper diabetes friendly food and lifestyle, if it's not detected at early stage, then one have to live on medications for the rest of the lifetime. Obviously, that's not good for your health and finances. Prolonged diabetes can have negative impact on one financial condition due to medical expenses and loss of wages.
Earlier the diabetes was considered to be a disease of rich and adults, but today it's affecting even the children. Diabetes can substantially increase the chances of other health complications and death. Hence, it is crucial
Cause and symptoms of type 2 diabetes
Insulin is a hormone produced by pancreas in your body. It helps the glucose to be digested by the liver, and thus the blood sugar level is maintained. There are two kinds of diabetes. In Type 1 diabetes, body produces less insulin, and in Type 2, the body becomes resistant to insulin.
Weight gain
Weight loss
Frequent urination
Lethargy
Hair fall
High Blood pressure
Skin infections
Increased hunger and thirst
Home remedies to prevent and control diabetes
Ayurveda is the age old science of Indian medicine which is applied till now for its magical capacity to heal various types of illness and diseases. Even though the technology is developing rapidly, people often take recourse to Ayurveda. Ayurveda can help you cure and prevent many illnesses by means of natural and home remedies. Needless to say, it is always better for you to use the organic sources than the medicines.
Diabetes occurs when the insulin production of your body is low, and the level of blood sugar is high. Due to high glucose content in the blood, the other body organs fail to function properly. Your heart, brain, lungs, liver may get affected and fail to function in worse case due to the high sugar level.
You need remedies by which the blood sugar level can be reduced and the insulin production can be increased. There are a number of home remedies that can be very effective in controlling and preventing type 2 diabetes. And here's the list of some of the most effective home remedies to prevent and control diabetes naturally.
Bitter gourd (Karela)
Bitter gourd is extremely beneficial in preventing and controlling type 2 diabetes. Bitter gourd, as the name suggests, is bitter in taste, but you should eat it to prevent and control type 2 diabetes.
Researchers suggest the bitter gourd contains at least three antidiabetic substances which has blood glucose lowering effects. It also reduces the blood glucose concentrations, similar to the way insulin functions.
Your taste buds have to make little bit of sacrifice in order to prevent diabetes and that's worth it.
You can get the bitter gourd juice from market, but the best way is to make it yourself.
Cut the gourd, separate the seeds, mix the gourd with little bit of water in the juicer. Sieve the water, and drink the juice.
You can also cook or boil the bitter gourd. Cut thin slices of gourd, add little bit of mustard oil and salt, and fry it.
You can also boil the bitter gourd and have it daily. The best time to have the bitter gourd juice is in the morning when you have empty stomach.
Fenugreek seeds (Methi seeds)
Methi or fenugreek seeds are extremely beneficial in preventing diabetes. According to this research, fenugreek seeds contain lots of soluble fiber which slows down the digestion and absorption of carbohydrates. It's highly effective in lowering blood sugar level and hence a must have to prevent type 2 diabetes.
The best way to eat fenugreek seed is to soak and eat it. Soak a table spoon of fenugreek seeds overnight and then drink the water and chew the soaked fenugreek seeds, next morning.
You can also grind the seeds to a fine powder and store in an air tight container. Then you can eat a tablespoon of this powder with water, or may mix it with other foods; many people use methi powder in bread (chapatti) and have it.
Methi seeds increase the capacity of pancreas to produce more insulin so that the glucose level in the blood can be checked.
Aloe vera
Aloe vera is the magical herb that has earned a special name in the book of Ayurveda. Aloe vera gel and juice may be very beneficial for your sugar control.
According to a research published by NCBI, aloe vera juice is considered effective in improving the blood glucose level and that's the reason it is beneficial in preventing and controlling diabetes.
Aloe vera also have magical capacity to heal wounds and swelling and thus beneficial for those suffering from diabetes.
You can have the aloe vera juice in the morning in empty stomach. Mix warm water with it and drink it.
You can also mix aloe vera gel, ground bay leaf, and cinnamon, and then drink the juice.
Holy basil or Tulsi
Tulsi is considered as the mother medicine of nature. Originated from India, Holy Basil plants are grown worldwide today, for its medicinal properties. It is highly beneficial in preventing and controlling many diseases including diabetes.
You can have raw tulsi leaves, or drink tulsi tea, or soak the leaves in water and then drink it. Tulsi leaves can control the level of sugar in the blood, increase the insulin production and thus check the diabetes.
Cinnamon
Cinnamon is the oldest known method used to cure diabetes, and it was followed by Indians and Chinese.
Cinnamon has polypohenols which are insulin sensitive. Cinnamon can trigger the insulin production, and thus helps regulating the glucose level in the body.
You should have cinnamon daily; it can be mixed in tea or can be used as a spice in cooking.
Neem
The neem is used to cure various diseases, be it hair fall and skin problems, or digestion or high blood pressure, neem can help prevent and cure all of these diseases. The neem leaves increase the digestion in your body and helps in glucose absorption. It can seriously help regulate the blood sugar level in your body.
Neem also enhances the insulin production which is the primary way to fight diabetes. You can make neem juice at home, or make curry with neem leaves, or even fry the neem leaves in mustard oil.
Watermelons
This juicy summer fruit can cure diabetes, and also give you some pleasure. The fruit contains lycpopene, polyphenols, folic acid which is needed by the body. Watermelons are very beneficial for your overall health and well being.
Though this fruit is sweet and tasty in nature, you can have the fruit to treat and prevent diabetes. You can have the raw fruits or make juice at home.
Turmeric
Turmeric contains curcumin which is the primary compound. Curcumin helps in higher insulin production, thus effective in controlling and preventing diabetes.
Turmeric is an Asian spice that contains a number of medicinal properties Turmeric adds taste and colour to the food, and it's used in a number if recipes in Indian cooking.
Chewing raw turmeric, which looks like ginger, in the morning, is highly beneficial, but you can also use it as a spice.
Over to you
If you have a family history of diabetes, then you may be at risk of becoming diabetic too. But you can definitely prevent and control it by eating right. We have already discussed about some of the best and most natural home remedies you can use to prevent and control diabetes.
Eat rightly balanced diabetes friendly food and workout every day. No matter how busy you are, you should take time and go brisk walking, minimum for about half an hour every morning. It's highly beneficial in preventing and controlling diabetes.
I know that some of the items I mentioned above are not tasty and delicious. But these foods will help you maintain a normal blood sugar level and that's more important.