Dandruff is one of the most common dermatological problems of the modern times, of both the genders and all of age groups. Pollution, bad lifestyle, unhealthy diet, stress, improper hair conditions etc, all these can lead to the growth of dandruff. Dandruff can be the root cause of hair fall, hair growth, weak hair follicles, thinning of hair, loose ends and deterioration of overall hair quality. If you love your hair, (I am sure you do) then, you have to take measures to prevent and remove dandruff, and that's what we are going to discuss today.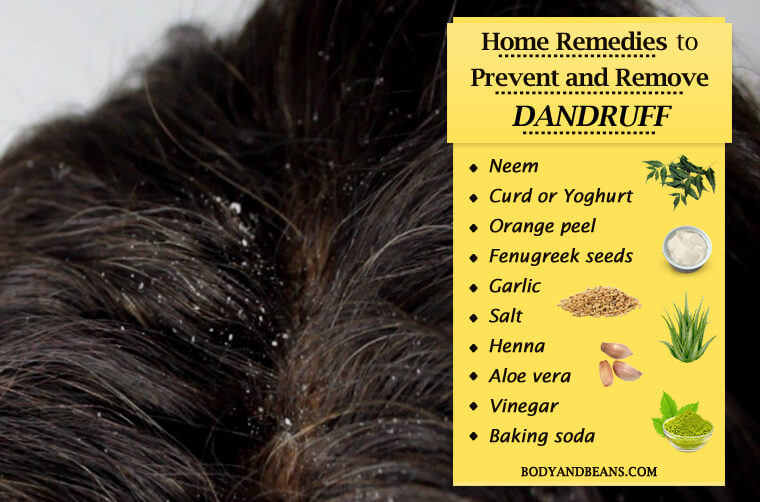 There are several cosmetic products like shampoo, oil, conditioner in the market to fight against dandruff. Some of these cosmetics products may not work or may have side effects. And that's why I vouch for simple home based natural remedies to get rid of dandruff and other health, hair or skin related issues. Today in this post, I want to discuss about a few simple home remedies to prevent and remove dandruff.
Before we talk about remedies, it is better to know some noteworthy things about the causes and effects of dandruff.
Why do you get dandruff?
Dandruff is caused due to the fungus named Malassezia globosa, which is somewhat like yeast. The fungus feeds on the skin, scalp and skin oil. There could be many reasons to get dandruff including improper diet, infrequent cleaning of scalp, stress or other medical conditions.
The dandruff can spread among members of same family, if everyone is using same towel and comb. The dandruff makes the scalp dry and itchy. You can find white powder like dandruff on your clothes, and this may be highly embarrassing too.
If you want to get rid of dandruff, then avoid using oil, properly clean your scalp with shampoo, and include fresh vegetables in your diet. Oil makes the dandruff stick to your scalp, and the condition could further worsens. If you want to apply oil, then make sure to properly wash your hair after oiling.
10 Home remedies to prevent and remove dandruff
Dandruff can be removed by using some very common household items. You use these items daily in your home, applying these in your scalp will be of immense help to you. You may not have to go to doctors if you are using these simple home remedies.
1. Neem
Neem is one of the most significant plants of Ayurvedic cure, as it can cure many health issues. Neem is good for your skin, hair and can cure various diseases, can strengthen your teeth and bones. Neem can be of great help because it has anti-fungal properties.
Do not use high concentration of neem as it can be itchy. Uses diluted neem extracts and apply the same on your scalp. Keep it for one hour and wash it off. Apply this remedy 3-4 times a week to prevent and remove dandruff easily at home.
2. Curd or Yoghurt
For this remedy, all you need is a cup of plain yoghurt or curd. Shampoo your hair, clean the scalp, and then apply the curd on your scalp with your hand. The curd will reach your scalp and also the hair follicles as the hair is wet. Rinse gradually for 15 minutes, and then wash it with little bit of shampoo and cold water.
The curd will destroy all the fungal infections of the scalp, and will also prevent it from further appearing. This is a very effective remedy for preventing and removing dandruff.
3. Orange peel
You already know that oranges are good for your skin, but you will be amazed to know that, it's really good for your hair too. While you are eating oranges, you often end up throwing the orange peel in dustbin. You can actually keep the orange peel to make a very effective hair mask which can help you to fight dandruff and other hair issues.
Make a paste of orange peel, and then apply the same in your scalp. The orange has acids in it, which can kill the bacteria and fungus in your scalp. Keep the orange peel mask for 30 minutes, and then wash off with plain water and shampoo to get rid of dandruff.
4. Fenugreek seeds
The methi seeds have anti-infectant properties which will help you to prevent and remove dandruff. The fenugreek seeds or methi can work a great deal in preventing and removing dandruff.
Crush the fenugreek seeds and then soak it in water overnight. In the morning, collect the water minus the seeds, and then apply it on your scalp. Wait for about two hours, and then wash it off with normal water.
5. Garlic
The pungent odor is due to the anti-inflammatory properties of the garlic. The strong pungent odor of garlic can work effectively against dandruff. Crush few cloves of garlic and add some honey to it. Mix the paste properly to form a hair mask. Apply this mask on your scalp, and let it dry for 10-15 minutes. Remove the hair pack and wash off your hair with shampoo. This remedy is very effective in getting rid of dandruff.
6. Salt
The normal table salt that you eat daily can work as a strong agent against dandruff. The salt acts as a scrubber which can remove the dandruff flakes from your scalp.
In dry scalp, apply the salt and massage gradually. Do it before taking bath so that you can wash off your hair. You can also add the salt in your shampoo and then apply the same during shower.
7. Henna
Henna is very important for your scalp as it can give the proper nourishment to your hair and scalp. The henna leaves are beneficial in fighting against the fungal infections of the scalp.
Mix henna powder with lukewarm water and apply the mask. Keep it for two hours till it gets totally dry. The strong smell of the henna is another reason why is it so effective. Shampoo the hair after the henna mask is dry. For making the pack more effective, you can add lime juice and curd along with henna.
8. Aloe vera
Aloe extract or the aloe gel which is found in aloe leaves is one of the simplest and most effective remedies for fighting dandruff. The aloe gel is rich in nutrients, anti-oxidants which can destroy the fungus causing the dandruff.
Take a cup of aloe gel or aloe extract and apply the same in the scalp. Massage gently. Keep for one hour and then wash off. Do this daily for getting better results.
9. Vinegar
The acidic property of vinegar is able to remove the bacteria and fungus which is causing the dandruff. Take equal amount of water and vinegar and mix it well.
Apply it on your scalp with your hand or a cotton wool. Keep it for an hour, and then apply shampoo. This method actually works as vinegar has the capacity to destroy the dandruff causing germs.
10. Baking soda
The granular texture of baking soda makes it an excellent exfoliating scrub. The anti-fungal and anti-inflammatory properties of the baking soda will work best on the scalp. The granules will remove all the dandruff flakes from the scalp, removing them.
Mix two tablespoons of baking soda in half mug of water, and then add shampoo to it. Mix it well, and then apply the mixture on your scalp. Rinse for two minutes gently and then wash off with cold water.
Essential tips to treat dandruff at home
Apart from the remedies discussed above, here are a few other tips you can use to prevent and remove dandruff, easily at home.
Massaging the scalp is essential as it will increase the blood circulation.
Apply shampoo at least 4 times a week. Do not let the dirt and oil settle on the scalp.
Do not apply oil because it helps dandruff stick to the scalp.
If shampooing feels dry, then apply conditioner.
Use separate towel and comb for your hair.
Change the bed covers, and the pillow covers frequently so that your hair is clean.
If you are doing hot oil massage, then keep it maximum for 30 minutes followed by a gentle hair wash.
Avoid going outside after applying oil on your scalp and hair.
Hot towel wrap over your scalp can increase the blood circulation, thus it helps in fighting against the dandruff.
Cover your hair with scarf while travelling outside. Be it during day or night.
When you are swimming, always use a shower cap.
If you are using dryer, then keep it at low temperatures. High heat can weaken the hair roots.
Over to you
The dandruff is very common nowadays. Even if there a number of soaps, shampoo and shower gel out there to fight dandruff issues, you can easily get rid of dandruff through simple home remedies discussed above. These remedies do not require any extra ordinary ingredients. You can use ingredients like garlic, curd, henna, methi seeds, aloe vera etc which may be already available in your kitchen or can be procured from a grocery shop.
If you are tired of dandruff and looking for quick and easy to implement remedies, then give it a try, and let me know how did they work for you.
What's your hair care routine, how do you prevent deal with the dandruff issue?