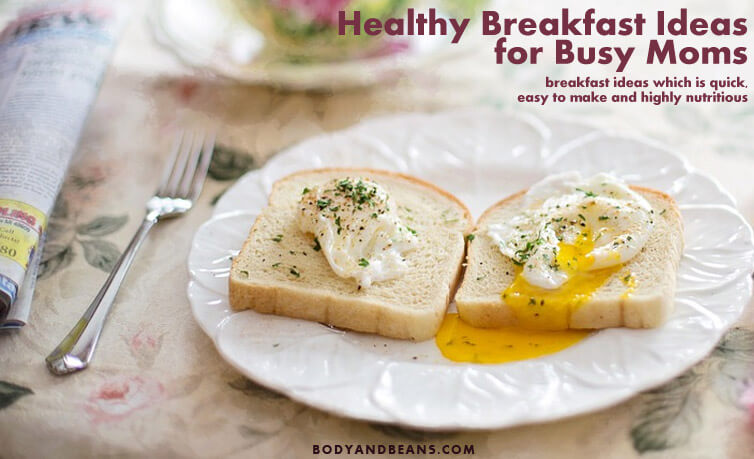 Cooking is conventionally thought to be a wife's and a mom's department (although not always). But among all the running here and there that goes in the morning starting from getting up, preparing food for the family, taking bath to getting ready herself for work, a modern working mom is left with no time for herself and has to miss her own breakfast often. However, this particular habit is very unhealthy as proper healthy breakfast is equally important for her as any of us to keep her going throughout the day.  I understand the timing issues that most working moms face in the morning but skipping breakfast is not a solution. Therefore, l thought of sharing the top 13 quick and healthy breakfast ideas for busy moms. I am myself a working woman and these are my favorite breakfast ideas and I am sure it's going to help you too.
Modern lifestyle is busy and hectic for all irrespective of gender. Long gone are those days when wives and mothers had to dedicate their lives only doing the household chores starting from making breakfast for the family members to washing, cleaning, preparing lunch to making dinner. In short, in ancient times, her world revolved around taking care of the family members and household works. Nevertheless, times have changed, so have the mentality. Now the wives and mothers are the busy working women who have the ability to earn their livelihood and are equally important bread earners of the family along with their husbands.
However, despite their independence and busy work schedule, somehow down the line, busy moms never fail to perform their household activities with cooking taking an important place still in their lives. But, in the process of balancing both, they often neglect many things with skipping breakfast being a crucial one.
Skipping your breakfast could be dangerous and have many adverse health issues. Therefore, I will talk about 13 of my favourite quick and healthy breakfast ideas for busy moms that will help each one of you to kick start your days with lots of vigor and energy.
Excited?
I hear you saying yes. So let us start.
Top 13 healthy breakfast ideas for busy moms
Having proper breakfast is very important. Continuously skipping breakfast can cause serious health issues like increasing the chances of obesity, cognitive decline,  menstrual disorders, reproductive dysfunction and other complications. Therefore, no matter how busy you are, you should never skip your breakfast. And, in order to avoid any such situation and make breakfast easier, here are the top 13 healthy breakfast ideas for busy moms that will save time, fulfill the nutrition requirement of your body, and keep you charged up all day long.
Oats
Nothing can beat an oat when it comes to easy breakfast recipes and must definitely be counted as one of the best quick and healthy breakfast ideas for busy moms. The oats are loaded with minerals and carbs and you can easily make it the night before to have a healthy breakfast in the morning. Moreover, oats are low in fat and so there is no problem of obesity tension. It contains many antioxidants that helps in regulating sugar levels and strengthens our immune system to fight disease-causing germs.
Preparation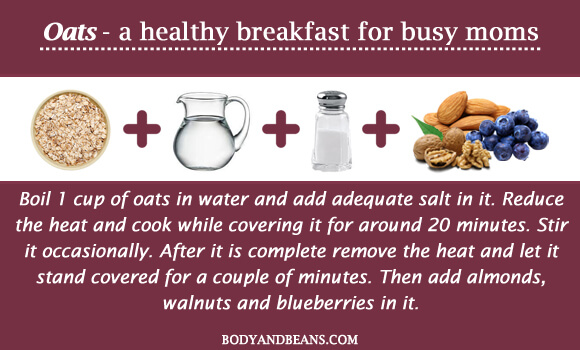 Boil 1 cup of oats in water and add adequate salt in it. Reduce the heat and cook while covering it for around 20 minutes. Stir it occasionally. After it is complete remove the heat and let it stand covered for a couple of minutes. Then add almonds, walnuts and blueberries in it. However, there are many ways to make an oat and you can try out the other ones using healthy fruits, honey, butter, yogurt etc and make it yummier and healthier.
Fruits and milk
If you are super busy and hardly have any time and want to keep your breakfast as simple as possible then fruits and milk are the best options for you. A whole fruit is healthy and can satisfy your hunger pangs. Moreover, milk is very nutritious and keeps you full and energetic for a long time.
Preparation


Take a bowl and mix chopped strawberries, chopped walnuts and almonds in to it. Add a spoon of honey and sprinkle cinnamon on it. Mix them well and club it with milk. Enjoy the breakfast and get ready for work. However, in summer you can replace strawberry with mango and skip using honey.
Almond butter toast
This mouthwatering toast is a delight to have in the morning and if you are a busy mom, this recipe is worth trying. The yummy almond butter toast has all the nutrients to supply energy to your body throughout the day and keep you going.
Preparation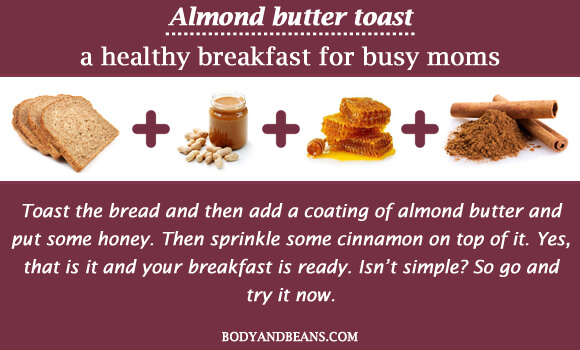 To make this recipe, you need a slice of whole wheat, honey, almond butter, and cinnamon. At first, you have to toast the bread and then add a coating of almond butter and put some honey. Then sprinkle some cinnamon on top of it. Yes, that is it and your breakfast is ready. Isn't simple? So go and try it now.
Yogurt bowl
Yogurt is very healthy and in my last post, I have already talked about the health benefits of yogurt. The good bacteria or probiotics present in it, is extremely healthy and keep you going throughout the day. The loaded proteins and vitamins also provide energy and stamina to your system and keep you healthy. Therefore, you may try out this super tasty recipe for your breakfasts as well.
Preparation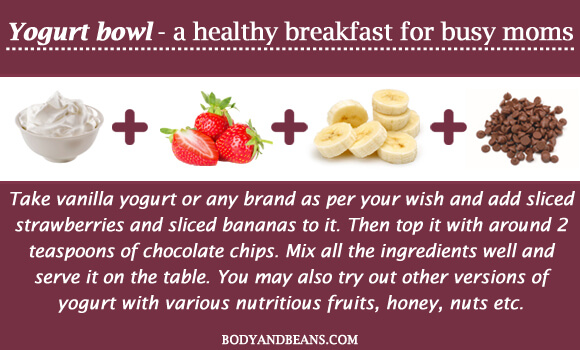 Here you can take vanilla yogurt or any brand as per your wish and add sliced strawberries and sliced bananas to it. Then top it with around 2 teaspoons of chocolate chips. Mix all the ingredients well and serve it on the table. You may also try out other versions of yogurt with various nutritious fruits, honey, nuts etc.
Pancakes
Pancakes are a favorite breakfast idea for many and I am sure you will love to try it. The pancake that I am talking about is super simple and hardly takes time to be ready. This recipe includes bananas, eggs and cinnamon, is rich in protein, paleo friendly, glutton free, and tastes great. Moreover, it is low in calories so you do not have to worry about your weight issues.
Preparation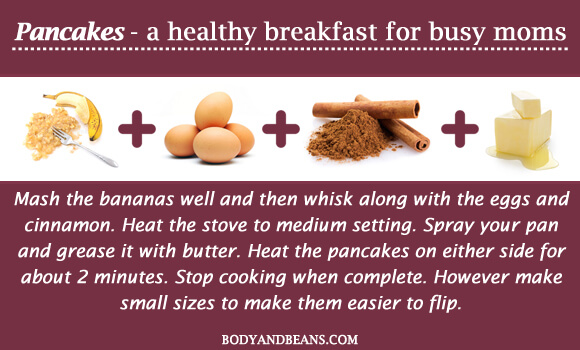 To prepare these yummy pancakes, you need to mash the bananas well and then whisk along with the eggs and cinnamon. Heat the stove to medium setting. Spray your pan and grease it with butter. Heat the pancakes on either side for about 2 minutes. Stop cooking when complete. However make small sizes to make them easier to flip.
Peanut butter sandwiches
I personally love the idea of eating sandwiches for breakfast, as they are tasty and very easy to make. Therefore, if you are also a sandwich lover, then you will love my peanut butter sandwich breakfast idea. Peanut butter is extremely nutritious and is rich in protein and potassium. Moreover, it is heart friendly. In order to make the sandwich you may add some flaxseeds, which contains omega 6, very good for your heath.
Preparation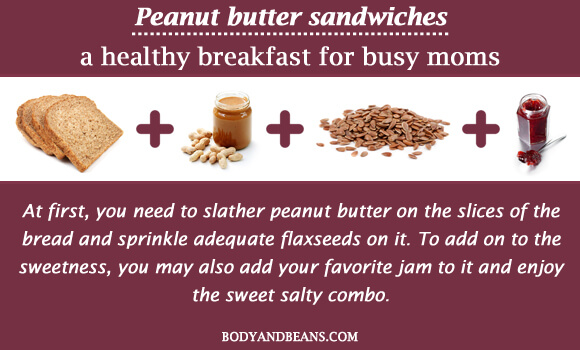 At first, you need to slather peanut butter on the slices of the bread and sprinkle adequate flaxseeds on it. To add on to the sweetness, you may also add your favorite jam to it and enjoy the sweet salty combo.
Poached eggs
Eggs are an all time favorite for all and if you are not tired of eating them, you may go for the simpler version even. Here, instead of the usual boiled eggs, you may go for the poached ones. Eggs are a great source of protein that gives you the perfect energy to start your day.
Preparation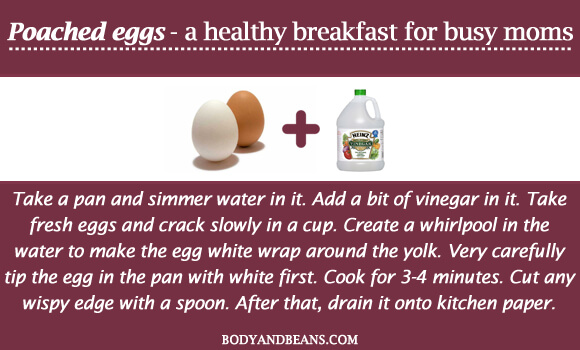 To make it, take a pan and simmer water in it. Add a bit of vinegar in it. Take fresh eggs and crack slowly in a cup. Create a whirlpool in the water to make the egg white wrap around the yolk. Very carefully tip the egg in the pan with white first. Cook for 3-4 minutes. Cut any wispy edge with a spoon. After that, drain it onto kitchen paper. Ok so your poached eggs are ready. Enjoy it with tomato sauce and salad and make your mornings delicious.
Quinoa fruit salad with honey dressing
You may be getting a bit confused with the combination but trust me, this tastes simply wow. Quinoa is a super food that is loaded with lot of nutrients and antioxidants like protein, fiber, magnesium potassium, zinc etc that makes it extremely beneficial for your health. It when gets mixed with the healthy fruits definitely becomes one of the best quick and healthy breakfast ideas for busy moms.
Preparation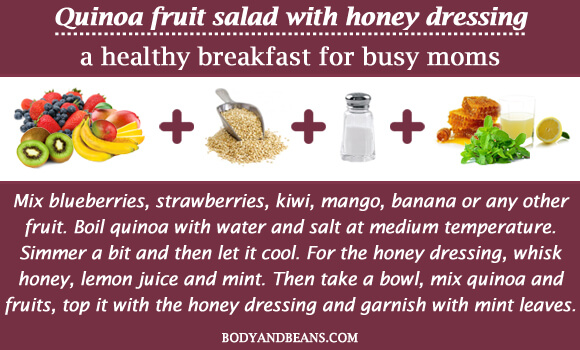 You need to make a mixture of blueberries, strawberries, kiwi, mango, banana or any other fruit at first. Then boil quinoa with water and salt at a medium temperature. Let it simmer for 15 minutes and after that leave it to cool down to room temperature.  For the honey dressing, you need to whisk honey, lemon juice and mint. Then take a large bowl and mix quinoa and the fruits and top it with the honey dressing. After that, garnish with few mint leaves on top. You may prepare this the night before and have it in the morning.
Omelet roll
The list of easy and healthy breakfast ideas for busy moms is definitely incomplete without the mention of omelet roll. Since maximum egg recipes are easy to make, why not try out this omelet roll. This is unique and very yummy.
Preparation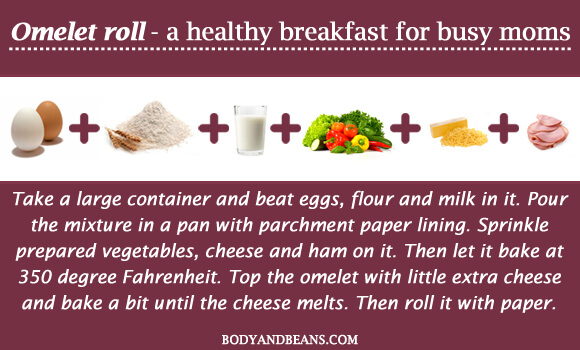 To make this simple breakfast, you need to take a large container and beat eggs, flour and milk in it. Pour the mixture in a pan with parchment paper lining. Sprinkle prepared vegetables, cheese and ham on it. Then let it bake at 350 degree Fahrenheit. Top the omelet with little extra cheese and bake a bit until the cheese melts. Then roll it with paper. You may eat this whole or cut into slices before serving.
Smoothies
I have come across many who hate munching early in the morning and if you are also included in that category, then smoothies are definitely the best quick and healthy breakfast idea for you. It hardly takes 10 minutes to prepare a smoothie and things cannot get simpler than this. Although there are various kinds of smoothie, I have chosen the protein rich banana strawberry smoothie for you. This will keep your stomach full for a long time and will provide you with the needed energy to work the rest of the day.
Preparation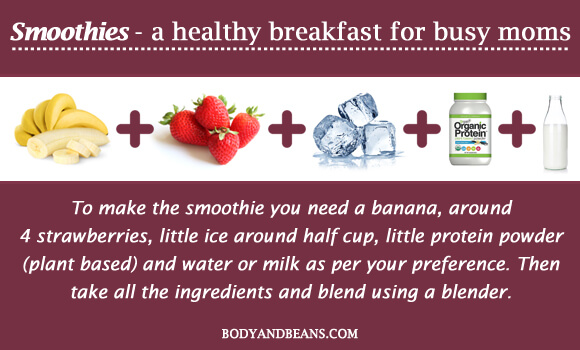 To make the smoothie you need a banana, around 4 strawberries, little ice around half cup, little protein powder (plant based) and water or milk as per your preference. Then take all the ingredients and blend using a blender.
Muffins
Muffins are probably the best snacks and can also be eaten for breakfast. They taste great as well gives a healthy start to your day. Therefore, if you want to try out muffins, you may go for the one version, which I personally prefer. It is made using cinnamon, banana, egg, butter, baking soda etc.
Preparation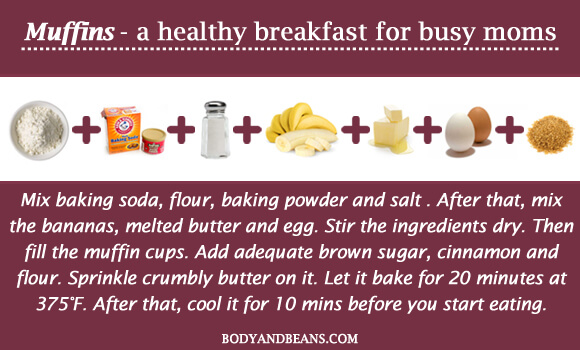 Here is the way to make it. Take a large container and mix baking soda, flour, baking powder and salt. After that, mix the bananas, melted butter and egg. Stir the ingredients dry. Then fill the muffin cups. Add adequate brown sugar, cinnamon and flour. Sprinkle crumbly butter on it. Let it bake for 20 minutes at 375 degree Fahrenheit. After that, cool it for 10 minutes before you start eating.
Pizza
Although pizza can be eaten anytime, you can certainly make it your favorite breakfast as well. It is not just yummy but is also easy to make. Pizza can easily satisfy your hunger cravings and keep your stomach full for a long time.
Preparation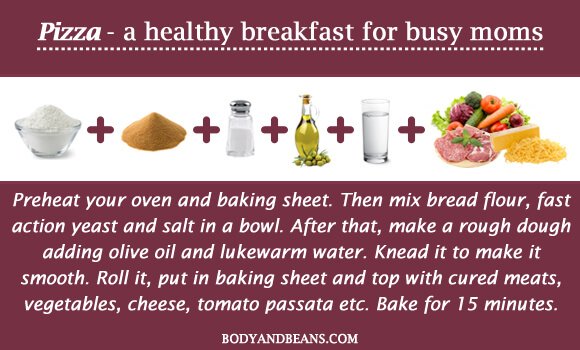 You need to preheat your oven and a baking sheet. Then take a large container or bowl and mix bread flour, fast action yeast and salt. Add a little olive oil and lukewarm water and stir to form rough dough. Tip the mixture in a slightly flavored work surface and knead for around 5 minutes until you get smooth dough. Roll it and put it on the baking sheet. Top it up with cured meats, vegetables, cheese, tomato passata etc. Bake it for 15 minutes to get that crispy golden look.
Egg avocado toast
Eggs already contain proteins, vitamins and minerals that are very healthy for your health but when it is combined with the nutritious avocado full of fiber, vitamins and potassium, it certainly gives you the perfect beginning to your new day. This yummy breakfast idea is super easy and will take hardly 5 -10 minutes to make it.
Preparation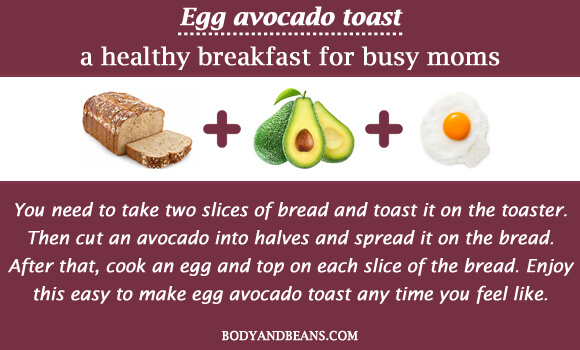 You need to take two slices of bread and toast it on the toaster. Then cut an avocado into halves and spread it on the bread. After that, cook an egg and top on each slice of the bread. Enjoy this easy to make egg avocado toast any time you feel like.
Over to you                
Breakfast is very important but the busy hectic life often makes us skip it especially the busy moms who are torn between their career and household works and eventually end up skipping breakfast. But as you already know that skipping it can cause lot of health defects therefore no matter how busy you are, you have to find time to eat breakfast. Not that you always have to go for specialties of food but at least try out some simple recipes that are healthy and keeps you energetic all day long. Therefore, to make things easy, I have brought a list of 13 quick and healthy breakfast ideas for busy moms that I feel will be of great help to you.
Most of the breakfast ideas I talked about are quite popular and takes much less time. I have mostly used ingredients that are easily available and are rich in nutrients. Generally, most of them can be made in 15 minutes but if you still run short of time, you can surely make it the night before or at least arrange them the previous night.
For managing time in the morning and have a proper breakfast, the most important thing is to plan systematically. For that if, you have to wake a bit early then do that. Go to sleep early and walk up in the morning with adequate time in hand. Always remember skipping the breakfast is not at all a healthy option.
Are you a busy mom? Do you often skip your breakfast? Have you checked out my favourite list of top 13 easy breakfast ideas for super moms? Try these and do share the feedback and tell us your experience in preparing breakfast despite being a super busy mom. And if you have any other breakfast ideas which are healthy, nutritious and quick to make, then feel free to suggest by commenting below.
Until then, enjoy your breakfast and do not forget to like the article and share my post with the busy moms you know.