Indian gooseberry or amla is a super-fruit, loaded with a number of health benefits. The name Amla is derived from the Sanskrit word 'amalika'. Fresh amla fruits as well as dried fruits are used in Indian traditional medicines. In Ayurvedic and Unani medicines, they use different part of the tree to prepare medicines. So not only the fruits, but every part of the Amla tree have medicinal properties and have many health benefits. Today, in this post, we are going to talk about various benefits of Amla on Skin, Hair and Health. We'll also learn about how to eat amla or the Indian gooseberry for maximum benefits on skin, hair and health.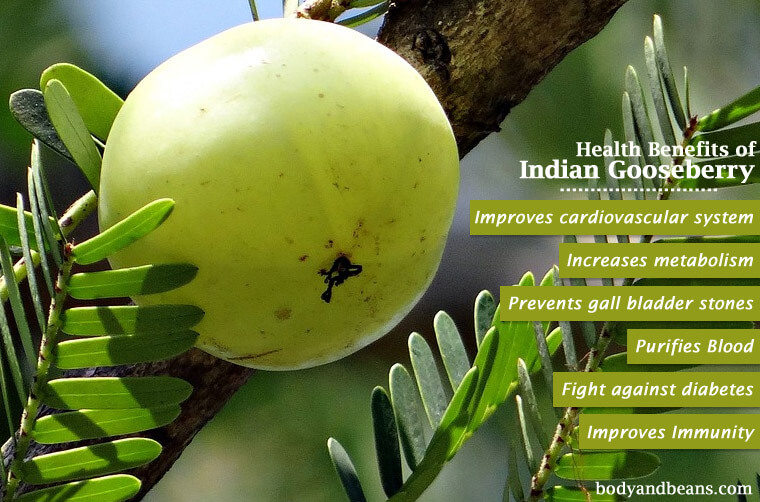 The amla fruit and juice is one of the best healthy dietary supplements that you could get. Amla is a rich source of iron, calcium and Vitamin C which helps in improving the immunity and thus ensuring good health. Amla is good for hair, if you are suffering from any skin ailments or rashes or severe hair fall then amla fruits can do wonders for you.
Benefits of amla on Skin
If you are using an anti-ageing cream and not quite happy with the results, consider trying Amla. Amla contains plenty of water, minerals, proteins and fiber.
Here are the most surprising benefits of amla on skin;
Helps removes scars and blemishes
Pigmentation, sun tan, pimples, heat rashes are very common these days due to the scorching rays of the sun. India, being a tropical country, has long terrible summers and these skin problems can damage the glow of your skin.
But did you know Amla can really help you get rid of such scars, blemishes, pimple and rashes? Make a simple yet effective face pack with amla, honey and lemon. To make the pack, mix squashed amla juice, honey and lemon, mix it well and apply it on your face.
Keep it for 15-20 minutes or till it dries properly and then wash your face with normal water. Apply it once every day or every alternate day to get rid of common skin disorders.
Helps you get glowing skin
The amla is rich in Vitamin C which helps in lightening of the skin. If you want a fair glow instantly, the amla juice is the best solution. The amla is rich in antioxidants which can remove the dead skin cells and give you a glowing skin.
Anti ageing properties
Anti ageing properties of amla are very prominent and also promising. You can avoid buying the expensive anti ageing creams; you can get the miraculous result just by using the amla juice or the fruit. The antioxidants will help in tightening of the skin, reducing the fine lines and wrinkles.
Take a slice of fresh amla fruit, and rub it gently all over your face and neck. You can also apply the amla juice with a cotton wool twice a day for better results. You may also drink amla juice daily in the morning and enjoy all round benefits of amla.
Benefits of amla on hair
Not sure if you are aware of this, but Amla is used in various hair care products like oil and creams. Amla is surprisingly great for hair; it strengthens the hair. Removes dandruff and promotes hair growth.
Here are some of the benefits of amla on hair.
Amla can strengthen the hair follicles and thus prevent them from falling. Amla is rich in iron too which helps in preventing hair fall and split ends.
Amla can reduce and finally remove dandruff completely from your scalp. The dandruff is caused due to pollution and oily scalp or even dry scalp. Amla juice has antioxidants which can protect the scalp from getting damaged.
Amla can prevent premature ageing as the Vitamin C is responsible for keeping your hair black. Amla is rich in Vitamin C which helps in maintain jet black hair.
Amla improves the blood circulation in the scalp. You can make your hair black, thick and strong with regular application of amla oil or amla juice.
After shampooing if your hair is dry and frizzy, you can apply some amla juice on the scalp. After washing off the shampoo, apply amla juice as a conditioner. Keep it for 10-15 minutes and then wash it off with cold water to get soft and properly conditioned hair in no time.
Benefits of amla on health
Amla or Indian gooseberry is rich in vitamin C, polyphenols, folic acid, minerals, vitamins, calcium, iron and most importantly Vitamin C which make it an exceptionally beneficial fruit for health.
Improve cardiovascular system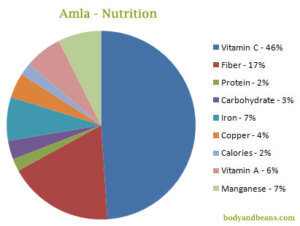 Heart diseases, heart blockages, hardening of the arteries may arise due to high levels of bad cholesterol or LDL cholesterol . Due to rise in cholesterol levels, your heart may not function properly, the blood flow can be obstructed and thus leading severe fatal conditions. Amla helps in reducing LDL, and maintain the proper levels of HDL cholesterol or good cholesterol. Your body needs a little bit of good cholesterol for proper functioning. Amla can take care of your heart as it is rich in Vitamin C and iron.
Increase metabolism
Amla can help you to increase metabolism or metabolic rate. If your metabolism is high, the fat cells cannot get accumulated in the body, in areas like arteries, abdomen, thighs etc. The cholesterol will remain in check, and also you will be able to lose weight if the metabolism is high. So, if you want to increase the Basal Metabolic Rate of your body then drink raw amla juice daily in the morning.
Improve diuretic activity
Amla is a strong detoxification agent; it will help you to flush out toxins, uric acid, salts from your body. It will solve your kidney problems; it will enhance the frequency and volume of urination. If you take amla juice every day, chances of urine infection and inflammation will reduce drastically, because amla helps in strengthening the diuretic system of your body.
Get rid of ulcers
Ulcers are caused due to the high concentration of acids and bacteria in the body. Amla will help you to get rid of the acids, the acids like the toxins will be flushed out of the body, and the agents of causing ulcers will be removed from the body. Studies shows that, mouth ulcers are often caused due to the deficiency in Vitamin C, and since amla is rich in Vitamin C, it helps cure ulcers. By the daily consumption of amla you can remove and also prevent the ulcers.
Prevents gallbladder stones
The main reason of gall bladder stone is extra cholesterol, slow digestion, and this can be solved by the intake of amla. Amla is rich in Vitamin C, and this vitamin C covert the cholesterol into bile in the liver. The bile juice is created in the liver, improving the digestive system. Thus Amla helps you to avoid gallbladder stones. The stones often cause other effects in the body like constipation and piles, and the amla can solve these issues too.
Reduce the risk of cancer
Amla has anti inflammatory and anti oxidizing properties which can help in preventing cancers. Cancer cells multiply, the germs spread throughout the body and this is how the carcinogenic cells cause havoc in the body.
Amla helps in lowering down the cell mutation, the cancer does not occur, or rather it can help in curing the disease too. Superoxide dismutases fight free radicals and prevent the cell damage from occurring.
Blood purifier
Amla helps in increasing the blood platelet count, rise in the hemoglobin, and also increase in the red blood cells count. The blood is purified from the unwanted toxins and free radicals by the consumption of amla.
Fight against diabetes
Amla contains chromium which is the main compound in curing diabetes. Amla can trigger the pancreas to produce more insulin which will help in reducing the blood sugar level in the body. The lesser the production of insulin, the more is the risk of diabetes. Diabetes is the deadly disease, and the amla can help in fighting it.
Various ways to eat Amla
You can boil the amla in pressure cooker and wait for one whistle. Then grind the amla or mash them once they are soft. You can add honey with amla to remove the bitterness of the fruit. For some taste, you can add pinch of rock salt, cardamom powder and also cinnamon powder. You can preserve the juice in a bottle and drink it daily.
Amla is such a wonderful fruit that it can be consumed in many ways. You can it eat it fresh or It can be made into juice which you can drink daily. You can also make Amla pickle and other side dishes (famously called chatnee) which can be eaten with snacks.
You may also cut the fruit in small pieces, add some salt in it and let it dry in the sun. The fruits will be dehydrated and you can store them in an air tight container and have the dried amla anytime you like.
You can also make sweet amla or murabba by letting the amla soak in sugary water. Form me; the best way to have amla is as a pickle and I also like having them raw or in the form of Amla juice
Over to you
Due to the change in the season, I was infected with common cold and flu, I was coughing and sneezing, and that called for medicine. My neighbor aunty advised me to have some raw amla or lukewarm amla juice.
I just did that, and trust me, it worked like a magic. Amla is an all rounder fruit; it is beneficial for your skin, hair, stomach and overall health and wellness.
Amla is a super fruit and has played a pivotal part in the ancient medicinal science of Ayurveda. Amla has many health benefits, including;
It prevents cancer
Helps regulate blood glucose level
Improves hair growth
Stops hair fall and graying
Improves immunity
Fights against ulcers
Amla can take care of your inner health and also the outer beauty. Drink the amla juice daily or have the raw fruit everyday for better results.