Pomegranates are among the most delicious and healthiest fruits you can find around. According to researchers, pomegranates can prevent or treat various types of lifestyle diseases like high blood pressure, high cholesterol, stress and inflammatory diseases. All of us know that red wine and green tea have antioxidants and it's very beneficial, but you will be amazed to know that antioxidant and anti-inflammatory properties of pomegranates are three times more, in comparison to red wine and green tea. And today in this post, we are going to talk about the evidence based, potential health benefits of pomegranates on your skin, hair and for overall health and well being.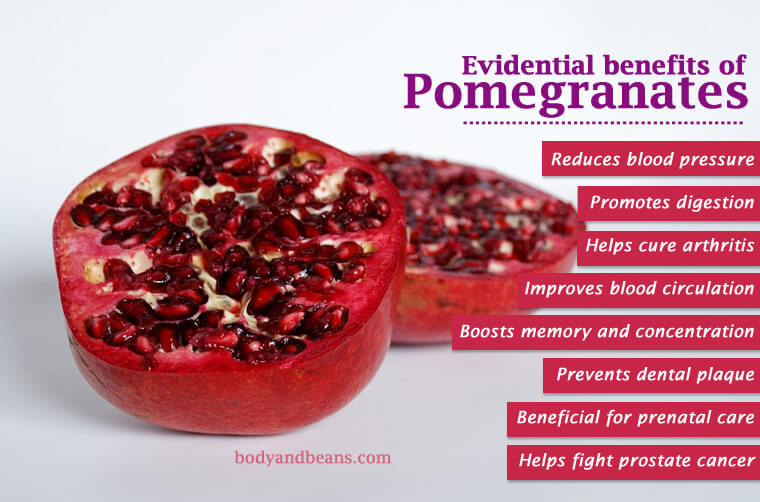 Originated from Iran, pomegranates are grown and consumed worldwide, including India. It's a seasonal fruit, but these days pomegranates are available throughout the year. Pomegranates are primarily consumed in the form of pomegranates juice, but it is also used in various types of cooking for garnishing or to prepare cocktails and smoothies.
Pomegranates are typically covered with a hard and thick peel. Once you peel it off, you find pomegranates seeds, which is edible. Seeds contain the red or pink colored pulp and both seeds and pulp is edible. In fact the seeds are good source of fiber and it should be consumed. If you have been throwing it out, then probably you have deprived yourself from most of the health benefits of eating pomegranates.
Are you ready to find out the real health benefits of pomegranates?
Here we go.
Evidence based benefits of pomegranates on your health
Pomegranates contain loads of nutrients vitamins, minerals, antioxidants and anti-inflammatory properties. Health benefits of pomegranates include cardiovascular health, heart, blood pressure, hypertension and it may also prevent breast cancer and prostate cancer.
Eat the edible seeds or make juice, consume it the way you like, because there are many health benefits of pomegranates. Here are some of the amazing health benefits of pomegranates.
Promotes cardiovascular health
When researchers conducted a clinical trial to observe the effects of pomegranates juices on about 21 patients, they noticed that pomegranates juice can actually lower the blood pressure. Antioxidants and bioactive polyphenols present in pomegranates juice, promotes cardiovascular health. And that makes it the perfect fruit for your heart and cardiovascular health.
Reduces blood pressure
Blood pressure and hypertension is most common these days, and thanks to the busy and hectic lifestyle that we lead today. High blood pressure can lead to several other cardiovascular diseases and lifetime medication. But did you know consumption of pomegranates juice everyday can help you check your blood pressure easily?
According to this report, pomegranates juice has antioxidant properties that promotes cardiovascular health and helps in regulating blood pressure. Pomegranates juice contains tannins, and has antioxidants, antioxidative and cardioprotective properties. Daily consumption of about 150 ml of pomegranates juice can significantly help in reducing the blood pressure.
Improves blood circulation
Proper circulation of blood in your body, heart and brain is crucial. Pomegranates juice helps in blood circulation. Blood circulation is one of the most important functions of the body because all the organs will work properly on the basis of this system of blood circulation. Pomegranates enhance blood circulation in all the arteries, blood vessels, increasing the hemoglobin and the platelet count. If you have anemia or tendency of the disease, then this fruit will help you immensely.
Promotes digestion
Pomegranate is rich in Vitamin B complex which can convert fat, protein and carbohydrate into energy. It also provides Vitamin B 6 and 25% of the folate that your body needs daily. The folate and the fiber present in the fruit helps in improving the digestion. The food is digested easily by the good production of bile juice, and glucose is released in the blood.
Fight arthritis
Arthritis is a very common among all the people round the globe. There are various types of Arthritis, rheumatoid arthritis can be very painful. Arthritis and joint pain is prominent in advanced ages as well for both men and women. Pomegranates have anti inflammatory effects, and can remove the free radicals which are responsible for arthritis. If you are suffering from osteoarthritis, then you will get some remarkable benefits from this fruit.
Improves memory and concentration
According to this study since pomegranates contains a number of polyphenols and antioxidants; it has very positive impact on memory retention, on patients who undergo heart surgery.
Pomegranates help in improving memory and brain power. Kids are often advised to have the fruit daily so that they improve their memory and concentration. It is proved that the fruit can help to avoid some age related problems like Alzheimer's and amnesia or dementia. Pomegranates are enriched with calcium and iron which help in improving the brain functioning.
Prevents dental plaque
According to this report, a clinical trial was conducted on about 30 individuals to evaluate the effects of pomegranates in preventing dental plaque. And the trial concluded that, pomegranates juice can be a very effective mechanism to fight dental plaque and maintaining overall oral health.
Pomegranates have polyphenols, tannins and ellagic acid which prevent the formation of dental plaque, and thus maintain a proper oral health. Pomegranates will help to kill the bacteria and thus the fight against the dental plaque.
During the trial pomegranates juice were used to rinse the mouth like a mouth wash, without adding artificial sugar in to it.
Beneficial for prenatal care
Pomegranate juice is especially good for expected mothers because the fruit can be helpful in many ways. The fruit contains potassium which takes care of the foetus and also helps it to develop. The fruit reduces the chances of low birth weight babies or premature child birth. The fruit enhance blood flow to the foetus which is the primary requirement of a healthy child birth. The fruit also has folic acid which is a part of a balanced diet for a pregnant woman.
Helps cure prostate cancer
Scientists believe that dietary phytochemicals can be a greatly used to fight against cancer and pomegranates contains such dietary phytochemicals and hence it may help in preventing and curing first prostate cancer. Studies show that pomegranates can help fight and prevent the prostate cancer.
The fruit helps in reducing the growth of cancer cell reproduction and also apoptosis in cancer cells. Prostate specific antigen or PSA is the marker of prostate cancer. If the PSA is high, then the risk of prostate cancer increases. Pomegranates help to keep the PSA in check, and thus reduce the risk of cancer.
Benefits of pomegranates on skin
Aging is unavoidable, but every human being wants to look younger and live longer. Unhealthy eating and living habits, exposure of our skin to sun, pollution and modern days stress could cause aging and skin related issues. The global skin care market is huge and there are number of beauty and cosmetic products that claim to help take care of your skin. And many of the products are using natural ingredients like papaya, oranges, berries and pomegranates.
As a human, we want to look good and hate scars, pimple, dark circles and other skin related issues and ailments. According to this report, pomegranates can be seriously beneficial for skin because of the antioxidants and other nutrients and minerals that it has.
Here are some of the surprising benefits of pomegranates on skin;
Pomegranates are good for all skin types
If you have oily skin which is prone to pimples and acne, then pomegranate juice can be used to control the skin problems. The juice of the fruit will penetrate in the skin and prevent the formation of sebum, which leads to growth of pimples. If you have dry skin, then the juice will help to block the pores and prevent the moisture to escape. It has punicic acid and omega 3 fatty acids which keep the skin hydrated, thus soothing the dry irritated skin.
It has anti aging properties
Pomegranate juice has minerals and fibers which will enhance the regeneration of the cells. The juice will prevent the occurrence of wrinkles, thin lines and other aging signs like dark spots and pigmentation. The fruit juice will make the skin tighter, and thus you will look much younger than your actual age.
Pomegranates lighten scars and improve skin texture
Due to its property of cell regeneration, the scars get lightened due to the daily consumption of pomegranate fruit and juice. The damage caused due to the extensive exposure to the sun can also be removed by the help of this fruit. Pomegranates produce collagen and elastin which help in tightening of the skin. Drinking a glass of pomegranate juice will give you a smooth glowing skin.
May prevent skin cancer
Pomegranates have anthocyanins and hydrolysable tannins which have anti oxidant and anti inflammatory properties in them. They also have anti-tumor promoting properties which prevent the growth of the cancer cells.
How to use pomegranate for good skin?
You can make the home made juice of the fruit and then apply the same on your skin with the help of a cotton wool. Drink the juice daily and you can also have the whole fruit. But, when you are making the fruit juice, do not add the extra sugar in the juice. Make the juice without adding any artificial sugar.
Benefits of pomegranates on hair
Pomegranate juice if applied on scalp, will reach the hair follicles, and strengthen the roots. The fruit will make the hair stronger and thicker, thus adding volume and illustriousness to the hair. You can take the juice and apply directly on the scalp. You can also add it in the hair mask, and then keep it till one hour. Then shampoo it. If you want to condition your hair, then after shampoo, apply some juice on hair, keep for 15-20 minutes and then wash off with cold water.
Over to you
You can enjoy the miraculous benefits of pomegranate, by drinking one glass of pomegranate juice every day. For maximum benefits, it's better to source the fresh fruit and make fresh juice.
I prefer to eat fresh edible pomegranates seeds or juice over the packaged juice. Packaged pomegranate juice may have preservatives, added sugar and colour etc, and hence I prefer the fresh homemade juice. It is always better to enjoy the fresh juice at home. The fruit will help to have a healthy life by preventing many diseases like:
Dental problems
Heart problems
Arthritis
Hair fall
Aging
Scars and dark spots
You can have one whole fruit or a glass of juice.
Do you drink pomegranates juice or eat this magical fruit daily?
Feel free to share the benefits you have experienced.