Ever wondered, why does everybody suggest eating lots of fruits and vegetables every day? Well, because low intake of vegetables could cause chronic diseases including coronary heart disease (CHD), stroke and cataract. Researchers suggest that one half of your plate should be filled with green and healthy vegetables and fruits. Our body requires different types of vitamins, minerals, fibers and antioxidants to function properly. And green and leafy vegetables are the best source of such nutrients. In this post, we are going to talk about some of the healthiest vegetables to eat, which offer plenty of vitamins, minerals, fiber, antioxidants which are essential for our body and overall health.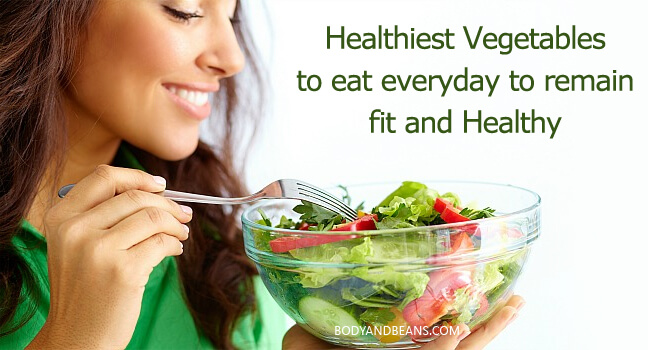 The green vegetables like the leafy spinach, Brussels sprouts, cabbages, cauliflowers, broccoli, kale, and lettuce offers plenty of nutrients, vitamins, minerals and dietary fiber, which is essential for your body.
Some of the most chronic and lifestyle diseases like cardiovascular disease, diabetes, blood pressure, eye sight etc can easily be avoided by eating some of these green vegetables. Each of these vegetable are rich in some nutrients or the other, and hence it is important to eat different types of vegetables. Vegetables can help you balance your diet and full fill the need of everyday nutrients for the body. And we are going to learn about top ten healthiest vegetables to eat, so that you get a properly balanced meal and remain fit and healthy forever.
Leafy greens and green vegetables are known for their extremely low content of calories and fats, and very high percentages of protein, dietary fibers, folate (folic acid), manganese, Vitamin A, C, E, K and various kinds of minerals too.
These green vegetables are good for everyone, of all the age groups. The benefits of the green vegetables are many fold; it is rather a magical solution to all your problems. It is often said that if you want to stay away from the doctors then you must check this extensive list of top ten healthiest vegetables to eat regularly.
Top 10 Healthiest vegetables to eat daily
Green and healthy vegetables offer various types of antioxidants, vitamins and minerals which is kind of essential for our body and organs. Some of the antioxidants protect cellular systems of our body from oxidative damage and reduce the risk of developing chronic diseases.
Different vegetables supplies different types of vitamins, minerals and nutrients and hence, you should be eating most of it. Here is the list of some of the healthiest vegetables to eat everyday in order to remain fit and healthy.
Spinach
Spinach has varieties of vitamins, minerals and proteins which is crucial for your health. Spinach is high source of protein, fiber, Vitamin A, C, E, K, and Vitamin B6, folate, calcium, iron, magnesium, potassium and many other minerals.
It improves your immune system, accelerates hair growth and also helps you in losing weight. Spinach helps in curing asthma, cancers, diabetes, and many other diseases. Spinach is also beneficial for hypertension and it is known to relax your body.
Broccoli
Broccoli is one of the healthiest vegetable and it is worth a place n your daily diet. It is a very good source of dietary fiber, protein, pantothenic acid, vitamin A, Vitamin B6, vitamin B1, manganese, phosphorus and choline. 1 cup of chopped broccoli contains 3 gm of protein, 2.5 gm of fiber, 135% Vitamin C and 14% folate. It is good for your eyes, heart, and helps you to prevent some of the chronic diseases.
Mustard leaves
Mustard greens are excellent weight loss food as they have low calorie content. One cup of cooked mustard greens will have only 21 calories. It is good for curing diabetes and also lowering cholesterol. The green leaves of mustard trees are very beneficial for bone strengthening, and it also works as a blood and kidney detoxifying agent.
Mustard greens are also rich in antioxidants and hence help you avoid aging related issues, especially beneficial for your eyes and skin.
Spring onions
They contain more fibers, vitamin C and potassium in comparison to regular onions. They are known for preventing lung and oral cancer and also boost immune system. Spring onions are tasty and are used in making different dishes like fried rice and soups.
Ladies' fingers
The ladies' fingers or okra is used in many Caribbean and Indian dishes and it is tasty too. This vegetable helps in lowering blood sugar, fight diabetes and also improve digestive systems.
Apart from being good for digestion related issue, it also encourages bowel movement and helps in constipation.
Lettuce
Lettuce is a tasty vegetable and is well known for its capacity of garnishing various dishes. It is used in various dishes like burgers and sandwiches, and also salads. They have high proportion of water in them, and also potassium and vitamins. McDonald's is the highest consumer of lettuce, and you know why!
Beans
Green beans have high percentage of carotenoids like beta-carotene and lycopene. Beans are rich in antioxidants which help in warding off various disease and ailments. According to this study, beans are very beneficial for your cardiovascular health as well.
Cabbage
The cabbage is beneficial because it has low calorie and high nutritious value. It can help you to prevent colon cancer because it can reduce inflammation to a great extent. You can cook it, boil it and also have it raw in salads.
Green bell peppers
The green bell peppers can increase the metabolism of the body, thus helping in weight loss. The green bell peppers look beautiful, have vibrant colours and go with any dishes, salads, soups, pasta, mixed veggie dish etc. This is actually one of my favourite vegetables.
Bok Choy
Bok Choy is used in many Chinese and South East Asian countries; it is a very important part of Oriental cuisine. Bok choy is rich in alpha-linoleic acid, calcium and iron. It is really helpful in fighting cancers.
Some important health benefits of green vegetables
Best thing about these healthiest green vegetables that we have discovered above is that each of these vegetables offers vital nutrients that our body requires.
Here are some of the other benefits of eating these healthy and green vegetables and why it must be included in your everyday diet.
Improve vision
Do you remember Popeye wearing any specs? No, because Popeye's vision was pretty strong. He used to consume spinach very often, and enjoy powerful vision. The green vegetables can prevent some of the diseases like macular degeneration, cataracts, retinal ailments and dryness of the eyes. The eyes have blood vessels, so the green vegetables also regulate the consistent blood circulation through these blood vessels.
Strengthening of bones
Green vegetables contain high calcium which is responsible for strengthening the bones. They also contain Vitamin K which helps in the production of osteocalcin. With age, the bones get weaker and then they require calcium supplements so that they can remain strong. If you include the green vegetables in your daily diet, then you can prevent certain diseases like osteoporosis and endocrine bone disease.
Improve brain power
Age related disorders like Alzheimer's, Amnesia, memory loss, decline in cognitive functioning can be averted with the regular consumption of the rich green vegetables. They contain antioxidants and carotenoids which can prevent the free radicals to damage the brain cells. Vitamin B present in them can improve the concentration and memory.
Energy boosters
Vitamin C and iron present in the spinach and other green vegetables increase the metabolism in the body, the glucose is released in to the bloodstream and you get a boost in the energy level. If you get fatigued and tired by the middle of the day, then the green vegetables is the best solution available at your disposal.
Quick and simple recipes with these healthiest veggies
Green vegetables do not only look beautiful but they can be cooked and consumed in many ways. You can enjoy them raw, boiled, cooked or fried. And here are a few quick and simple ways to eat these fresh, green and healthy vegetables.
The healthiest and simplest way to have them is to make a smoothie. You can make smoothies with spinach and lettuce, and drink the green juice in the early morning. You can add black pepper and salt to it for the taste.
If you are despicable of the smoothies, then you can cook them. There are various recipes with spinach, you can make Palak Paneer, a curry with spinach and potatoes, and also add spinach leaves in dishes like Pulses and Lentils and chicken. Spinach adds to the taste of the dish, and also gives a nice greenish colour to the food.
You can enjoy some green vegetables like lettuce, bell peppers, with salads and sandwiches. Put some boiled chicken, cheddar cheese, lettuce, colourful bell peppers, onions, and there you go. Your delicious colourful sandwich is ready.
If you are making salads and want to enjoy the vegetables in raw form, then you can add some olive oil and pepper and rock salt to increase the taste of the dish.
One other the most common way to enjoy them is cook them as a curry. Turmeric powder, chili powder, cumin powder, coriander leaves, the vegetables, salt, sugar to taste, and with all this you can make a mixed veg curry and enjoy it hot with rice or chapatti.
Over to you
The green vegetables are believed to be devoid of any side effects whatsoever. If you are having green vegetables regularly in your diet, then you can get rid of many diseases and ailments, without taking any pills and medicines.
The green vegetables can give you overall good health and not just in present, but also you will get to rip the benefits when you grow older. If you start consuming the vegetables, then you are sure to get the benefits, the organs, muscles, skin and hair.
have you included any of these vegetables in your daily meal?
I would love to know about any other veggies you have included in your daily diet.
Eat healthy and be healthy.
To your good health!