Our lives have become no less than a rat race. Deadline, monthly target, annual turnover are the buzz word today. Starting from boarding a bus to getting promotion, our lives have become fast paced, leaving no room for us to take proper rest. This fast pace lifestyle hardly gives you time for yourself, you find yourself always on the run. And this kind of daily routine brings headaches, stress and tension. Continuously taking medicines and pills to get rid of Headache is not a long term solution. Because medicines has its own side effect. Most of the pain killer tablets have side effects. But did you know that there are some simple home remedies for headache. You can actually get rid of headache without taking pills. And that's what we are going to discuss in today's post.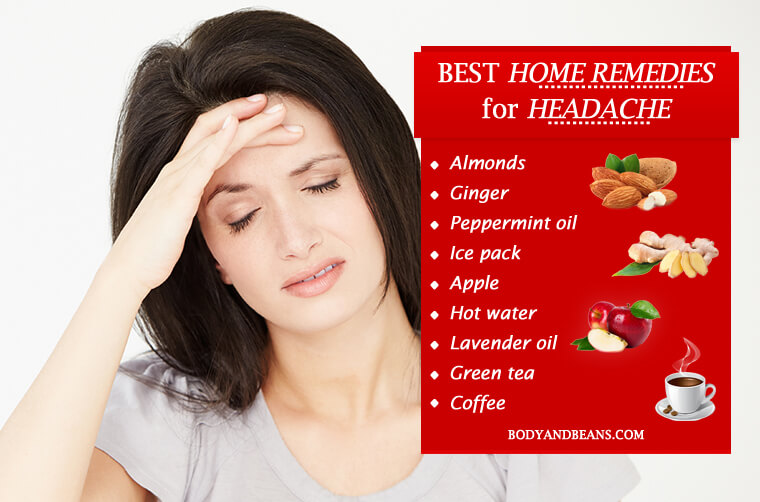 The main cause of headache and tension is stress. In modern world, stress is the root cause of several diseases like obesity, sleeping and eating disorders. Experts and psychologists can help you in stress management, and doing so will help you a great deal. But, when you are having headache at home after returning from office, you cannot rush to your psychologist at that very moment. You need some instant home remedies for headache so that you can get rid of it.
And at times, the headache can be so excruciating that it will not let you leave. For those kinds of painful situations, you can try these home remedies for headache that we are going to discuss in this post.
Best home remedies for headache
Taking medicines and painkillers in severe pain is obvious. But as you know, taking such painkiller pills for long may have side effects. If you constantly feel headache and stress, you may like to try some of the remedies for headache as discussed below.
Almonds
Instead of taking random pills and painkillers, it is better to chew a handful of almonds. Almonds are tasty nuts which will help you restore the glucose level in the blood, and also secrete the happy hormones endorphins in your blood. The almonds will reduce the headache, and you will feel lot more relaxed. You can have the raw nuts, or even soak them water. Chewing the nuts will help you to get distracted from the headache and tension.
Ginger
Ginger is well known in Ayurveda due to its strong healing properties. Ginger extracts or ginger tea can be very helpful during these situations. You can add ginger slices in your tea; you can add ginger in water, along with a dash of lime juice. Ginger tea or ginger extracts can give you instant relief from your headache. The headache can be due to fatigue, stress, and also cough and cold. Ginger can give your immense relief from all kinds of headaches. The ginger roots in your kitchen are of great help if you want to relax yourself.
Peppermint oil
The peppermint oil is an essential oil which can benefit you during your headaches. The mint oil helps in opening up the clogged blood vessels and thus the headache is reduced. Crush some mint leaves and apply the same in your forehead. Massage gently and relax. You can add the mint leaves in your tea, the mint leaves have menthol which will work like magic for your pain. Add 4-5 drops of peppermint oil, and then massage the forehead, temples and the back of the neck. Close your eyes, and lie down, relax. You can find the pain gradually subsiding.
Ice pack
You can apply ice pack on your forehead and the back of the neck. The ice has a cooling sensation and it can remove the inflammation. The headache is mainly caused due to inflammation, and the anti-inflammatory properties of the ice are of great help here. You can apply the ice pack directly on the skin, it will numb the skin, and you can also take few ice cubes, tie them in a cloth, and then apply the same. You have to be careful too much of ice cubes for a long period of time can cause cough and cold.
Apple
Apple and apple cider vinegar can maintain the acid-alkaline balance of the body, and thus give you relief from the headaches. Take half cup of apple cider vinegar in a half a cup of water. Boil the mixture, and then cover yourself in a towel. Take in the vapor of this mixture. You can also have an apple whenever you are having headache. An apple will always be there to help you during those painful times.
Hot water
Just like the cold ice packs, the hot water can also give you relief in headaches by relaxing the muscles and the neurons. You can keep hot water bag behind your neck and relax. You can inhale the hot water vapor with a towel. Hot water or the hot vapor will relax the tensed muscles; you will gradually feel that the throbbing of the forehead is reduced.
Lavender oil
The lavender oil is an essential oil for curing the headaches and tension. You suffer from headache when you put a strain on your muscles and neurons. The soothing aroma of the lavender oil will help you to get relief from the headache. Massage the lavender oil gently in your forehead, and behind the neck. You will find the aroma very relaxing. Your pain will be reduced within no time.
Green tea
Green tea can help you immensely to relax. Green tea is enriched with several nutrients, lycopene, polyphenols, vitamins and minerals, which will give you several health benefits as well. The green tea of tulsi and honey flavor is recommended due to taste, and also due to its capacity to reduce the pain. Tulsi and honey both have anti-inflammatory and anti-oxidizing properties which make it suitable for this purpose. Next time when you have severe headache, do not hesitate to sip a cup of warm green tea.
Coffee
Though, it may give you a temporary relief, but still it is worth a shot. Coffee is rich in caffeine which will reduce the inflammation causing the headache. The coffee is a strong agent, and you will get relief. But, make sure that you are well hydrated. Caffeine often causes dehydration, so make sure you are drinking enough water throughout the day.
Quick and simple tricks to deal with stress
There are few simple things that you can do to reduce some tension and stress from your daily life.
Maintain a diary where you will write the daily plans and schedules. Writing often works better than your memory.
Avoid bringing your office work at home. Home is for relaxation.
In case you have a deadline, do not go overboard. Try to work according to the plan, and then you will have lesser tension.
Have enough fruits, vegetables and water in your daily diet to keep you healthy and well hydrated.
Make sometime for yourself, mediate even if it is for 10 minutes.
Start your day with yoga and meditation to keep you calm and relaxed.
Pranayam will help you a great deal to help you to cope with the day to day stress and tension.
Read your favourite book before going to bed.
Walking or jogging in mornings can make you feel relaxed.
Physical exercise like gym or yoga is essential for your mental health; it will secrete the endorphins of the feel good hormones to keep you out of stress.
If you are worried about your stressed life, you can visit an expert like a psychologist and then go through a stress management program.
Over to you
Next time when you are feeling stressed, do not worry. There are several simple home remedies by which you can feel relaxed during headaches and tension. The most common household objects like hot water, ice pack, almonds, green tea, coffee, etc can give you relief when you are in pain. Tension will not solve any problem of your life, but will add to it. So, it is better that you remain calm and handle all the situations. Being calm is no less than a superpower; I hope you will do just fine.
What else one can do to get rid of stress and headache?